Neutral Corner - February 2003
U.S. Supreme Court: Arbitrators Decide Six-Year Eligibility Requirement
Investor Karen Howsam chose to arbitrate her limited partnership dispute with Dean Witter Reynolds, Inc. (Dean Witter) at this arbitration forum. Dean Witter filed a lawsuit in a Federal District Court and requested that the court declare the dispute ineligible for NASD arbitration because it was more than six years old under NASD Rule 10304. NASD Rule 10304, in pertinent part, states: No dispute, claim, or controversy shall be eligible for submission to arbitration under this Code where six (6) years have elapsed from the occurrence or event giving rise to the act or dispute, claim or controversy.
The District Court denied the Dean Witter request and decided that NASD arbitrators should interpret and apply this rule. However, the Tenth Circuit Court of Appeals disagreed when it decided that the application of NASD Rule 10304 involved an arbitrability question that a court should determine.
Since different conclusions had been reached by separate Circuit Courts of Appeals as to whether NASD Rule 10304 issues should be determined by a court or NASD arbitrators, the United States Supreme Court granted the Howsam petition to hear and resolve this question.
On December 10, 2002, the nation's highest court reversed the Tenth Circuit decision. The Court decided that NASD Rule 10304 presented a forum-specific procedural time limit for arbitrator determination rather than an arbitrability question for court determination.
The Supreme Court reasoned that, unless the arbitration agreement (or rules) provide otherwise, parties to such agreement would normally expect a forum-based decision maker—NASD arbitrators—to decide a forum's procedural time limitation. In addition, the Supreme Court stated that NASD Rule 10324 authorized arbitrators to interpret and determine the applicability of all NASD Code provisions, including NASD Rule 10304.
View further information regarding the preceding arbitration rules and the U.S. Supreme Court decision in Howsam v. Dean Witter Reynolds, Inc.
---
Messages from the Editor
Officer Promotions
We are delighted to inform you that, effective January 2003, Elizabeth Clancy and Jean Feeney have been promoted to Vice Presidents.
Liz Clancy joined NASD Dispute Resolution in February 1997 as Regional Director for the Northeast Region, the largest Dispute Resolution Region, where she manages the arbitration and mediation staff. She was promoted to Associate Vice President in 2002. Prior to joining NASD, Liz was General Counsel for the Coffee, Sugar & Cocoa Exchange. She received her J. D. from Fordham University School of Law.
Jean Feeney joined NASD in 1977, progressing from law clerk to Assistant General Counsel in NASD and NASD Regulation Offices of General Counsel. Jean was named Special Advisor to NASD Dispute Resolution President Linda D. Fienberg in January 2000 and Chief Counsel in April 2001, and was promoted to Associate Vice President in January 2002. Jean presents issues to the National Arbitration and Mediation Committee and NASD Dispute Resolution Board; manages the rule approval process; works with other NASD divisions on enterprise-wide projects; and advises staff and the public on rule interpretations. She received her J.D. from the George Washington University School of Law.
Please join us in congratulating Liz and Jean.
New York Office Relocates
In January 2003, NASD relocated the New York City Dispute Resolution Headquarters and Northeast Regional Office to One Liberty Plaza, 165 Broadway, 27th Floor.
New Hearing Location
Effective January 2003, NASD established San Juan, Puerto Rico as an additional hearing location for investors in the Caribbean area. The Southeast Regional Office of NASD Dispute Resolution will administer all arbitration and mediation claims assigned to this new hearing location.
Constantine N. Katsoris to Lead SICA
In January 2003, Professor Constantine N. Katsoris became the Chairperson of the Securities Industry Conference on Arbitration (SICA). Professor Katsoris, a 1977 founding public member of SICA, was selected to replace retiring public member Thomas R. Grady. Professor Katsoris joins SICA's two other public members, Thomas Stipanowich and Theodore G. Eppenstein.
SICA, which is comprised of investor, broker/dealer, and self-regulatory organization representatives, created the Uniform Code of Arbitration. The SICA Conference meets regularly to initiate or review dispute resolution rules and policies in the interest of forum constituents.
NASD Spring Securities Conference
On May 1-2, 2003, the NASD Spring Securities Conference will be held in Hollywood, Florida at the Westin Diplomat Resort & Spa. The Conference will focus on compliance obligations and goals. In addition, on April 30, 2003, there will be a compliance seminar for small brokers/dealers.
View more information about the NASD Spring Securities Conference, including how to enroll.
Editor's Note
In addition to your comments, feedback, or questions on the material presented in this publication and other arbitration and mediation issues, The Neutral Corner invites readers to submit articles on important issues of law and procedure relating to mediation, arbitration, or other alternative dispute resolution processes.
Please send your article to Tom Wynn, Editor, The Neutral Corner, NASD Dispute Resolution, One Liberty Plaza, 165 Broadway, 27th Floor, New York, New York 10006. Call the Editor at (212) 858-4392 for editorial guidelines.
---
Questions & Answers on Referrals for Regulatory Review
Presiding arbitrators are authorized and obligated to determine all properly submitted issues. Arbitrators also have another important ancillary power—the power to initiate referrals of NASD member firms or their associated persons for NASD regulatory review when they believe that—based upon the evidence, case-related materials, or communications—the firms and/or their employees may have violated federal securities laws or NASD rules.
NASD Rule 10105 authorizes arbitrators to make these referrals for appropriate discipline and constitutes an important exception to forum confidentiality.
Question: Are presiding arbitrators required to make disciplinary referrals based on the evidence, case-related materials, or communications?
Answer: No. However, since this forum exists in an environment of self-regulation, arbitrators may make such referrals if they believe the evidence, case-related material, or communications indicate that there may have been serious misconduct by an NASD member firm or associated person.
For example, arbitrators may refer for regulatory review conduct that may have violated NASD rules or securities laws, conduct that appears to be unethical or dishonest, or conduct that may constitute abusive sales or trading practices.
Question: Can presiding arbitrators make a referral for discipline under the following circumstances? Suppose that after the parties finish their presentations of evidence, the arbitrators determine to dismiss the claim because the claimant has not proven liability on the part of the respondent NASD member firm and respondent associated person. However, the panel believes that there was evidence presented that may indicate violations of certain securities laws by these respondents.
Answer: Yes. If you and the other arbitrators believe the evidence indicates possible violations of the securities laws, you may make a referral for regulatory review.
Question: When can presiding arbitrators make referrals for regulatory review?
Answer: NASD Rule 10105 requires that such referrals be made after the arbitration concludes—whether by award, settlement, withdrawal, or court order. Making disciplinary referrals only after the final disposition of the case preserves the arbitrators' neutrality during the hearing.
Question: If presiding arbitrators decide to make a referral, what procedure should they follow?
Answer: To refer potential violations of NASD rules or securities laws, arbitrators should contact NASD Dispute Resolution staff—not NASD regulatory staff—for procedural guidance. Assigned staff will provide the panel with the "Arbitrator Referral Form For Potential Disciplinary Matters." After the panel completes the form, staff provides it to the appropriate regulatory staff.
The information to be filled out in the "Arbitrator Referral Form For Potential Disciplinary Matters" includes such matters as the name of the NASD member firm or associated person the arbitrators are referring for regulatory review; the reason for the referral; and the documents or testimony that constitute the basis for the referral. This form also asks for the geographic location of the activity being referred to ensure that the appropriate NASD District Office processes the referral.
View the Arbitrator Referral Form on our Web site.
---
Amendments to NASD By-Laws
In January 2003, NASD invited members to vote by mail to approve three amendments to NASD By-Laws.
The first amendment conforms the definition of "statutory disqualification" in the NASD By-Laws to the definition of "statutory disqualification" in Section 3(a)(39) of the Securities Exchange Act of 1934, as it may be amended from time to time.
The second amendment to the By-Laws authorizes NASD to suspend a former associated person for failure to comply with an NASD arbitration award or NASD mediation settlement agreement for up to two years after the award or settlement is entered.
The third amendment to the By-Laws clarifies that NASD can suspend or prevent a former associated person from any association with any NASD member, as well as suspend or cancel the registration of the associated person, when such person fails to comply with an NASD arbitration award or NASD mediation settlement agreement.
View Special Notice to Members 03-04 for further information.
---
Refund of Member Surcharges
In January 2003, the Securities and Exchange Commission approved a proposal to amend NASD Rule 10333(a). The change applies only to member surcharges under Rule 10333(a) and does not affect any other fee under the NASD Code of Arbitration Procedure. The amendment applies to all arbitration claims filed on or after January 13, 2003.
The amendment authorizes the Director of Arbitration to refund a surcharge paid by a member in a customer arbitration if the arbitration panel dismisses all customer claims against the member or associated person and allocates all forum fees assessed under NASD Rule 10332 (c) against the customer. The proposal also authorizes the Director to refund or cancel the member surcharge in extraordinary circumstances, such as where a customer withdraws a claim mistakenly filed against a member or associated person.
View further information regarding rule filing SR-NASD-2003-01. Also, view NASD Rules 10332 and 10333.
---
Arbitration Statistics
NASD Arbitration Cases Closed Annually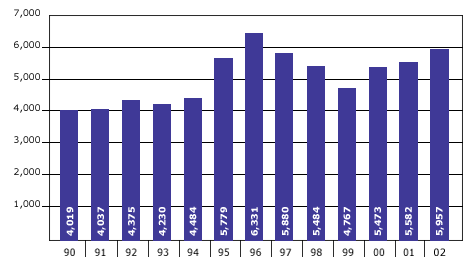 NASD Arbitration Cases Filed Annually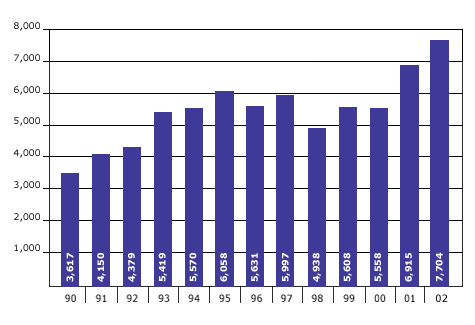 ---
Directory
Linda D. Fienberg
President
NASD Dispute Resolution
George H. Friedman
Executive Vice President
NASD Dispute Resolution
Jean Feeney
Vice President & Chief Counsel
Dorothy Popp
Associate Vice President,
Director of Operations
Kenneth L. Andrichik
Vice President,
Mediation & Business Strategies
Barbara L. Brady
Associate Vice President &
Director, Neutral Management
Richard Berry
Associate Vice President &
Director, Case Administration
John C. Barlow
Associate Vice President &
Regional Director, Midwest Region
Elizabeth R. Clancy
Vice President &
Regional Director, Northeast Region
Judith Hale Norris
Associate Vice President &
Regional Director, Western Region
Rose Schindler
Associate Vice President &
Regional Director, Southeast Region
Shari Sturm
Regional Director,
Mid-Atlantic Region
Tom Wynn
Editor, The Neutral Corner
---
NASD Dispute Resolution Offices
Northeast Region
One Liberty Plaza
165 Broadway
27th Floor
New York, NY 10006
(212) 858-4400
Fax: (212) 858-4429
Mid-Atlantic Region
1735 K Street, NW
Washington, DC 20006
(202) 728-8958
Fax: (202) 728-6952
Southeast Region
Boca Center Tower 1
5200 Town Center Circle
Suite 400
Boca Raton, FL 33486
(561) 416-0277
Fax: (561) 416-2267
Western Region
300 S. Grand Avenue
Suite 900
Los Angeles, CA 90071
(213) 613-2680
Fax: (213) 613-2677
Midwest Region
10 S. LaSalle Street
Suite 1110
Chicago, IL 60603-1002
(312) 899-4440
Fax: (312) 236-9239