Neutral Corner - March 2002
Injunctions
In January 2002, the Securities and Exchange Commission (SEC) approved substantial modifications to NASD Rule 10335 Temporary Injunctive Orders; Requests for Permanent Injunctive Relief. In addition, the SEC agreed to make the revised Rule a permanent part of the Code of Arbitration Procedure. In December 2001, the SEC extended the effectiveness of the current pilot injunctions rule—for six months to July 1, 2002—pending the above action.
Under the revised Rule, which continues to apply to intra-industry disputes under NASD Rule 10201, temporary injunctive relief is no longer available at this forum. However, the parties may seek such relief in a court of law.
When parties seek interim injunctive relief in court, the permanent rule continues to require that they simultaneously file a claim in arbitration requesting permanent injunctive and other relief. In addition, they must continue to serve the claim on all parties at the same time and in the same manner in which it was filed with NASD Dispute Resolution.
The Rule provides for an expeditious arbitration hearing on the request for permanent relief—meaning that the hearing must begin within 15 calendar days of the date a court issues a temporary injunctive order. To ensure the expeditious scheduling of this hearing on the merits, the Rule provides for a shortened time period within which the parties may select arbitrators. The Rule also includes a provision that clarifies the effect of court-issued temporary injunctive orders on the authority of the arbitration panel.
The SEC also approved amendments to NASD Rule 10205(h) that conform the injunctive relief fee provision to the amended NASD Rule 10335.
According to NASD Notice to Members 02-13, the preceding amendments become effective March 25, 2002.
---
Messages from the Editor
Officer Promotion
George H. Friedman has been promoted to Executive Vice President of NASD Dispute Resolution. In December 1998, George joined NASD Dispute Resolution as Senior Vice President and Director, after 22 years of service at the American Arbitration Association (AAA). After listing a few of his many contributions to NASD Dispute Resolution, including improved constituent relations and the achievement of financial self-sufficiency, President Linda D. Fienberg said, "I cannot imagine a better partner with whom to work to carry forward the mission of NASD Dispute Resolution." Please join everyone at NASD Dispute Resolution in congratulating George.
Arbitrator Survey
NASD Dispute Resolution is asking that arbitrators complete a survey to get your feedback about our plans to implement a Web-based case administration system in 2003. Please take a few minutes to complete the online survey. (Note this survey is also available in hard-copy format for those who receive this newsletter via regular mail.) Your responses will be kept confidential. Thank you.
New Hearing Location
NASD Dispute Resolution announced Orlando, Florida as an additional hearing location for arbitrations and mediations filed at this forum. The Southeast Regional Office located in Boca Raton, Florida will administer all arbitrations and mediations assigned to this new hearing location. This announcement is contained in NASD Notice to Members 02-11.
Consolidation of Western Region Offices
On March 4, 2002, NASD Dispute Resolution consolidated its San Francisco and Los Angeles offices into one Western Regional Office in Los Angeles. The consolidated office will continue to administer arbitrations and mediations for all hearings locations assigned to the Western Region under the direction of Associate Vice President Judith Hale Norris, who has relocated to Los Angeles. This announcement is contained in NASD Notice to Members 02-16.
Editor's Note:
We welcome and encourage your comments or feedback on the material presented in this publication. If you have any questions on the information found in this newsletter or in regard to arbitration or mediation, please contact Tom Wynn by mail at NASD Dispute Resolution, 125 Broad Street, 36th Floor, New York, NY 10004 or by e-mail. NASD reserves the right to publish or not publish the letters received.
---
Default Procedures
In January 2002, NASD Dispute Resolution filed with the SEC a proposal to amend NASD Rule 10314 to provide specific default procedures for cases in which a suspended, terminated or otherwise defunct member or associated person fails to answer or participate in an arbitration proceeding, and all of the claimants elect to pursue the claim in arbitration (File No. SR-NASD-2002-15).
The proposed rule change is the latest in a series of actions taken by NASD Dispute Resolution in response to the June 15, 2000 United States General Accounting Office Report (GAO Report) titled "Securities Arbitration: Actions Needed to Address Problem of Unpaid Awards." The GAO Report can be found on the GAO Web Site at www.gao.gov. For a discussion of the other NASD Dispute Resolution actions, see the "Rule Updates" article in the June 2001 edition of The Neutral Corner (TNC).
In January 2002, the SEC published for public comment an arbitration rule proposal that will permit claimants who are represented by counsel with the option of serving arbitration claims directly on named respondents (File No. SR-NASD-2001-55).
Mediation Advocacy Program
On April 22, 2002, NASD Dispute Resolution will host a Mediation Advocacy Program in Washington, D.C. This program is designed to enhance the mediation advocacy skills of securities practitioners, particularly legal and compliance staff at securities firms. It will be conducted prior to the NASD Regulation Spring Securities Conference.
---
NASD Notice to Members 02-13: In this Notice, NASD Dispute Resolution announced SEC approval of amendments to NASD Rules 10335 and 10205(h); described the amendments; and provided the effective date of the amendments.
By way of background, NASD Rule 10335 was adopted in 1996 as a one-year pilot rule. The pilot has been extended a number of times to permit NASD Dispute Resolution to assess the effectiveness of the Rule. It was most recently extended to July 1, 2002, pending SEC approval of the proposed changes to the Rule. The amendments described in this Notice are significant, supersede the pilot rule, and make NASD Rule 10335 a permanent part of the Code of Arbitration Procedure.
Under the pilot rule, intra-industry parties could seek temporary injunctive relief in arbitration or from a court of law. Under the approved permanent rule, parties cannot seek temporary injunctive relief in NASD Dispute Resolution arbitration. However, they may still seek such relief in court. The other changes to NASD Rule 10335 promote the quick resolution of injunctive relief disputes when a court orders temporary injunctive relief. These changes include an expeditious hearing on the merits of the controversy; the quick selection of a balanced arbitration panel; and important clarifications, including the applicable legal standard for granting or denying requests for permanent injunctive relief.
The amendments to NASD Rule 10335 and the conforming changes to NASD Rule 10205(h) will apply to all claims filed on or after March 25, 2002.
NASD Notice to Members 02-07: In this Notice, NASD Regulation announced the implementation of IM-2110-7 on February 11, 2002. The Interpretative Material, which became immediately effective upon filing with the SEC on December 21, 2001, makes it inconsistent with just and equitable principles of trade for an NASD member or a person associated with a member to take any action that interferes with a customer's request to transfer his/her account, unless the account is subject to any lien or other authentic claim for monies owed by the customer. The prohibited interference includes, but is not limited to, seeking a court order or decree that would bar or restrict the submission, delivery, or acceptance of a written request from a customer to move his/her account. At the same time, the Notice makes it clear that this Interpretative Material does not prevent member firms from using employment agreements to prevent former registered representatives from soliciting firm customers.
---
NASD Customer Survey
Last year, NASD Dispute Resolution analyzed the results of a survey aimed at measuring the qualitative effectiveness of its administrative services. The purpose of the survey was to assist NASD Dispute Resolution in its continuing efforts to improve the administrative efficiency and fairness of the arbitration process. This article highlights the conclusions of the NASD Customer Survey (Survey).
The Survey resulted in a 34 percent return rate, having been sent to 194 frequent arbitration filers, with a total of 65 responses. Those who filed responses expressed favorable views, some of which are set forth below. Notwithstanding the positive results of the Survey, NASD Dispute Resolution will continue to seek feedback from forum users to enhance its administration of the arbitration process.
Selected Survey Results
94% of the participants indicated that NASD Dispute Resolution staff generally treated them with courtesy and respect.
85% of the participants indicated that NASD Dispute Resolution staff handled their cases in a fair and unbiased manner.
84% of the participants indicated that NASD Dispute Resolution staff was knowledgeable about the process and able to answer their questions.
86% of the participants indicated that NASD Dispute Resolution written materials were clear and understandable.
87% of the participants indicated that NASD Dispute Resolution on-premises hearing facilities have met their needs.
To read about the results of another survey of parties and representatives in regard to the fairness and quality of NASD arbitrators, see the July 2000 edition of TNC. You may also view a copy of this report titled "Party Evaluation of Arbitrators: An Analysis Of Data Collected From NASD Regulation Arbitrations".
---
Arbitration Statistics 
NASD Arbitration Cases Closed Annually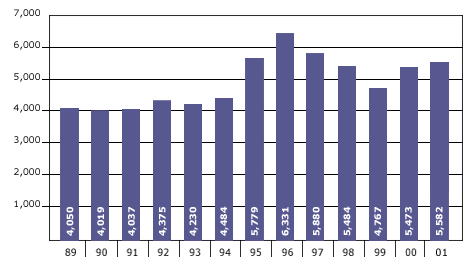 NASD Arbitration Cases Filed Annually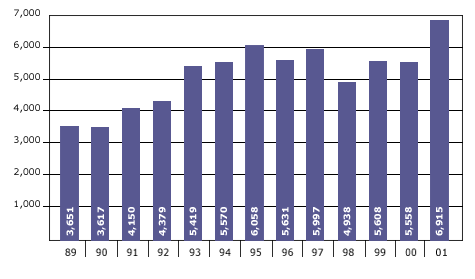 View the NASD Dispute Resolution Statistics for more detailed information.
---
Directory
Linda D. Fienberg
President
NASD Dispute
Resolution, Inc.
George H. Friedman
Executive Vice President
NASD Dispute
Resolution, Inc.
Jean Feeney
Associate Vice
President &
Chief Counsel
Dorothy Popp
Associate Vice
President, Operations
Kenneth L. Andrichik
Vice President,
Mediation and
Business Strategies
Barbara L. Brady
Director, Neutral
Management
Rick Berry
Director, Case
Administration
Tom Wynn
Assistant Director
Editor, The Neutral Corner
William N. Bonilla
Assistant Director
Technology and
Financial Planning
John C. Barlow
Regional Director
Midwest Region
Elizabeth R. Clancy
Associate Vice President,
Northeast Region
Judith Hale Norris
Associate Vice President,
Western Region
Rose Schindler
Regional Director,
Southeast Region
 
---
Dispute Resolution Offices
Northeast Region
NASD Dispute Resolution, Inc.
125 Broad Street
36th Floor
New York, NY 10004-2193
(212) 858-4381
Fax: (212) 509-9041
NASD Dispute Resolution, Inc.
1735 K Street, NW
Washington, DC 20006
(202) 728-8958
Fax: (202) 728-6952
Southeast Region
NASD Dispute Resolution, Inc.
Boca Center Tower 1
5200 Town Center Circle
Suite 400
Boca Raton, FL 33486
(561) 416-0277
Fax: (561) 416-2267
Western Region
NASD Dispute Resolution, Inc.
300 S. Grand Avenue
Suite 1620
Los Angeles, CA 90071
(213) 613-2680
Fax: (213) 613-2677
Midwest Region
NASD Dispute Resolution, Inc.
10 S. LaSalle Street
Suite 1110
Chicago, IL 60603-1002
(312) 899-4440
Fax: (312) 236-9239