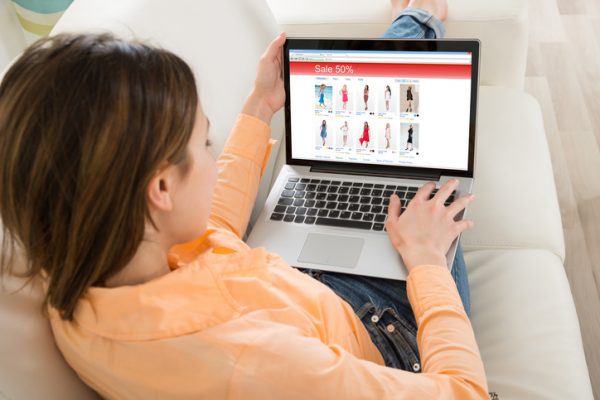 Bye, Bye Shopping Madness: 6 Tips to Help You Stop Overspending Online
Last chance: Extra 10% off! Drop everything, your favorite designer is on sale! Free shipping, today only!
Chances are emails like these from e-commerce sites have hit your inbox, urging you to click and spend. Can you resist?
Many can't. Five in six Americans admit to impulse buying and a growing number are doing so online, according to a recent survey by CreditCards.com. Further, about one in three Americans said they've made most of their impulse buys in the past three months using a computer, tablet or smartphone, compared to just one in five who said the same a year ago.
With retailers using analytics to track your preferences and show you targeted digital ads everywhere you look, it's harder than ever to avoid temptation.
Retailers "can collect so much information on their users that they no longer have to speculate about what we want," said Matt Schulz, senior industry analyst at CreditCards.com. "They simply leverage all the information they have about us and create experiences to ensure that we see only those items that we're mostly likely to want."
Related: How To Create A Budget And Stick To It In 7 Steps
If you find yourself falling victim to the online shopping madness, here are six things you can do to curb your urge to splurge.
1. Block The Promotions
The messages that we receive from online retailers can be very powerful. They create a sense of urgency–act now or miss an opportunity–or entice us with objects of desire that are hard to resist.
A daily email from a flash sale site might offer a welcome diversion from work and instant gratification when you complete a transaction. But the next thing you know, boxes are piling up at your doorstep.
Your best bet is to put blinders on. Unsubscribe from online retail email lists and delete shopping apps from your phone. The less you see, the less inclined you are to spend.
2. Don't Store Your Credit Card Information On A Shopping Site
Sure it makes life easier to give an e-commerce site your credit card and shipping information just once. No need to type in those pesky numbers every time you shop. But convenience could cost you.
When shopping is too easy, you're less likely to stop and think about a purchase. That's why it's worth taking the time to delete the personal information you've stored with online retailers and to avoid storing it in the future.
3. Shop With A Purpose
While browsing or window shopping can be fun, it's best to resist the temptation. Instead, aim to only shop when you know exactly what you need.
"Whether you're shopping online or in a store, make lists in advance of what you need," Schulz said.
And you can take it a step further. Before you hit the buy button "wait at least 30 minutes," said Paul Golden, a spokesman for the National Endowment for Financial Education (NEFE). "Or better yet sleep on it."
4. Look For A Different Kind Of Emotional Lift 
Does shopping boost your spirits? You're not alone. A study conducted by researchers at the Ross School of Business at the University of Michigan found that making shopping choices helps give you a sense of control over your environment, and this helps reduce sadness.
Replace "retail therapy" with different types of experiences that might make you feel better. Activities like calling a friend, volunteering, or heading to the gym might help you improve your mood without costing you a cent.
5. Shopper, Know Thyself
Maybe you don't shop for an emotional lift, maybe something else drives you. Either way, it's a good idea to examine your online shopping habits, Golden said.
Once you know the times you tend to shop, or the circumstances that make you want to shop, you can set up guardrails.
"Identify when you're most likely to shop and shut off the computer," Golden said.
6. Get Help
Sometimes habitual online shopping can become a serious behavioral problem. About 6% of the U.S. population suffers from "compulsive buying disorder," defined as "uncontrolled urges to buy," according to a paper published in the American Journal of Psychiatry.
"People with pathological buying feel preoccupied with shopping and feel like they have no control over it, even if it leads to severe work or relationship problems, or financial bankruptcy," wrote psychiatrist Marlynn Wei.
"Do you shop for a quick fix for the blues? Do you feel guilty or ashamed? Have you tried to stop and you're unable to?" asked April Lane Benson, a psychologist and author of the book "To Buy or Not to Buy: Why We Overshop and How to Stop." These are signs that your problem might be getting out of control.
Fortunately, there are places to go for help. Debtors Anonymous, which works with people who have compulsive shopping problems, is one place to start, Benson said.
"Consider seeing a therapist," she added. "Ideally it should be someone who has experience in working with this particular problem."