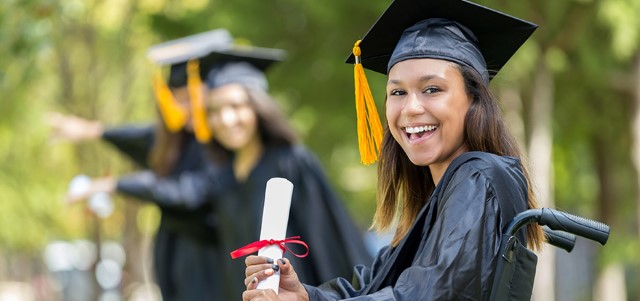 ABLE Accounts Can Help Americans With Disabilities Save
Saving is a foundation of financial stability. But until recently, if you were blind or disabled, or the parent of a blind or disabled child, it was extremely difficult to save for expenses such as housing, education—or even disability-related services and technologies—without losing other benefits.
The annual contribution limit for
an ABLE account is $14,000 per
individual beneficiary, and total
contribution limits vary by state.
That changed with the passage of the Achieving a Better Life Experience (ABLE) Act of 2014, which gives Americans with disabilities the opportunity to save in a tax-deferred account, similar to a 529 college savings plan as a supplement to their government benefits.
Here are six things you should know about ABLE accounts, which are also called 529A accounts.
What it covers. ABLE accounts allow individuals with disabilities and their families a tax-advantaged way to save money for the disability-related expenses of the account's designated beneficiary. Qualified expenses include, but are not limited to, education, housing, transportation, assistive technology, employment training and support, financial management and health care expenses.
 
Eligibility. In general, a beneficiary is eligible for an ABLE account if he or she is already receiving benefits under Supplemental Security Income (SSI) or Social Security Disability Insurance (SSDI). If the potential beneficiary is not already receiving those benefits, his or her disability must be certified with a written diagnosis by a licensed physician. Under all circumstances, the onset of the disability must have begun prior to age 26.
 
Bypassing asset limitations. Generally, individuals with disabilities can only have $2,000 in assets at any given time to remain eligible for many government benefit programs, including SSI. But savings in a 529A account up to $100,000 will not affect eligibility for SSI and other benefits. And even if the account exceeds $100,000, the beneficiary will remain eligible to receive Medicaid. Check with the state that administers your ABLE account for additional details related to this exemption, and whether it applies to your situation.
 
Contribution limits. The annual contribution limit for an ABLE account is $14,000 per individual beneficiary, and the total contribution limit over time varies by state. Many states have set this total limit at more than $300,000 per account. Contributions to an ABLE account may be made by any person (the account beneficiary, family and friends). Although contributions to an ABLE account are not deductible on your federal income tax return, some states may allow for state income tax deductions.
 
Taxes and fees. Earnings in an ABLE account grow tax-deferred, and withdrawals are tax-free when used for qualified disability-related expenses. When it comes to costs, ABLE account fees vary by state. States typically charge a monthly maintenance fee and may provide discounts to residents or fee waivers if you maintain a certain balance in the account. The maintenance fees cover the cost of administering the program and are in addition to costs related to the underlying investments. Each state's plan offers different investment choices and may have minimum contribution limits, so make sure the plan you choose has investment options and fees that work for you.
 
Timeline. Money in an ABLE account can be used over the lifetime of the beneficiary so long as funds are used for qualified expenses.
State Administration
Each state establishes its own regulations around ABLE accounts and administers its own plan. States also determine investment options available to families within the plan. Like 529 college savings plans, account owners are able to make changes to their investments two times per year.
Today, you can open an ABLE account using any state's plan following the 2015 removal of a residency requirement for beneficiaries.
The ABLE National Resource Center, managed by the National Disability Institute, maintains a map that provides details of each state's ABLE program. Be sure to compare different programs since, as noted above, some states may offer tax benefits for those who use their home state's plan and fees for ABLE plans vary by state.