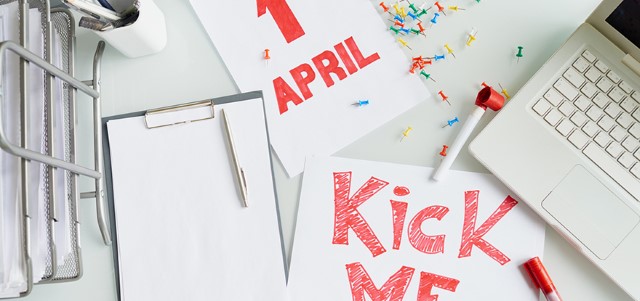 Don't Get Fooled by Fraud This April Fool's Day
What's your favorite April Fool's Day prank? Sneaking a whoopie cushion on someone's seat? Dropping a fake spider on your co-worker's sandwich? With Easter and Passover in the mix this year, perhaps engaging in some sort of holiday hijinks?
April 1st is a day to
indulge in harebrained
hoaxes and jokes. But
there's nothing funny
about a fraudster carrying
out a scam—and no one
will yell 'April Fools' to
make the harm melt away.
As some of us delight in tricking our friends on April Fool's Day, scammers are out working to trick people tricking people, too, resulting in far greater consequences than silly sounds or harmless humor.
"April 1st is a day to indulge in harebrained hoaxes and jokes. But there's nothing funny about a fraudster carrying out a scam—and no one will yell 'April Fools' to make the harm melt away," said Gerri Walsh, Senior VP of Investor Education at FINRA.
So on the eve of April Fools' Day—which also happens to be the first day of Financial Literacy Month—take a look at these five tips to become a smarter investor and to avoid being tricked out your money.
1. Work with investment professionals you have selected. When choosing an investment professional, consider your financial needs and goals and what types of people or firms you could work with. Ask people you know for names of professionals they've used, but don't stop there—interview a selection of candidates. Be wary of cold callers. And be sure to check the registration status of whoever you decide to work with. You can do that quickly, easily and at no charge with FINRA's BrokerCheck.
2. Look for the warning signs of fraud. Look out for guarantees, unregistered products, overly consistent returns, complex strategies, missing documentation, account discrepancies and pushy salespeople. The vast majority of financial professionals are trustworthy individuals, but there are some who may look to take advantage of your trust. Practice spotting the persuasion tactics that con artists use, and always exercise healthy skepticism. For instance, be wary of sales pitches that make exaggerated claims about performance. This is a red flag of fraud.
3. Work with your advisor—but do your own research. Be clear and honest about your investment goals and the amount of risk you are comfortable taking. Listen to your advisor, but do your own research to make sure you understand and are comfortable with any investment before you make it. A simple internet search of the investment can help identify risk factors or even if the investment is potentially fraudulent. And remember: it's not enough to read the sales material or offering documents. Ask lots of questions about potential risks and rewards—and how the investment will help you achieve your goals.
4. Be vigilant about monitoring your accounts. Keep a vigilant eye on your accounts. Be sure you review your account statements and transaction confirmations to make sure nothing is happening in your account that you have not authorized.
5. Ask questions. If that's not already clear from the tips above, remember this: it's your money, why shouldn't you feel completely comfortable about trying to protect it? Never worry about appearing uninformed. Make sure you're working with licensed professionals, the vast majority of whom are honest, hardworking people who put your interests first and will welcome your questions. And remember there are no stupid questions: how does this product work, how can it go wrong, is there a cap on the return, is it a registered product, can I sell it quickly and easily, how is the seller compensated, etc.
If your questions are not answered to your satisfaction, then your response is clear: tell them, "no." You're no fool in April or any other time of year.
Subscribe to FINRA's The Alert Investor newsletter for more information about saving and investing.