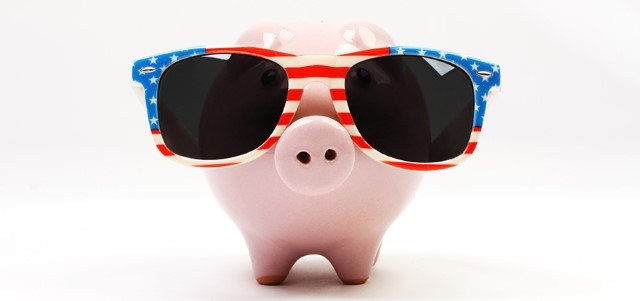 Make the Most of Military Saves Week
Military Saves Week is an annual opportunity for military families to assess their current savings status and set their sights on a secure financial future. From February 26 to March 3, military installations and hundreds of other organizations team up to promote good savings behavior by encouraging service members and their families to save money, reduce debt and build wealth. The FINRA Investor Education Foundation is proud to be among them.
There is an easy way to save
money without ever missing it:
make your savings automatic.
We all know that saving is the foundation of any personal money management plan, but that knowledge isn't enough. It's the combination of knowledge with action that sets you on a path to success.
This year, take the Military Saves pledge to set your financial action plan in motion. Here are 3 ways to make the most of your Military Saves pledge.
1. Set a goal. Establishing a goal greatly increases the likelihood that you'll take the action necessary to achieve that goal. Decide what you want to save for and how much you need to save to meet your goal. Maybe your goal is to save for retirement or for a child's education. You could even have a new home in mind or a vehicle or a special family trip.
2. Make a plan. A savings plan helps to provide some focus for achieving your financial goals. A plan also may allow you to see how setting aside just a little bit of money at a time can help you achieve big goals. You don't have to rush when it comes to saving, but the earlier you start, the better.
3. Save automatically. One of the easiest ways to increase your savings is to set it and forget it. Talk to your financial institution about enrolling in an automatic deposit program so part of each paycheck you receive goes directly into an account set aside for savings. If you don't see the money, you probably won't miss it. If you belong to a military family, there are a few options when it comes to savings programs that might work for you: using your allotments; the Thrift Savings Plan (for retirement, not for your everyday savings or rainy day fund; and, for service members deploying, the Savings Deposit Program (when eligible).
The nonprofit Consumer Federation of America (CFA), a component of America Saves and a partner in the Department of Defense's Financial Readiness Campaign, coordinates Military Saves. Military Saves works closely with the FINRA Foundation, defense credit unions, military banks and other non-profit organizations to promote savings and debt reduction. For more resources, check out the Military Saves website and SaveandInvest.org.
When it comes to saving, Military Saves encourages us all to "Start Small, Think Big." Don't wait until next year to begin your path to greater financial security. Start now. The earlier you start saving, the more likely you are to join the growing ranks of "Thrift Savings Plan Millionaires."
Subscribe to FINRA's The Alert Investor newsletter for more information about saving and investing.