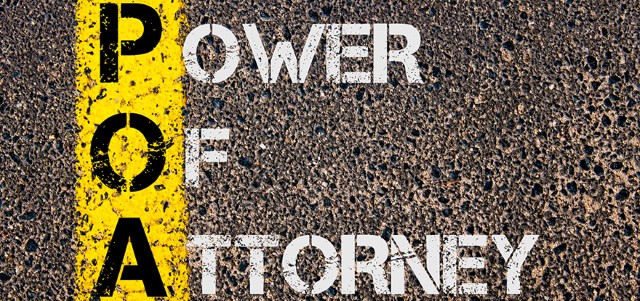 Don't Give in to Power of Attorney Pressure
Pressure tactics and sound investing rarely, if ever, go hand in hand. This holds true when it comes to pressure to sign legal documents that give someone else the authority to make financial decisions on your behalf, such as a Power of Attorney, or POA.
As with the buying and selling
of investments, you want to do
so in an environment free from
pressure.
A POA can be important—even essential—to managing your financial affairs in the event you unexpectedly become unable to manage things on your own. While it's hard to imagine that there could come a time when you won't be able to make important financial decisions on your own, there is a chance that day will come. For example, a health issue might land you in a hospital or rehabilitation center for a lengthy period, or you could become mentally incapacitated. And planning for the future with a POA could minimize complications to achieving your financial goals.
A financial power of attorney is a document that empowers someone of your choosing to handle your financial matter—such as paying your bills, managing your investment accounts, or selling your property—if you are unable to do so on your own.
You, the "principal," choose an "agent" to step in and act on your behalf. You specify which powers you want your agent to have. The agent has a fiduciary responsibility to act in your best interests, and you generally have the right to revoke your power of attorney at any time.
However, as with the buying and selling investments, you want to make your POA decision in an environment free from pressure. In fact, pressure—whether to invest in a product or to sign a document you don't feel entirely comfortable signing—is considered a red flag of fraud. This is worth noting because POA arrangements have been used by financial professionals, family members and trustees, among others, to take advantage of clients, older parents, relatives and friends.
As such, it is important to always be cautious when giving someone control over your money, and to make sure you never feel pressured or coerced into signing a POA or pressured to choose a particular person as your agent. Take time to choose wisely, especially if the POA was not your idea to begin with.
You not only should feel comfortable with the general idea of signing the document and, of course, with your selection of an agent, but also with the actual terms included within it. Your POA document should spell out the types of authority you are handing over and how long you want the power of attorney designation to last. For instance, when it comes to your investments, you can include anything from limited trading authority in a brokerage account to total control over your investment portfolio.
If you feel you are being pressured into signing a POA for your investment assets, take a break and don't sign the document at that time.
Here are additional tips to avoid being a victim of POA pressure:
Before signing a POA, contact other professionals to get a second opinion, such as your lawyer and financial professional, and discuss your objectives and concerns.
If you suspect that your financial professional may be pressuring you into a POA arrangement, contact FINRA's Securities Helpline for Seniors – HELPS™ at (844-574-3577).
Check in with your financial institution periodically to make sure unauthorized parties are not attempting to access your accounts, and ask about the firm's policies to notify you if someone tries. You may want to request that your financial institution inform you if it receives a POA, guardianship or other similar documents relating to your accounts. Financial institutions have regulatory obligations regarding the privacy of your account information, so they tend to be protective of granting access to anyone but you.
For more POA tips, be sure to check out FINRA's investor alert.