News Release

NASD Launches New Worldwide Corporate Identity
Washington, D.C.—The National Association of Securities Dealers, Inc. (NASD®), today announced a new, company-wide corporate identity that includes for the first time a shared image, color, and typeface in the logos for the NASD and its subsidiaries, The Nasdaq Stock Market, Inc. and NASD Regulation, Inc. Featuring a globe enveloped by an electronic circuit board, the new logos reinforce the companies' shared purpose. 
"We want to let the world know we are one family of businesses," said Chairman, CEO, and President Frank G. Zarb. "An integrated look for all of our operations is an important element in successfully conveying this message. In addition, through standardization of design and printing, the new logo system is expected to result in substantial savings in printing costs ."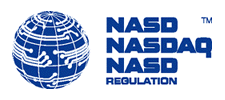 The globe symbol reflects the worldwide outreach of the NASD. The symbol also reinforces the company tag line, "Shaping the new world of investing." This tag line was first used in both Nasdaq advertising and collateral materials at the end of 1997. The line will now be widely used for all NASD companies.
The National Association of Securities Dealers is the largest securities-industry self-regulatory organization in the United States. Through its subsidiaries, NASD Regulation, Inc., and The Nasdaq Stock Market, Inc., the NASD develops rules and regulations, provides a dispute resolution forum, conducts regulatory reviews of members activities and designs, operates and regulates securities markets all for the benefit and protection of the investor.