News Release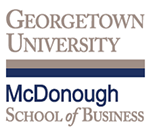 FINRA and Georgetown University's McDonough School of Business Announce Partnership to Deliver Certified Regulatory and Compliance Professional Program
WASHINGTON — The Financial Industry Regulatory Authority (FINRA) and Georgetown University's McDonough School of Business today announced a partnership to deliver the FINRA Institute at Georgetown Certified Regulatory and Compliance ProfessionalTM (CRCPTM) Program in Washington, DC.
The CRCP program is the premier executive program designed specifically for securities industry regulatory and compliance professionals, and delivers a comprehensive and rigorous course of instruction on the foundation, theory and practical application of securities laws and regulation. Participants who successfully complete the program are designated Certified Regulatory and Compliance Professionals by the FINRA Institute at Georgetown.
"We are excited to be working closely with Georgetown's exceptional business and law school professors on our CRCP program," said Chip Jones, Senior Vice President, FINRA Member Relations and Education. "In particular, the Georgetown McDonough faculty's deep knowledge of the securities industry and regulation, and their experience with executive education, make them a great fit for our compliance certification program."
"Located at the intersection of business, government, and international relations, Georgetown University's McDonough School of Business develops principled leaders committed to serving both business and society," said James Angel, associate professor and academic director of the CRCP program. "We look forward to partnering with FINRA in order to prepare industry professionals and regulators to enhance their career development and their understanding of securities laws."
Now in its 17th year—and with more than 1,200 graduates—the CRCP program is geared toward high-potential regulatory, legal and compliance staff, as well as business-line professionals with increasing compliance responsibilities. In partnership with Georgetown McDonough's Executive Custom Programs team, the program provides participants with access to world-renowned professors, expert faculty, other regulators and FINRA senior staff, and valuable insight into the complex compliance, legal and regulatory issues broker-dealers face.
Learn more about the FINRA Institute at Georgetown and the CRCP designation program on FINRA's website.
About FINRA
FINRA is dedicated to investor protection and market integrity. It regulates one critical part of the securities industry—brokerage firms doing business with the public in the United States. FINRA, overseen by the SEC, writes rules, examines for and enforces compliance with FINRA rules and federal securities laws, registers broker-dealer personnel and offers them education and training, and informs the investing public. In addition, FINRA provides surveillance and other regulatory services for equities and options markets, as well as trade reporting and other industry utilities. FINRA also administers a dispute resolution forum for investors and brokerage firms and their registered employees. For more information, visit www.finra.org.
About Georgetown University's McDonough School of Business
Georgetown University's McDonough School of Business, the premier destination for global business education, provides a transformational education through classroom and experiential learning, preparing students to graduate as principled leaders in the service to business and society. Through numerous centers, initiatives, and partnerships, Georgetown McDonough seeks to create a meaningful impact on business practice through both research and teaching. All academic programs prepare students to be "global ready" by providing a global perspective, woven through the undergraduate and graduate curriculum in a way that is unique to Washington, D.C.—the nexus of world business and policy—and to Georgetown University's connections to global partner organizations and a world-wide alumni network. Founded in 1957, Georgetown McDonough is home to some 1,400 undergraduates, 1,000 MBA students, and 1,200 participants in executive degree or custom programs. Learn more at http://msb.georgetown.edu. Follow us on Twitter: @msbgu.