News Release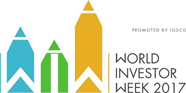 FINRA Promotes World Investor Week 2017
Securities Regulators Around the World Are Shining a Spotlight on Investor Education and Protection
WASHINGTON — The Financial Industry Regulatory Authority (FINRA) today announced its participation in the first World Investor Week, Oct. 2-8, to increase awareness of investor education and protection tools and information.
Throughout the week, FINRA and other securities regulators and stakeholders from more than 70 countries are coordinating a variety of activities, including the publication of investor-focused communications, virtual chats, workshops, conferences, investor education campaigns and contests. The dedicated campaign website, www.worldinvestorweek.org, provides details on the various participating authorities and important international organizations supporting the week-long campaign promoted by the International Organization of Securities Commissions (IOSCO).
"FINRA is dedicated to investor protection and collaborates regularly with federal and state regulatory partners to engage U.S. investors — from young workers to older Americans as well as military members and their families and underserved populations, especially those who may be vulnerable to financial exploitation," said Gerri Walsh, FINRA's Senior Vice President of Investor Protection. "We encourage financial professionals, researchers, financial literacy advocates, educators and other partners to take advantage of FINRA's tools and resources to help consumers spot financial fraud, increase financial knowledge and skills, and promote financial stability and wellness through informed decision making."
The U.S. Securities and Exchange Commission's Office of Investor Education and Advocacy, FINRA, the FINRA Investor Education Foundation, the Commodities Futures Trading Commission, and the North American Securities Administrators Association issued an Investor Bulletin to highlight the key messages of World Investor Week.
During the campaign, the FINRA Foundation will participate in a Twitter chat hosted by the SEC and will co-host a nationwide webinar with the National Futures Association, the SEC and others. FINRA staff are also delivering presentations during the week and throughout the year to provide tools, information and resources to raise awareness about investor education and protection.
The Foundation's most recent National Financial Capability Study indicates that only 37 percent of Americans are considered to have high financial literacy, meaning they could answer four or more questions on a five-question financial literacy quiz—down from 39 percent in 2012 and 42 percent in 2009. The survey also indicated that while the financial capability of many Americans is improving, making ends meet remains a daily struggle for millions — particularly women, millennials, African-Americans, Hispanics and those lacking a high school education.
"There is a critical need to engage consumers using innovative strategies and diverse platforms to effect positive changes in financial behaviors," Walsh said. Key campaign messages include encouraging investors to:
use BrokerCheck to research the background of their financial professional;
ask questions about financial opportunities and check out the answers with unbiased sources;
understand the impact of fees associated with buying, owning, and selling an investment product;
know that all investment products have risks;
be alert to the warning signs of financial fraud;
recognize the power of compound interest;
diversify investments; and
plan and invest for future needs.
The FINRA Foundation supports innovative research and educational projects that give underserved Americans the knowledge, skills and tools to make sound financial decisions throughout life. The Foundation is recognized as a world leader in supporting research and financial education initiatives to address the nation's financial capability needs.
For more information about FINRA Foundation initiatives, visit finrafoundation.org.
FINRA is dedicated to investor protection and market integrity. It regulates one critical part of the securities industry – brokerage firms doing business with the public in the United States. FINRA, overseen by the SEC, writes rules, examines for and enforces compliance with FINRA rules and federal securities laws, registers broker-dealer personnel and offers them education and training, and informs the investing public. In addition, FINRA provides surveillance and other regulatory services for equities and options markets, as well as trade reporting and other industry utilities. FINRA also administers a dispute resolution forum for investors and brokerage firms and their registered employees. For more information, visit www.finra.org.