Chairman's Message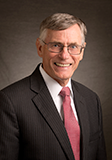 Richard G. Ketchum
Chairman and CEO
Today's investors face a dynamic and fast-changing market, which makes FINRA's role as the first line of oversight for broker-dealers and the U.S. securities markets more important than ever.
Innovation is critical in meeting FINRA's mandate to protect investors and keep the markets fair. This is true across every part of our organization—from our responsibility to oversee the activities of about 4,000 securities firms and approximately 638,300 brokers, to our role in examining those firms for compliance with the securities rules, regulating trading on the U.S. stock and options markets, and educating investors.
We process immense amounts of data, monitoring up to 50 billion transactions each day. To do this effectively, we have developed cutting-edge surveillance systems designed to detect potential misconduct at firms, by brokers and in the markets we oversee. We deploy a variety of data-analysis techniques to uncover market abuses, including insider trading and any strategies firms or individuals use to gain an unfair advantage to the markets and investors.
We also leverage the information we gather to keep investors and market participants informed. Our free, online tool, BrokerCheck®, is one example. BrokerCheck contains a wealth of information, including every broker's employment history, a list of certifications and licenses, as well as information on regulatory actions, violations or complaints made against brokers. We provide public access to this kind of information because it is an essential tool to help investors make informed choices about the brokers and brokerage firms to which they entrust their investments.
We also pay close attention to emerging issues, such as product and market trends, so we can respond quickly and direct the appropriate resources to areas of concern. One of today's most pressing concerns is cybersecurity. We address this issue by assessing and reporting on the threats brokerage firms face, the areas within their operations that are most vulnerable and how they're managing the threats. We do this to help our member firms understand the risks, but it also ultimately protects investors. One recent FINRA Investor Alert, Cybersecurity and Your Brokerage Firm, encourages investors to understand their firm's cybersecurity policies and provides practical advice to help investors safeguard their brokerage accounts and personal financial information.
We've also aimed to address the unique needs of senior investors, who now make up a significant portion of the population and who may be more vulnerable to fraud because of potential health complications and diminished mental capacity. We have dedicated significant resources to this emerging issue, including assessing and reporting on how brokers conduct business with senior investors.
In April 2015, we launched a toll-free helpline for seniors to provide older investors with a supportive place to get knowledgeable and trustworthy assistance related to concerns they have with their brokerage accounts and investments. When we noticed a number of calls about transferring assets of deceased relatives, we issued Plan for Transition: What You Should Know About the Transfer of Brokerage Account Assets on Death, an Investor Alert that aims to help better inform brokerage account holders, family members and other beneficiaries about that general process.
We also offer information and tools to help investors manage their money smartly. FINRA's Market Data Center offers investors information on a broad spectrum of financial instruments, including stocks, options, mutual funds, exchange-traded funds and bonds. The Market Data Center also emphasizes bond market information, including price information from FINRA's Trade Reporting and Compliance Engine (TRACE®), and makes it easier for investors to find timely bond-market data, including last trades and prices.
The FINRA Investor Education Foundation ("The FINRA Foundation") provides underserved Americans with the knowledge, skills and tools necessary for financial success throughout life. As part of its mission, The FINRA Foundation identifies issues that are impacting certain segments of the investing public, and provides practical resources to those groups. The Foundation team works in a rapidly evolving environment and is continuously innovative in its approach to both research and communication in order to stay ahead of trends.
These efforts are just part of what we do each day to support our important mission of protecting investors and upholding market integrity. We are committed to a culture of innovation to support that mission and to help us play a leadership role in the regulation of the securities markets and securities firms.
 

Richard G. Ketchum
Chairman and CEO