Vice President and Ombudsman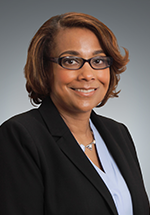 Cindy Foster is Vice President and Ombudsman. As Ombudsman, Ms. Foster leads a team responsible for assisting FINRA constituents, including investors, associated persons and firms, with resolving conflicts or addressing problematic issues or concerns. Ms. Foster and her team also work with senior managers across the organization to implement policy and procedural changes resulting from the evaluation of case trends and other research.
Ms. Foster has more than 20 years of experience with FINRA in various capacities, including as a senior analyst responsible for investigating manipulation and fraud in the over-the-counter markets. As Associate Director for the Order Audit Trail System (OATS) Member Firm Coordination Project and Compliance team in Market Regulation, Ms. Foster worked closely with chief compliance and technology officers at member firms and the Securities and Exchange Commission (SEC) on the implementation of OATS and subsequent compliance functions. In 2000, Ms. Foster joined SunGard Trading Systems (STS), a financial services software company. As Chief Compliance Officer she advised STS executive management and clients on the impact of securities industry rules and regulations on order management and trade execution systems. In 2003, she was promoted to Executive Vice President and her duties were expanded to include in Product Management, Technology and Client Services.
Ms. Foster has Master of Business Administration and Master of Science degrees from the University of Maryland. She currently serves on FINRA's Pension/401(k) Committee and is an inaugural member and current Chair of FINRA's Diversity Leadership Council.