Executive Vice President, Quality of Markets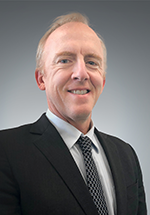 Jon Kroeper is Executive Vice President of the Quality of Markets Section of FINRA's Market Regulation Department. The Quality of Markets Section is responsible for the conduct of post-trade surveillance and investigations related to data integrity, customer protection, market conduct rules, and trading manipulation matters in the U.S. equity and fixed income markets FINRA regulates directly as an SRO and as a provider of regulatory services to other SROs.
Prior to joining FINRA's predecessor NASD in early 2007, Mr. Kroeper served as Counsel to U.S. Securities and Exchange Commission Chairman Chris Cox in 2006 and 2007, and Counsel to Commissioner Paul S. Atkins in 2005. From 2000 to 2005, Mr. Kroeper was First Vice President and Associate General Counsel for Instinet Group Incorporated. Mr. Kroeper began his career at the U.S. Securities and Exchange Commission in 1994, serving as a senior counsel in the Division of Market Regulation and subsequently as Counsel to Commissioner Laura S. Unger.
Mr. Kroeper received a bachelor's degree from Georgetown University and a law degree, cum laude, from Chicago-Kent College of Law.