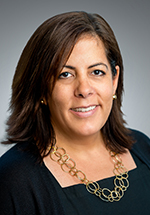 Lara Thyagarajan is Senior Vice President, Head of Market Regulation Enforcement and Litigation. As Head of Market Regulation Enforcement, Ms. Thyagarajan oversees a team of specialist attorneys based in New York City, Rockville, MD and Chicago. Ms. Thyagarajan also oversees Enforcement's Litigation Group.
Prior to serving in her current role, Ms. Thyagarajan held various leadership roles in the Enforcement Department and was most recently the Counsel to the Head of Enforcement. She joined FINRA's predecessor, NASD, in 2006. Before joining FINRA, Ms. Thyagarajan was a partner in the securities enforcement defense practice of a Boston law firm where she focused on the defense of broker-dealers and financial professionals in SEC, FINRA and state investigations and litigations.
Ms. Thyagarajan is a graduate of Boston College Law School and received her B.A. from Boston University.