2014 Annual Conference Highlights and Recordings
Conference Recordings
Member firms may register for free access to all of our 2014 Conference Recordings.
Annual Conference Brochure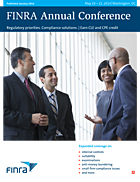 Test link to 2014 conference brochure
Hear What Others Have to Say

Conference Sessions
View 2014 FINRA Annual Conference Brochure for this year's conference sessions.
Networking Events
Connect with FINRA committee members and FINRA staff during our networking events.
Exhibitors
View the full list of conference exhibitors.