Interacting With FINRA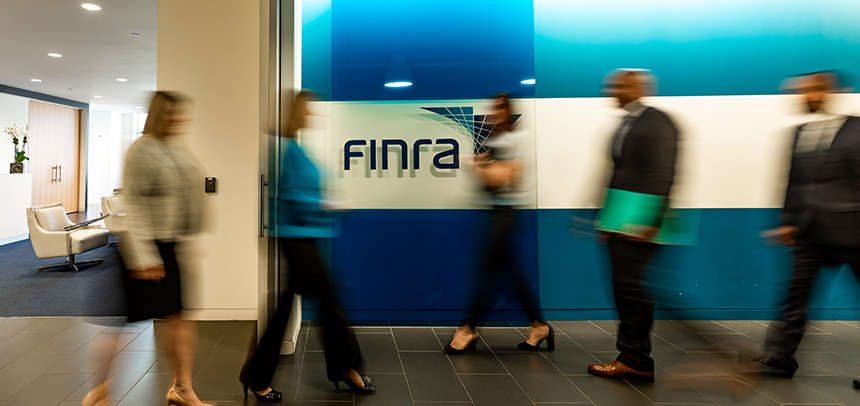 Manage Your Career
Interacting With FINRA
In this regard, FINRA conducts examinations of firms as well as their representatives.
FINRA Examinations
FINRA conducts more than two thousand on-site firm and branch office examinations each year. These examinations are meant to determine whether firms and their registered representatives are in compliance with federal securities laws, rules and regulations. Member firms and their brokers are also subject to "cause examinations" which may stem from a customer complaint or disclosure in a regulatory filing.
Cooperation With FINRA Staff
You may be asked to provide information, documentation or to testify on the record during the examination or investigative process. If you are contacted by FINRA staff in conjunction with an examination or investigation, you must cooperate fully and answer all written and oral inquiries clearly and truthfully in accordance with your obligations under FINRA Rule 8210. You should always feel free to ask the examiner any questions that you have about the requests. Failure to respond to requests for information or for making misrepresentations to FINRA may lead to you being permanently barred from the securities business.
The obligation to respond to FINRA continues for at least two years after you have left the securities industry, during which time FINRA retains regulatory and enforcement jurisdiction over you. However, the two-year period may be extended if your Form U5 is amended to disclose certain reportable misconduct. Your firm may be notified of any FINRA investigation in which you could be involved. You may have to update and amend your Form U4 with your firm as a result of a FINRA investigation or customer complaint, among other factors, just as your firm may have to update your Form U5 if these issues present themselves after you have left the firm.
Violations
FINRA prepares a report at the conclusion of a FINRA staff examination or investigation, and if apparent violations of rules and regulations are discovered FINRA may initiate a disciplinary action. Our Adjudication page discusses the system FINRA uses for disciplining firms and individuals who break the rules.
Public Information
In addition to the information in BrokerCheck, arbitration awards and disciplinary actions, FINRA also makes public fines greater than $10,000 and when a firm or registered representative is suspended or barred from the securities business. The sanction guidelines, which are published by the FINRA Board of Governors, lists typical sanctions that may be expected for various rule violations and are a good resource in helping you better understand the importance of maintaining compliance with FINRA rules and regulations.
Notification to State and Federal Authorities
FINRA may inform state or federal authorities if it uncovers suspected fraud, criminal behavior or other violations by member firms and their associated persons. Federal and state regulatory authorities likewise have the power to discipline firms and registered representatives and may bring civil or criminal proceedings for violations of their laws and rules.
FINRA Office of the Ombudsman
The FINRA Office of the Ombudsman provides a forum for firms and their associated persons, public investors, and FINRA staff members to voice their concerns of unfair practices or disparate treatment. The objective of the Ombudsman's Office, as an independent, neutral and confidential source of assistance, is to receive and address concerns and complaints from any source concerning the operations, enforcement or other activities of FINRA or any of its staff. Where established procedures currently exist regarding the application of rules, policies, procedures or interpretations, the Ombudsman will direct the matter to the appropriate office, department or company. The function of the Ombudsman's Office is not intended to be an appeals forum for decisions made in other forums, or an arbitrary alternative to a program that already exists. Instead, it serves as an alternative channel of communication—complementing but not replacing FINRA's comprehensive program of formal resolution channels that include adjudication and dispute resolution.
The Ombudsman will attempt to assist you in identifying the appropriate method of resolving your problem or complaint, even if the office does not become directly involved in the matter.
The Ombudsman's Office functions independently from all other FINRA business line functions; as such, it reports directly to the Audit Committee of FINRA's Board of Governors. It has unrestricted access to all company functions, records and personnel. The Ombudsman's Office does not have direct authority over FINRA personnel or the departments it reviews.
The Office of the Ombudsman is a department staffed with several Ombudsmen who are trained and have experience in handling a variety of matters. The Ombudsman, as a designated neutral party, has the responsibility of maintaining strict confidentiality concerning matters that are brought to the Office of the Ombudsman's attention unless given explicit permission to do otherwise, or unless (a) there appears to be imminent risk of serious harm; (b) in response to binding legal or judicial process; or (c) in response to a request from the SEC. In addition, notice to the office is deemed notice to FINRA in those instances where FINRA is required by law to take corrective or other action upon being put on notice of specific facts or allegations. In such instances, where confidential information is required to be disclosed or corporate action is required, the office will take reasonable steps to maintain confidentiality as to the identity of the provider of the information where possible. The Ombudsman will take all reasonable steps to protect any records or files pertaining to confidential discussion from inspection by all other persons, including management.
FINRA Dispute Resolution
FINRA operates the largest arbitration and mediation forum in the securities industry. FINRA's Office of Dispute Resolution resolves disputes in a fair, expeditious, and costeffective manner between customers and securities firms and their associated persons and between associated persons and securities firms. Arbitration and mediation are separate from the functions performed by the District Offices, which include surveillance and enforcement functions that may result in the assessment of sanctions or other disciplinary measures against firms or their associated persons. For additional information please review the overview and comparison of the arbitration and mediation processes.
FINRA rules require that all brokers submit to arbitration to resolve investment-related disputes with their customers, as well as most intra-industry disputes. For more information on this requirement please refer to FINRA Rule 2263.
Mediation, however, is a voluntary process in which the mediator, an impartial person trained in facilitation and negotiation techniques, helps the parties reach a mutually acceptable resolution. In mediation, as distinguished from arbitration, the mediator does not impose a solution, but rather, works with the parties to create their own solution.
To learn more, please visit the Dispute Resolution page.
FINRA Office of the Whistleblower
If you are aware of unfair practices or specific instances of misconduct, FINRA wants to know about it immediately. Often, violations of our rules and the federal securities regulations come to light through the receipt and investigation of regulatory tips from members of the industry and other industry professionals.
There are two primary ways to share regulatory intelligence with FINRA.
For more routine matters, you can file a regulatory tip by using our online regulatory tip form, or by mailing or faxing a tip to FINRA.
For more sensitive or high-risk matters, including those involving potential fraud or ongoing investor harm, you can contact FINRA's Office of the Whistleblower. The Office of the Whistleblower expedites the review of high-risk tips by FINRA senior staff and ensures a rapid response for tips believed to have merit. Through the Office of the Whistleblower, individuals with material evidence or first-hand knowledge of potentially illegal or unethical activity can reach senior staff, who can quickly assess the level of risk involved and make sure that each tip is properly evaluated. Those tips warranting additional review and investigation will be subject to an expedited regulatory response. FINRA may refer whistleblower tips that fall outside its jurisdictional reach to the appropriate regulatory or law enforcement agencies.
When filing a regulatory tip or contacting the Office of the Whistleblower, please provide as much specific information as you can, including a brief summary of the conduct and/or rule violations that you believe:
has taken place;
may now be occurring; and/or
may be about to occur.
To the extent possible, provide the names of the involved parties, their roles and their relationships, the securities or product involved, and the time periods or dates applicable to these events.
Once you have submitted a tip, FINRA may contact you to verify the information provided and to obtain additional information. While anonymous tips will be accepted and reviewed, their value may be diminished if FINRA is unable to conduct this additional inquiry.
If you are in possession of written materials or other documentation that supports your tip, FINRA staff will ask for this information following the receipt and review of your tip. The documents can also be attached to your email to the Office of the Whistleblower or provided with the online regulatory tip submission. All regulatory tip information received will be treated in confidence to the fullest extent possible. FINRA, however, cannot guarantee that during the course of a related investigation or possible prosecution of the matter that the identity of the source of a regulatory tip will not become known.