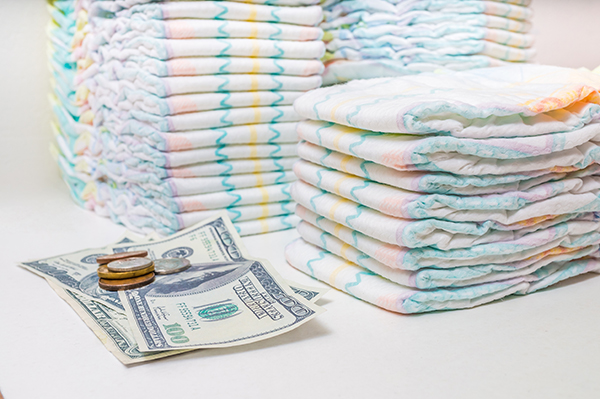 Baby Proof Your Finances With These Five Tips For New Parents
Portia Zwicker, a 36-year-old technical writer, never focused much on her finances. But that changed when her first child, Liliana, arrived in February. Now Zwicker and her husband are starting to talk about wills and 529 college savings plans.
"I'm slowly getting on the path," she said. "I have another person to think about."
Few things make adults worry more about money than the sound of a baby crying. It's easy to see why: A middle class family with a child born in 2013 can expect to pay $245,340 ($304,480 adjusted for projected inflation) for food, housing, childcare, education and other child-rearing expenses, between the child's birth and when she turns 18, according to the U.S. Department of Agriculture.
Whether you're expecting your first child, are the parent of a newborn or are starting to think about conceiving or adopting, it's never too soon to think about getting your financial house in order. Here are five steps to get you started.
Create A Budget
If you've never been one to track your income and your spending, now's the time to start.
Do a personal cash flow analysis. Jot down your sources of monthly income and then compare that to your expenses. Be sure to adjust your expenses to account for the additional costs of having and raising a child.
"Our biggest expense during the first three months was (Liliana's) formula," Zwicker said. Other major expenses can include childcare, furniture and diapers, among others.
If you see that your income is falling short, look for places where you can cut back. Set spending limits and do your best to stick to them.
Set Up An Emergency Fund
Experts recommend setting aside the equivalent of three to six months of living expenses to be tapped only in the event that you find yourself facing a major unexpected expense or, worse, become unemployed or fall ill.
The best place for your emergency fund is in a liquid, easily accessible account, such as a standard savings account at a bank or credit union, or other interest-bearing bank account. This kind of account provides some return on your deposit, and you can still withdraw your funds from it at any time without triggering a penalty.
Save For Retirement, Even If It Means Delaying Saving For College
In an ideal world, you would save for college and for your own retirement simultaneously, according to Mike Piper, author of the blog ObliviousInvestor.com.
"But many people find that they can't do that," he said. In that case, "saving for your own retirement has to be the first savings priority."
While college can be very expensive, there are financial aid options available. "There's little-to-no financial aid available for a retiree who didn't save enough," Piper said.
Over time, assuming you have more available cash, perhaps as you progress in your career or get a raise, you can start saving for your child's education.
Two options are 529 college savings plans and Coverdell Education Savings Accounts (ESA). With both, the earnings from your account can be withdrawn tax-free if the money is used to pay for qualified educational expenses.
Purchase Life Insurance
Dealing with the loss of a spouse is hard, particularly if that also means learning how to be a single parent while you mourn. But it doesn't have to be a financial blow.
"Life insurance exists to replace the lost earnings of a person who dies," said Patrick Payne, a professor of finance at Western Carolina University. "The amount of insurance you need depends on how much the household will be set back economically by that person's death."
A common rule of thumb: Your benefit should equal seven to ten times your annual salary.
Get Your Estate Plan In Order
Think about what might happen to your children if you and your partner were to die before they became legal adults. If you want to have a say, you need a will.
A will allows you to name a guardian, as well as someone to manage their money, until they become adults. If you don't name a guardian for your child, a court will do it for you.
"People have a tendency to think that estate planning is only for the wealthy," Payne said. "The truth is, estate planning, for most families, has more to do with what happens to the people you leave behind than with what happens to your stuff."
"Bottom line: get your will up to date," he said. "Make sure to include provisions about who will care for your children if the worst happens."