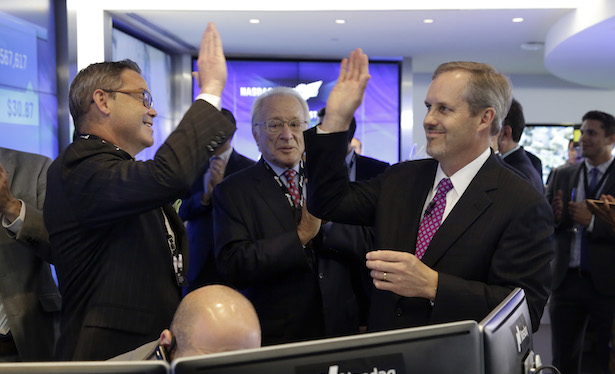 Beyond the Excitement: Behind the Scenes of an IPO
GoPro, Facebook, Etsy. When companies like these list their shares on public exchanges for the first time, the financial press delivers wall-to-wall coverage on every last development on these high-profile market debuts.
But not every initial public offering is a blockbuster and for that matter, most IPOs go largely unnoticed. In 2014, 273 companies offered shares in what's known as an initial public offering (IPO). The issuances raised a combined $85 billion, with much of that sum coming from the September IPO of Chinese online retailer Alibaba, which hauled in a historic $25 billion.
The frenzy of IPO day is the final step in a long, complex process that involves many actors, including investment banks and law firms.
Bankers drum up interest from large institutional buyers and price the shares based on demand in a process known as underwriting. Lawyers dot the i's and cross the t's to ensure the offering complies with Securities and Exchange Commission (SEC) regulations and any other applicable rules and regulations.
Here's a closer look inside what really happens before a company goes public.
Start Acting Like a Public Company
Any company looking to list its shares needs to operate like a public company months, and even years, in advance. Among other things, it needs a business plan that clearly explains why the company or its backers are selling shares and how they'll use the proceeds resulting from that sale.
Pre-IPO companies also need to staff up with investor relations professionals and a skilled Chief Financial Officer (CFO) to oversee the detailed financial reporting that the SEC requires of every public company.
The Beauty Contest
Once a company has the infrastructure of a publicly traded firm, it's ready to launch what is known in financial circles as the beauty contest. This contest refers to the process through which banks compete to win the IPO underwriting business.
Throughout this process companies will share relevant financial information with potential underwriters. Ahead of a much anticipated offering, banks might work overtime to convince a company to hire them to win the prestige that comes with leading the IPO of a marquee company.
Many IPOs are underwritten not by a single bank, but by a syndicate of investment banks headed by a lead underwriter, which will typically sell a majority of the shares and get the largest cut of the underwriting fees.
But typically, it's the banks that need to be convinced that a company's shares will sell. They prefer IPO candidates with proven business models that have performed well in both good times and bad. They'll also look for financial data that indicate an ability to continue to grow.
Filing With the SEC
After hiring underwriters and legal counsel, a company looking to list shares on a public exchange is required to file a registration statement with the SEC. The comprehensive filing provides interested investors with information about the company's business plan and the risks that could derail it. The registration statement also includes the company's finances, competition, and top executives, as well as information about the offering itself.
Registering with the SEC kick starts what's known as a quiet period. Until regulators approve the filing, executives cannot publicly promote their stock.
While the company issuing shares files with the SEC, the underwriters, who are typically Financial Industry Regulatory Authority-registered broker-dealers, must also file the registration statement with FINRA and receive a No Objections Letter before they can sell shares.
Some IPOs might require additional steps. For example, those that are not listed on an exchange may need to be filed with state regulators.
A 2012 law called the JOBS Act allowed so-called emerging growth companies (EGC) — those with less than $1 billion in annual revenue — to file confidentially. The SEC reviews these filings privately. Still, those companies must publicly file at least 21 days before they start promoting the stock in an underwriter-led process called a road show.
The Road Show
Once the quiet period ends, company executives might crisscross the world's financial capitals — London, New York, and Hong Kong — in what is known as a road show to convince investors to invest in their IPO.
For many investors, the road show will be the first and only time they get to meet a company's senior management. About 90 percent of global institutional investors view the road show as a critical non-financial factor in their decision to buy shares, according to one recent survey.
Pricing
Pricing is one of the most anticipated events in the IPO process. After months of speculation and hype, underwriters come up with a target price range for the shares just days before they are sold.
Before settling on a number, underwriters consider a raft of critical financial data, including a company's revenue, debt level and profit margin. They also assess the sentiment of investors. A high level of interest in an offering can push pricing up, while a lukewarm reception might lead a lower than hoped for range. The size of the offering also matters to pricing. Alternatively, a company might decide to sell more shares if demand is hot, or to cut the size of an offering in the face of tepid demand.
One reason companies choose underwriters carefully is that the underwriters' relationships with large investors help determine an IPO price that is neither too high nor too low.
The final sale price isn't determined until the night before the IPO, once underwriters work through all buy orders and finalize the allotment of shares.
The next morning, shares might begin trading either above or below that number depending on the buy and sell orders the exchange receives that day. At that point, it is in the listing exchange's hands to determine where to open trading.
Who Buys IPO Shares
Large institutional investors such as mutual funds and hedge funds are the biggest buyers of IPO shares. Indeed, if an underwriter thinks the IPO will be successful, they will typically reserve most of the shares for large institutional clients. The IPO allocation process makes it difficult for an individual investor to lock in shares at the IPO price. Brokerage houses that are members of the underwriting syndicate can sometimes also get an allocation of shares to distribute to their customers.
The Post-IPO Buzz
A hot IPO can seem like a feeding frenzy. But it's important for investors to remember that the excitement doesn't always last.
IPO shares jumped an average of 18 percent on the first day of trading, according research from University of Florida Warrington College of Business Administration Professor Jay Ritter.
But many IPOs don't perform as well over the long term. Three years after an IPO, most newly public stocks had a market-adjusted return of -18%, according to Ritter's research, which looked at nearly 8,000 IPOs spanning more than three decades.
As with any other investment, those thinking of buying shares of newly public companies have to look past the hype and use their judgment.
Photo by Richard Drew courtesy of AP Photo.