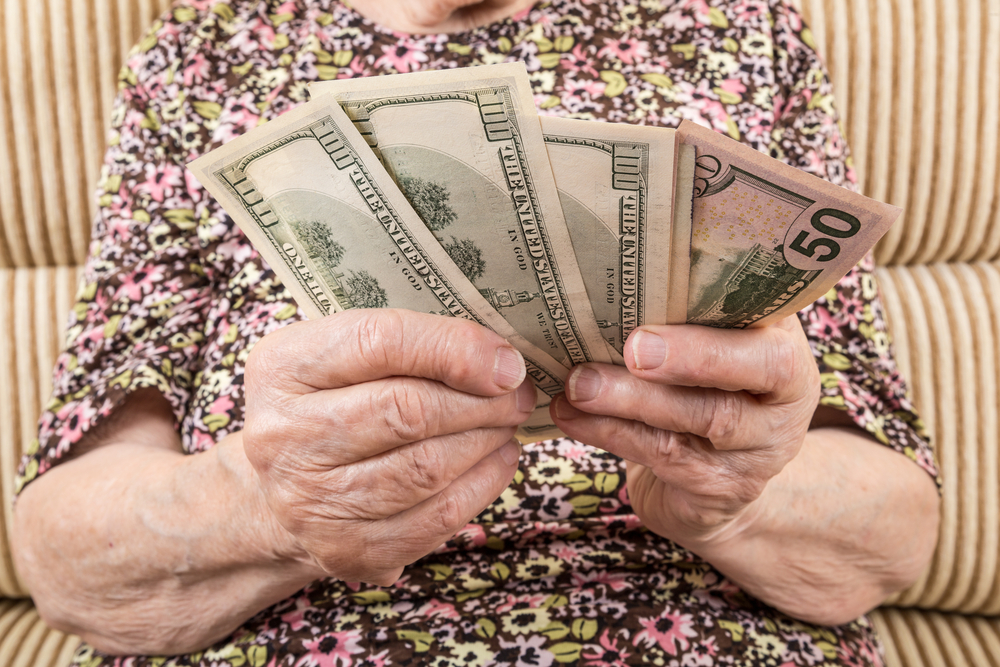 Diminished Capacity Can Place Seniors' Money at Risk
Art Hurme was at home when he got a disturbing call. It was a woman sounding distraught.
Soon after, a man got on the line. Your daughter has been arrested for drunk driving, he claimed, identifying himself as her lawyer. Send $3,000 immediately or the young woman would have to spend the night in the Los Angeles County Jail, the man said.
The worried father followed the instructions, even though his daughter, a teacher, lived in Virginia. By the time his wife, Sally Hurme, realized it was a scam the money was gone.
Art Hurme was 69 at the time, and has since confronted cognitive issues associated with aging. "This was a precursor, an early warning sign," Sally Hurme said.
The story underscores a message that is especially important for Sally Hurme, an elder law attorney who has spent more than two decades as a consumer and financial educator at AARP: Diminished capacity can hurt seniors' ability to make sound judgments about money and it makes them especially vulnerable to financial abuse in a multitude of forms, whether it be telephone scams or investment fraud.
The problem is only going to get bigger as the country's senior population grows.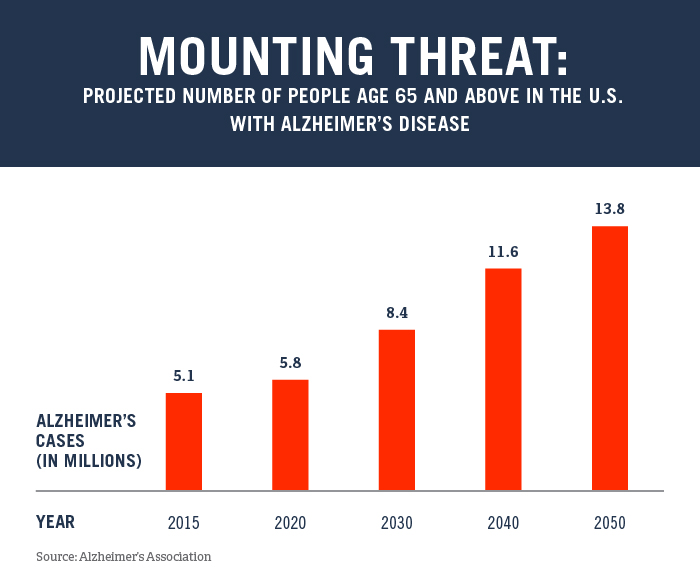 An estimated 5.1 million Americans 65 and older have Alzheimer's disease, according to the Alzheimer's Association. That number is expected to increase by 40 percent to 7.1 million within just 10 years, the group projects.
Alzheimer's isn't the only condition to cause cognitive impairment, though it's certainly the most noted. Several studies indicate that as many as 10 to 20 percent of people age 65 or older have mild cognitive impairment, and prevalence increases with age. And close to half of the U.S. population between the ages of 80 and 89 have a medical diagnosis of substantial cognitive impairment, according to a 2009 study published in the Brookings Papers on Economic Activity.
Researchers note that the capacity to make sound financial decisions is often the first notable change in people with cognitive impairment, even when mild.
"The demographic tsunami is upon us," Hurme said. "The baby boomers are reaching their 60s and 70s."
Not only do seniors face the threat of diminished capacity, but they are obvious prey for fraudsters. Many have accumulated substantial wealth over the years: The median household net worth of people aged 65 and above is $170,516, according to U.S. Census data versus an average of $68,828 for all Americans.
"The baby boomer generation probably has more wealth than any generation in history," said Kathleen Quinn, executive director of the National Adult Protective Services Association. "Older people tend to have money—and other people want to get their hands on it."
In many cases, seniors become victims of financial exploitation at the hands of people close to them, such as family members, caregivers or friends.
"Almost all of the financial abuse that gets reported to Adult Protective Services is abuse by a family member," Quinn said.
Likewise, so-called friends of seniors can turn out to be quite the opposite. Author Glynnis Walker Anderson chronicles how this happened to her elderly, widowed mother in her book "Stealing Joy: A True Story of Alzheimer's Elder Abuse and Fraud."
Anderson's mother lived far away from her daughter and suffered from Alzheimer's as well as a stroke. Those circumstances made her vulnerable to the advances of an unscrupulous lawyer and a neighbor who schemed to gain her mother's trust and turn her against her family, Anderson writes.
Ultimately, the lawyer and the neighbor gained legal guardianship of Anderson's mother and convinced her to sign a new will, Anderson said.
"Seniors are very trusting," she added. As a result, their loved ones should consider the possible motives of people who want to be close to them, she said.
Seniors need to be sharp about their finances now more than ever. Fewer retirees can rely on a pension to support them in their golden years, meaning many will rely more heavily on their personal savings for financial security even as their cognitive abilities may decline.
Diminished capacity "is an even bigger issue than it's been in the past," said Michael Finke, a professor of personal financial planning at Texas Tech University. "The baby boomers are about to hit retirement, and they are the first generation that is funding retirement from their own wealth."
It's not just people who have Alzheimer's and other forms of dementia who are at risk of making poor financial decisions.
A study co-conducted by Finke shows that financial literacy declines by about 2 percent a year after the age of 60. People in their 60s achieved an average score of 59 percent on a 16-question test measuring participants' understanding of insurance, investments, credit and other money basics. People aged 80 and older were only able to answer 30 percent of the questions correctly.
"We become vulnerable to choosing financial products that may not be in our best interest. We may be vulnerable to scams, or even have relatives who take advantage," Finke said.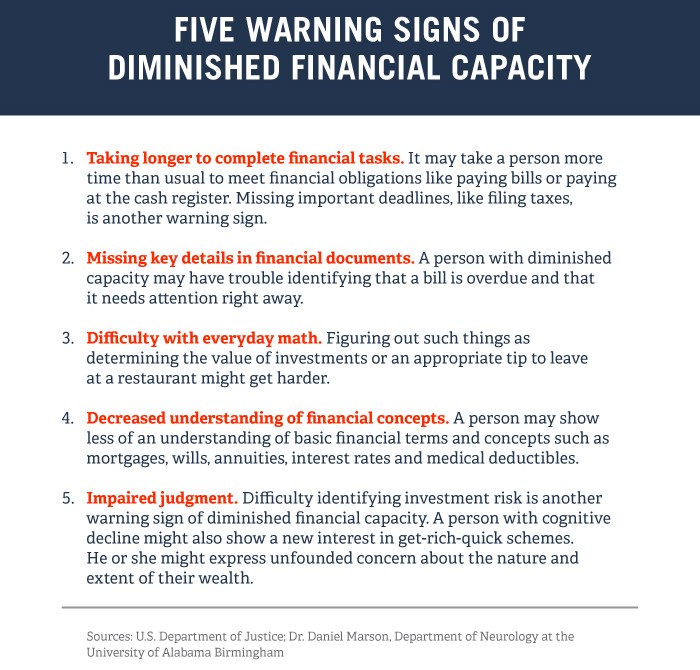 But as more aging Americans confront the risk of diminished capacity, a growing number of government agencies, politicians, advocacy groups, regulatory and financial industry groups are working on efforts to address the issue.
The Financial Industry Regulatory Authority (FINRA), has launched a toll-free senior hotline — 1-844-57-HELPS — to provide help to older investors with questions or concerns about their brokerage accounts.
The North American Securities Administrators Association (NASAA), has proposed similar legislation for states, and recently launched a website dedicated to serving seniors.
On the federal level, Sens. Susan Collins and Claire McCaskill recently introduced the Senior$afe Act of 2015, which likewise aims to protect seniors from financial exploitation.
All of these efforts aim to ease the path for financial firms to protect their clients from fraud and exploitation — and hopefully help remedy a problem that could touch anyone.
"Financial exploitation is such an enormous, but heretofore largely invisible, problem," Quinn said. "It's very exciting to see that policy makers and industry groups are taking steps to address it."
Here are some steps you can take now to prepare for diminished capacity, while your mind is sharp, to safeguard your finances in the future.