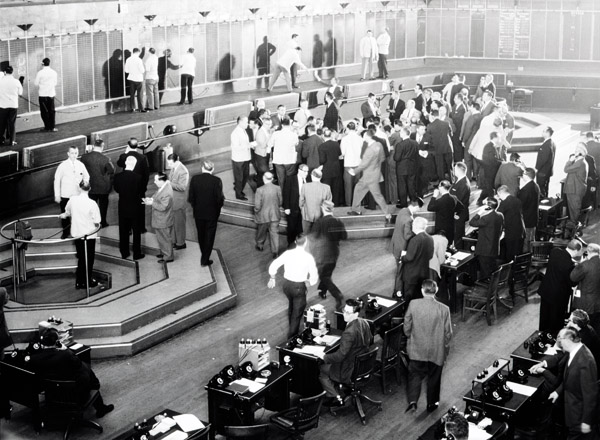 The Egg Came First: How Grace Hyslop Cracked An Old Boys Club
This is the second story in a three-part series about women and investing.
Pioneering women in the world of American finance are most often known for their work on Wall Street. In the 19th century, Victoria Woodhull opened the first woman-owned Wall Street brokerage firm; about a century later, in the 1960s, Isabel Benham became the first female partner at a Wall Street bond house while Muriel Siebert became the first woman to buy a seat on the New York Stock Exchange.
But a few years before Benham and Siebert made their ceiling-shattering moves, another woman broke into an old boys' club of finance — not in New York, but in Chicago. In January 1961, Grace E. Hyslop became the first female member of the Chicago Mercantile Exchange.
At the time, Hyslop's accomplishment garnered a fair amount of attention – but not the type of attention you might expect today. "No Male Sanctuary Is Sacred," The Chicago Tribune declared.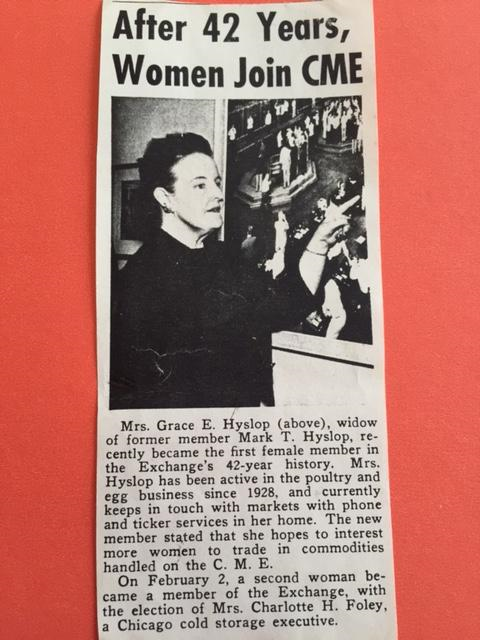 Photo of Chicago Mercantile Exchange newsletter clipping courtesy of the Hyslop family.
The naysayers didn't stop Hyslop, who was no stranger to discrimination. Born into a family of Irish immigrants, Hyslop — whose maiden name was O'Hollaren — grew up at a time when storefront signs in her Nebraska neighborhood advised job seekers that the Irish "need not apply," Hyslop's daughter, Roseanne Olsen said.
The signs didn't deter Hyslop, who decided early on that learning important skills would be a surefire way to win over employers.
"Her position was she would beat the discrimination with education," Olsen said.
Hyslop's determination, Olsen said, was matched by a formidable intelligence that allowed her to graduate high school at age 12. To save money for college, Hyslop went to work as a teacher in a one-room schoolhouse that included older students who towered over the precocious young woman.
Hyslop persevered, saving enough to attend the University of Nebraska at age 16, where she majored in accounting. It was in college that she met her future husband, Mark T. Hyslop, who helped her down a path that would eventually lead to the Chicago Mercantile Exchange.
After college, Grace Hyslop secured a position at a trust company but soon left to join her husband in his work as an egg dealer. The egg business prompted the Hyslops' foray into the commodities trading: To hedge against drops in egg prices, many egg dealers sold egg futures contracts.
"They needed insurance, essentially, on their product. Futures at the time provided a way to insure their eggs. It was as simple as that," said Emily Lambert, the author of the book The Futures: The Rise of the Speculator and the Origins of the World's Biggest Market, which chronicles the history of the Chicago Mercantile Exchange.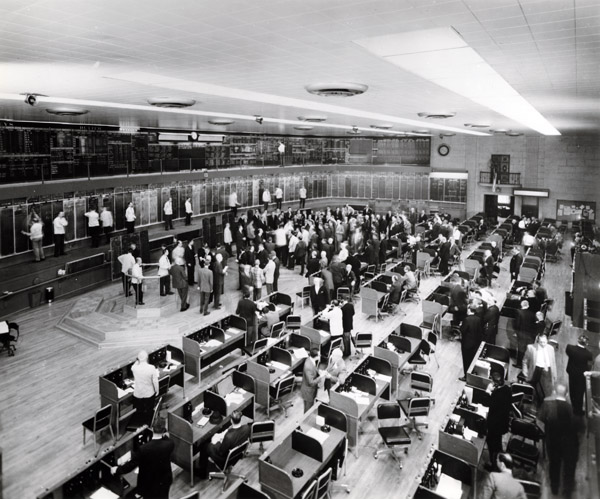 Chicago Mercantile Exchange
Egg dealers who used brokers in the early days found themselves paying $35 each time they bought or sold a futures contract, according to Lambert. But those who joined the Exchange itself could trade at discounted rates, so that's what Mark Hyslop did.
He wasn't alone.
"So many of the older traders came out of these worlds of eggs and pork bellies and corn," said Lambert, who also penned a story about the Hyslops for Forbes.com. "Futures were just an extension of the business that they were already in."
As with their original egg business, Grace Hyslop partnered with her husband in his work on the Exchange. The Hyslops ultimately expanded their trading beyond egg futures to any "hot" commodity, Roseanne Olsen remembered.
Their deep connections to the regional farming community proved a huge advantage, Olsen said. From grain to soybeans, "they had their stethoscope on the commodities because they had a handle on the farmers."
Roseanne Olsen and her siblings — there were six Hyslop children in all — witnessed their mother's work firsthand. While Mark Hyslop and, later, the couple's oldest son David spent a great deal of time working out of Chicago, Grace Hyslop worked from their home in Omaha with the help of a ticker tape machine and several phone lines.
"We were running half a dozen telephone lines into our home before it was popular," Olsen said. It wasn't unusual, she added, to see Grace Hyslop with two or more phones pressed against her ears. "She was always up to the minute on what was going on."
The couple's successful partnership came to an abrupt, tragic end in 1960, when Mark Hyslop died of a heart attack. After her husband's death, Grace Hyslop sold their egg company but was intent on claiming his seat on the Exchange.
She made her case to the Exchange's chairman, Everette Harris, declaring, "I know as much about my husband's business as he knew," Jane Markel, another Hyslop daughter, remembered. "He said, 'Let me take it to the board.'"
After the Exchange approved Hyslop's application, Harris was quoted as saying that they'd "finally decided after all these years that women are not much different from men after all."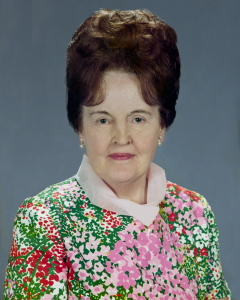 Grace E. Hyslop. Image courtesy of the Hyslop family.
But Roseanne Olsen believes the reason Exchange officials entertained her mother's application at all was because everyone already knew her.
"Everybody knew how active she was," Olsen said. "She wanted to carry on the business."
There were, however, limits to how she could carry on the business. Hyslop's membership notwithstanding, women weren't allowed to do business on the floor of the exchange, so Hyslop relied on her son, David, to work in the trading pit. Hyslop dealt directly with customers, but that responsibility wore on her, Olsen said.
Sometimes Grace Hyslop would be up in the middle of the night, pacing the floor in their family home, worried about her clients. She also tired, Olsen said, of commuting from Omaha to Chicago and back.
By 1965, Hyslop decided to embark on a new calling. She sold her exchange seat and pursued a master's degree in neuropsychology. She later opened a clinic where she helped students with reading disabilities. She died in 1984, at age 79.
Today, Hyslop's career is the stuff of family legend. Kimberly Markel Herman, one of Hyslop's granddaughters, is the head and founder of a financial services firm in Maryland. She said she enjoys sharing her grandmother's story when she leads seminars on finance.
"People are amazed because there still aren't that many women on my side of the business," Herman said. "Back then, it was a lot less."
Check out our stories on brokerage firms run by women and about close the financial literacy gender gap.
Images of the Chicago Mercantile Exchange are used with the permission of CME Group Inc. © 2015.  All rights reserved.