AARP Bulletin Features Gerri Walsh in "The Fraud Squad"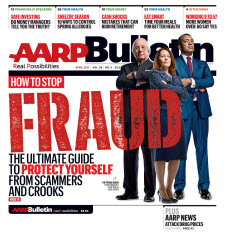 Scammers wasted no time in 2017 redoubling their efforts to bilk investors, according to Gerri Walsh, Senior Vice President for Investor Education at FINRA and President of the FINRA Investor Education Foundation.
Older investors with online accounts are the specific targets of "pump and dump" scams. And the current stream of binary options frauds includes a new twist—con artists follow up with the promise to help you recover funds already lost on binary options schemes.
Walsh, who is featured on the cover of the April 2017 issue of the AARP Bulletin as a member of the "Fraud Squad," discusses the latest developments in investment fraud alongside other fraud experts.