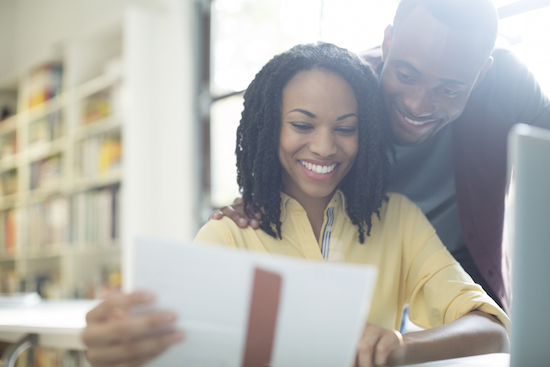 Ask anyone who's tried to lose weight. Avoiding temptation can be a battle. You may not always win, but you stand a better chance of slimming down if you have a sound strategy and a goal in mind.
The same can be said for keeping your spending in check.
Having a budget—call it a spending plan if you like—is fundamental to your financial health. Those with a budget are more likely to spend less than their income, and considerably more likely to have set aside emergency funds, according to the FINRA Financial Education Foundation's Financial Capability Survey.
Unfortunately, only 56 percent of participants in the 2016 survey said they have a household budget to decide what share of their income will be used for spending, saving or paying bills.
While there are no easy spending solutions, here are seven tips for creating your money "diet" and making it stick in the New Year.
Get A Reality Check
To arrive at a realistic budget, you need to first know how much you are spending. For some, this simple exercise will be an eye opener.
Gather up all your credit card statements and receipts from the past month, and jot down any additional purchases you might have made in cash. Remember to include items large and small, including your rent or mortgage, insurance, groceries, movie tickets and coffee runs.
Figure in the monthly amount you pay for car insurance and other bills that you might only receive quarterly or semiannually (if you pay $600 every six months for car insurance, include $100 for car insurance each month in your spending budget).
Then compare this figure to the money you have coming in for the month—this is generally your paychecks, which in some cases have already backed out things like health insurance and retirement savings.
Subtract your expenses from our income, and you'll know if you're ahead, behind or breaking even for the month.
Focus On Your Financial Goals
Now figure out how much you feel you should set aside on a monthly basis to meet your financial goals. These are expenses that go beyond your day-to-day living expenses and recurring monthly bills.
Certain financial goals are extremely important, such as saving for retirement (experts suggest putting aside at least 10 percent of monthly income) and building an emergency fund. In addition, do you want to cut down your credit card debt? Do you want to save for a down payment on a home? Maybe you also want to put aside money for a vacation or a child's education? These are all sound financial goals.
Estimate how much you will need to meet each goal, and the timeframe for doing so. Then divide the time (in months) into the amount you want to save to meet each goal.
Do The Math Again—And Start Cutting
Subtract your monthly spending—which now includes expenses to fund your financial goals and your day-to-day expenses—from your monthly income. If you're close to zero, or get a negative number, it's time to hunt for "spending leaks." These are places where your money is dribbling away, such as daily coffee runs or impulse purchases.
First, look for ways to plug those leaks without inflicting too much pain. Can you live without cable? Can you skip going out to lunch every day? You might be able to save as much as $50 a week just by brown bagging it.
"Look at your credit card for recurring expenses," said Galia Gichon, the founder of financial education company Down-To-Earth Finance. There may be items you're paying for on a recurring basis that you no longer need or want.
For more on how recurring charges can hurt your budget, read this.
Get Motivated
Congrats. You've determined how much you should be spending every month to keep yourself financially it—and you've identified places to cut back. But how do you stick to it?
Patrick Payne, a professor of finance at Western Carolina University, emphasized the importance of keeping your goals in mind to avoid the temptation to overspend.
"When you're in the store and you're about to pull out your wallet remember your goal," Payne said. "Remember why you created the budget in the first place.  It wasn't to make your life more difficult, it was to make your life better."
The key is to think beyond the immediate gratification of any purchase or splurge.
"Think about the long-term advantages of saving and building security for yourself over time," added Amy Hinojosa, CEO of MANA, a non-profit organization focused on empowering Latinas, who also trains financial educators for the Women's Institute for a Secure Retirement (WISER). "It's better to have a rainy day fund than to treat yourself to a latte on every rainy day."
One more important tip: automate your financial goals as much as possible. Set up monthly payments to a savings account for your emergency fund. Initiate an automatic payment to your credit card company or to a college savings plan.
Track, Track, Track
Stay on top of every dollar you spend. This can be done with any number of smartphone apps that track your spending in real time. Or you can simply go the old fashioned route and write down all of your purchases or keep a spreadsheet.
At the end of the month, if you find you've overspent, think of ways you can cut back in the future. If you come in under budget, consider transferring those extra dollars into the accounts you've set up to achieve your financial goals.
Spend Only What You See
If you find sticking to your budget difficult, limiting your access to credit cards and debit cards could help you stay on track. Actually handing over the Jacksons (or soon, the Harriet Tubmans) could help put your spending in perspective.
"Go to 'cash only' for your variable expenses," Gichon said.  "Use cash for food, clothing, beauty, drugstore, taxis and anything else that seems to break the budget."
Alternatively, consider using a general-purpose reloadable prepaid card, Payne said. You generally can only spend the amount of money that is loaded on a prepaid card. Keep in mind, prepaid cards come with fees and risks, so it's important to read the fine print before signing on.
"When the card stops working, you've met your budget and you can't overspend," Payne said.
Pat Yourself On The Back
Budgeting isn't easy, but the rewards can be great.
"The relief and gratification you feel the first time you are able to handle an emergency situation because you created and stuck to a budget, will do wonders for your confidence and give you the motivation to continue exercising power over your money," Hinojosa said.