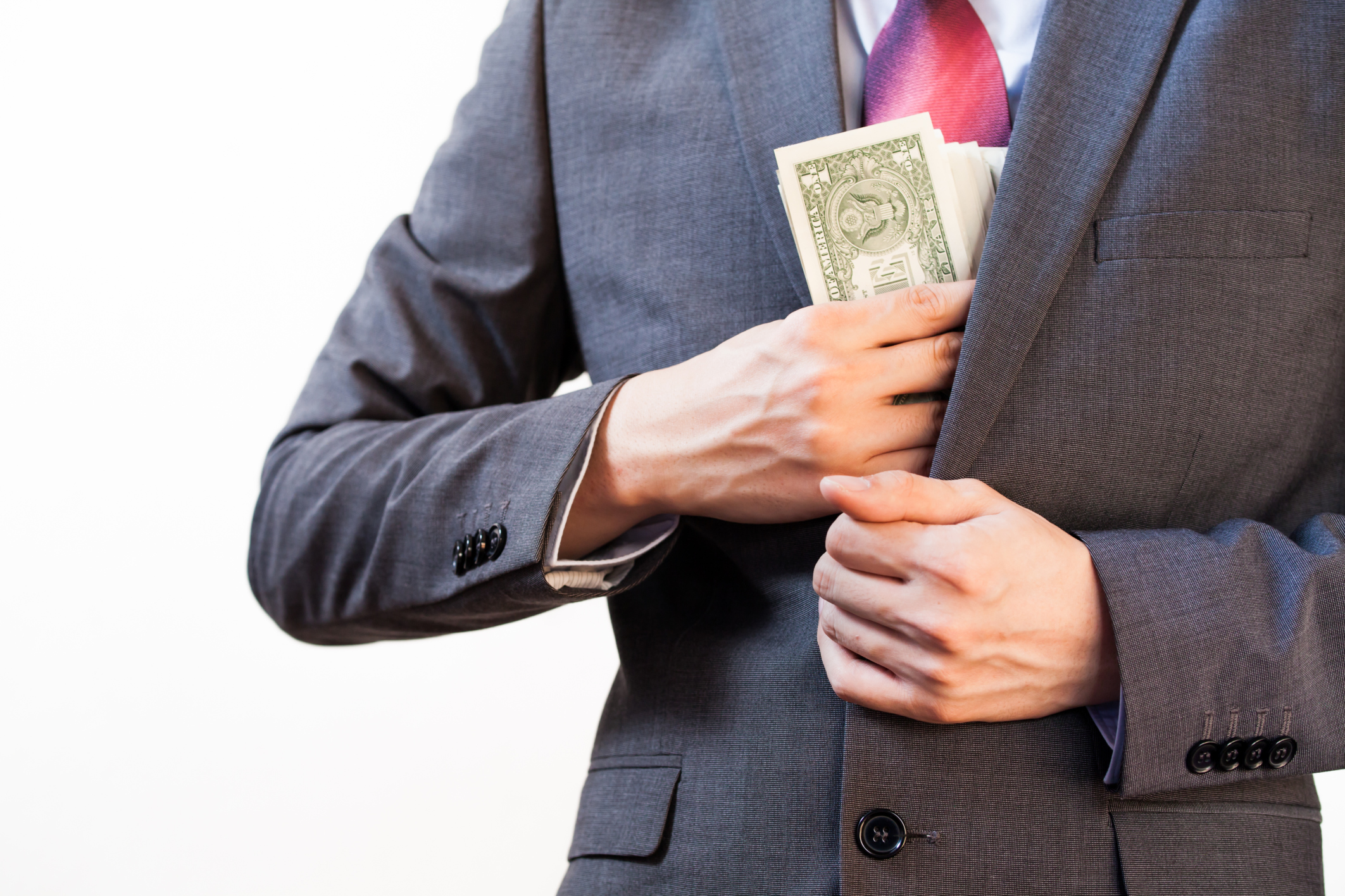 The Man Who Scammed Federal Agents
Scam artists are known for targeting a society's most vulnerable, such as the elderly and the disabled, but fraudster Kenneth Wayne McLeod was different. His victims were men and women that many assume would be the least vulnerable to scams: federal law enforcement agents.
McLeod, a broker and investment adviser from Jacksonville, Florida, spent some two decades luring dozens of unsuspecting investors, many of them federal agents, including agents from the U.S. Drug Enforcement Administration and the Federal Bureau of Investigation, to invest $34 million in a Ponzi scheme masquerading as a bond fund.
McLeod met the DEA and FBI agents and other government employees through financial planning seminars that he ran through his company, Federal Employment Benefit Group. He presented to employees at a range of agencies, including the Department of Justice. But he was "particularly active" in the DEA, according to a Department of Justice report.
McLeod gave at least 130 seminars to DEA employees, including seminars at the DEA's training academy in Quantico, Va. Records found by the DOJ show McLeod's seminars at the DEA date back to at least 1997, but McLeod's relationship with the DEA can be traced back even earlier, to the late 1980s. McLeod met an agent from the DEA's Jacksonville office in 1989, through a church softball league. The agent invited McLeod to give an "informal talk" to agents at the Jacksonville office, according to the DOJ report. That visit, the agent later told the DOJ, was likely McLeod's first time at a DEA office.
McLeod went beyond giving basic financial advice to DEA employees by marketing an investment product called the FEBG Bond Fund. He told prospective investors that the fund was backed by long-term government securities and offered guaranteed, tax-free returns of 8 to 10 percent a year.
But there was no FEGB Bond Fund. "McLeod never invested his clients' money in government securities, and the money was never generating tax-free returns of eight to ten percent annually," according to a 2010 SEC complaint. "McLeod simply used new investor funds to pay prior investors interest and principal, and to provide funds to himself and his companies."
McLeod offered investors the chance to roll over their quarterly interest payments back into the fund to "compound growth," but in reality, that was just one more way for McLeod to keep the scheme going. Over the years, some investors did successfully redeem their investments, but others who tried to withdraw money from the fund were met with lies from McLeod, who claimed, for instance, that the government was late in sending interest checks on the underlying bonds, according to the SEC complaint. At the end of the day there wasn't enough money to go around, because the FEBG Bond Fund was nothing but a sham.
In 2010, McLeod hit the Financial Industry Regulatory Authority's radar when he was terminated from the brokerage firm through which he was registered as a broker. That firm filed a standard FINRA Form U5, which all FINRA member firms must file whenever a FINRA registered broker leaves the company.
The filing, though often routine, caught FINRA's attention because of the reason cited for the dismissal.
FINRA's Office of Fraud Detection Market Intelligence (OFDMI) began to investigate. FINRA staff contacted McLeod's former employer, who informed them that the compliance department sought to check McLeod's office after the firm had learned of a complaint against him from a DEA agent. That led to a follow up call with the DEA agent to learn more.
That triggered a full investigation into McLeod, during which OFDMI examined the DEA agent's FEBG Bond Fund account statements, and dug into McLeod's background.
During this investigation, McLeod's lack of education stood out, as did a local Jacksonville news story about McLeod's trip to the Super Bowl with some 40 other people. Beyond that, the general lack of information about the Florida financial planner raised red flags.
It was time, OFDMI staff decided, to contact McLeod.
First, they asked him to come to Washington, D.C. for a deposition, but he declined, saying he was too busy. So Cameron Funkhouser, Executive Vice President of FINRA's Office of Fraud Detection and Market Intelligence, called McLeod himself.
When they spoke, McLeod told Funkhouser an unbelievable story. He claimed to have worked with Congress to develop a key retirement program in the mid 1980's — just a few short years after he would have graduated high school — and insisted that FBI director Robert Mueller could vouch for him. (Mueller later denied having any personal or professional relationship with McLeod.) And beyond that, McLeod also said he didn't run a bond fund.
Finding McLeod's story impossible to believe, Funkhouser's team worked through a weekend to compile a 20-page dossier on McLeod to pass on to the Securities and Exchange Commission.
The SEC moved extremely quickly, sending a team to visit McLeod's office within a matter of days, and extracting a confession just about a week after the referral. McLeod admitted that right from the start, the FEBG Bond Fund funded its interest payments to investors with money received from new investors — a classic Ponzi scheme.
"The SEC did a fantastic job of taking the lead and exposing the Ponzi scheme quickly," Funkhourser said.
On June 22, 2010, McLeod was scheduled to give a deposition to SEC attorneys at the U.S. Attorney's Office in Jacksonville. He never showed up. Instead, he sent a suicide note to an SEC attorney that apologized for the harm he had caused. Authorities tracked down McLeod too late, finding him in his car, dead from a self-inflicted gunshot wound. McLeod left behind a wife, five children and dozens of aggrieved investors.
The SEC's investigation found that, in addition to using new investors' funds to make interest payments to other investors, McLeod had used investors' money for his own expenses and those of companies that he owned.
Between 2005 and 2010, McLeod spent more than $1 million on "promotional expenses to bolster his image in the community," according to the 2010 SEC complaint. Those expenses included annual trips to the Super Bowl for him and friends, including at least seven DEA employees. Of the approximate 130 investors in McLeod's alleged FEBG fund, 67 were DEA employees — including high-ranking officials — or people who had some connection to the DEA.
"You would say to yourself, 'How could he rip DEA off? We'd kill him...Who would have the brass to do it in law enforcement?' And at the back of your mind, there's a little voice that goes off, and we chose to ignore it because you saw bosses who were involved and things like that," one DEA official told the DOJ's Office of the Inspector General.
Following McLeod's suicide, a court-appointed attorney was charged with liquidating McLeod's assets and using the money to help repay victims of the Ponzi scam, but the repayment efforts weren't enough to ward off a lawsuit by McLeod's victims against the U.S. government.
In a 2013 complaint, lawyers for more than 90 FEBG fund investors — including those who had worked at the DEA as well as U.S. Customs and Border Protection, Immigrations and Custom Enforcement and the Federal Bureau of Investigation — said that the investors had lost all or a significant chunk of their retirement savings.
In their complaint, the plaintiffs argued that the government failed to adequately vet McLeod. A "momentary check into the FEBG Bond Fund, the product senior agency officials knew McLeod was soliciting employees to invest in, would have immediately revealed that the Fund did not even exist," the complaint said. In its response, the government said it was not liable for McLeod's scam because he was not a government employee. The case is ongoing.