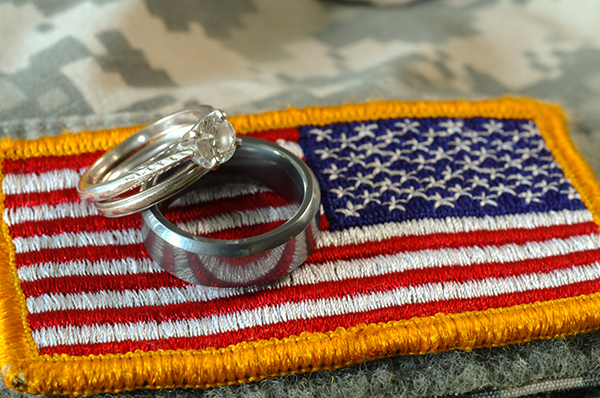 Military Spouses 'Pay It Forward' Through Financial Counseling Fellowships
A newlywed U.S. Marine corporal and his wife had their honeymoon bliss interrupted by the unthinkable — a rare form of cancer in the young bride. Far from home and away from family, and with just the 21-year-old corporal's salary to rely on, the couple needed advice.
That's where Meredith Lozar, herself a military spouse, stepped in. Lozar, one of some 1,400 military spouses to be awarded a FINRA Investor Education Foundation Military Spouse Fellowship, helped the young couple develop a plan to afford an experimental surgery in another state — a surgery they hoped would save the 20-year-old woman's life.
"I remember thinking, 'That's a lot to take on as a young married couple,'" Lozar said. The wife of an active-duty Marine, Lozar could relate to at least part of the couple's struggle. It'd only been a few years since she, too, lived as a newlywed in an unfamiliar place — in her case, a base in Okinawa, Japan — and grappled with making ends meet.
Fortunately for the California newlyweds, Lozar now had plenty of advice to give, because she didn't just have the benefit of life experience — she had training. Through the FINRA Foundation Military Spouse Fellowship program, Lozar earned the Accredited Financial Counselor credential.
The FINRA Investor Education Foundation created this program in partnership with the Association for Financial Counseling and Planning Education (AFCPE) 10 years ago to give military spouses an opportunity to earn a portable, career-enhancing credential. As an added benefit, the program simultaneously increased the level of financial counseling and education in the military community.
Through coursework delivered by AFCPE, and experiential hours to gain hands-on experience, Lozar developed the skill set necessary to provide one-on-one financial counseling services.
"The program is impactful and successful in terms of the mission that we set out to do 10 years ago — to empower military spouses to have a meaningful career," said Rebecca Wiggins, the executive director of the AFCPE.
A meaningful career can be especially hard to find for military spouses, who must often uproot their lives every few years when their husband or wife is assigned to a new installation. Some professions can be especially difficult to sustain careers in as certification requirements vary from state to state, and may not be open to a spouse at all if the couple is assigned to an overseas outpost. But Accredited Financial Counselors can work anywhere in the U.S. and on U.S. military bases abroad.
Lozar began her career in financial counseling as a volunteer with the Navy-Marine Corps Relief Society several years prior to being awarded a fellowship in 2012. But she credits her ACF training with allowing her to develop a strong career, with three promotions in the past three years. Today, she works for the National Military Family Association, an organization dedicated to serving the families of those in uniform, as Director of Youth Initiatives
"It was just wonderful for me to be able to open some career doors as a result of the program," she said.
After completing the fellowship program, fellows are free to pursue any position they wish, but most, like Lozar, choose jobs related to helping military families.
"Military spouses have a long tradition of paying forward," said Bud Schneeweis, the head of the FINRA Investor Education Foundation's Military Financial Readiness Project, which provides financial seminars and educational materials to military families. "The spouses have been there, and somebody helped them, so they want to help somebody else."
Lozar agreed.
"We take care of our own," she said.
Military families can often use help when it comes to financial matters. Not only do military spouses face challenges earning an income, young service members must manage on low entry-level military salaries. And even with military reimbursements for moving costs, frequent transfers and deployments can take a financial toll.
The counselors who graduate from the program can help military families get to "a place of financial wellbeing," Wiggins said.
"They don't sell products, but they really have very comprehensive training around financial management and counseling theories and processes, so they can go deeper and uncover patterns" that are causing problems such as excessive debt, Wiggins said.
Counselors help families with budgeting and also finding sources of financial assistance, such as zero-interest loans and grants that are available to service members.
Lozar recommended loans and grants to the young couple in California as they prepared to temporarily move halfway across the country for the wife's treatment. The treatment proved successful and more than a year later, the couple asked for Lozar's counsel again — the wife, now healthy, was pregnant and they wanted to make room in their budget for a new baby.
"It was definitely the most remarkable case I ever had," Lozar said. "It's very rewarding to work with a service member to provide that basic financial education and see them actually apply it and change their lives."