FINRA Issues New Investor Alert: Private Placements—Evaluate the Risks Before Placing Them in Your Portfolio
WASHINGTON—The Financial Industry Regulatory Authority (FINRA) issued a new investor alert called Private Placements—Evaluate the Risks before Placing Them in Your Portfolio to caution investors that investing in private placements is risky and can tie up their money for a long time. A private placement is an offering of a company's securities that is not registered with the Securities and Exchange Commission (SEC) and is not offered to the public at large. Many private placements are offered pursuant to Regulation D of the Securities Act of 1933. In general, you must be an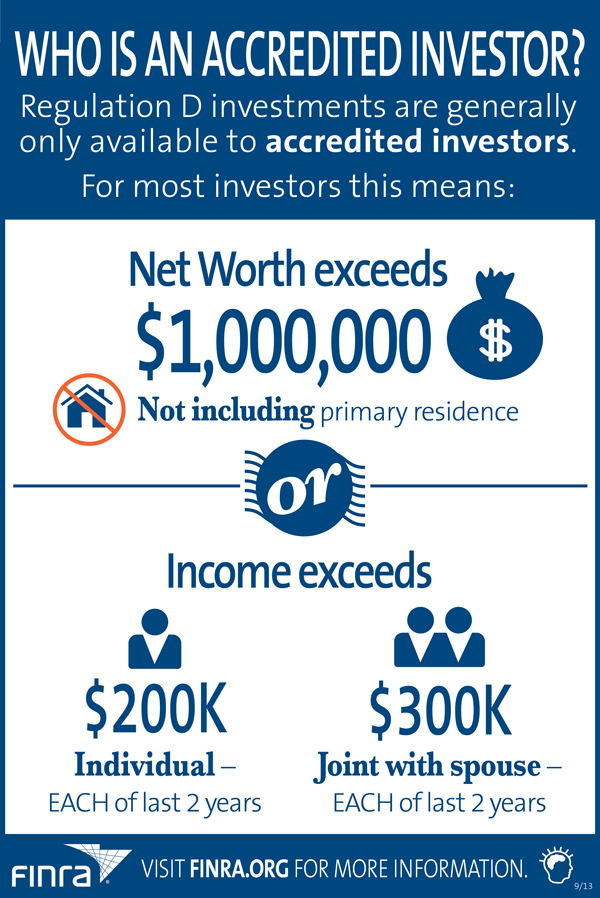 to invest in a private placement.
"Investors should understand that many private placement securities are issued by companies that are not required to file financial reports, and investors may have problems finding out how the company is doing. Given the risks and liquidity issues, investors should carefully assess how private placements fit in with other investments they hold before investing," said Gerri Walsh, FINRA's Senior Vice President for Investor Education.
FINRA is advising investors that if they are provided with a private placement memorandum or other offering document, they should carefully review it and make sure that statements by their broker are consistent with it.
Private Placements contains a series of tips to help investors determine if a private placement is right for them, including the following.
Find out as much as you can about the company's business and understand how and when you might liquidate your private placement securities.
Ask your broker what information he or she was able to review about the issuing company and this private placement.
Be extremely wary if you receive paperwork to sign about a private placement without having a personalized discussion with your broker about why such an investment is right for you.
Be extremely wary of private placements you hear about through spam emails or cold calling. They are very often fraudulent.
FINRA is the largest non-governmental regulator for all securities firms doing business in the United States. FINRA is dedicated to investor protection and market integrity through effective and efficient regulation and complementary compliance and technology-based services. FINRA touches virtually every aspect of the securities business – from registering and educating all industry participants to examining securities firms, writing and enforcing rules and the federal securities laws, informing and educating the investing public, providing trade reporting and other industry utilities, and administering the largest dispute resolution forum for investors and registered firms. For more information, please visit our website at www.finra.org.