FINRA Appoints Rainia L. Washington as Executive Vice President – Chief Human Resources Officer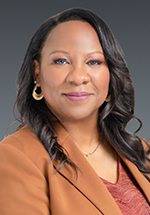 WASHINGTON— FINRA announced today that it has named Rainia L. Washington as Executive Vice President – Chief Human Resources Officer. In this role, she will lead FINRA's People Solutions team, overseeing the organization's talent recruitment, training and development, diversity and inclusion, compensation and benefits, and employee relations.  She will report directly to FINRA President and CEO Robert Cook and will be a member of FINRA's Management Committee. Washington will start June 15.
Washington comes to FINRA after a 26-year career at Lockheed Martin, where she served in a variety of increasingly important roles within Human Resources, for the past six years as the Chief Global Diversity and Inclusion Officer for the 110,000-employee company. She received her Bachelor of Science in engineering from the University of Pennsylvania and her MBA from Penn State University.
"We are thrilled to welcome Rainia to FINRA," said Cook. "Rainia brings a wealth of expertise across so many facets of talent management, and I am confident she will provide strong leadership for our People Solutions team and FINRA's world-class employees, while also developing and recruiting our next generation of leaders."
"FINRA has a vitally important mission, a strong culture and highly skilled people, and I am excited to join Robert and the leadership team to drive the overall people strategy," Washington said.
Washington currently serves on the Great Minds in STEM Board of Directors and has served on the Society of Women Engineers Board of Directors, the INROADS Board of Directors, the Georgia Diversity Council Board of Directors, and the University of Pennsylvania Engineering Board.
About FINRA
FINRA is a not-for-profit organization dedicated to investor protection and market integrity. It regulates one critical part of the securities industry—brokerage firms doing business with the public in the United States. FINRA, overseen by the SEC, writes rules, examines for and enforces compliance with FINRA rules and federal securities laws, registers broker-dealer personnel and offers them education and training, and informs the investing public. In addition, FINRA provides surveillance and other regulatory services for equities and options markets, as well as trade reporting and other industry utilities. FINRA also administers a dispute resolution forum for investors and brokerage firms and their registered employees. For more information, visit www.finra.org.