FINRA Foundation Debunks Seven Myths About Millennials and Investing During Washington, DC Public Forum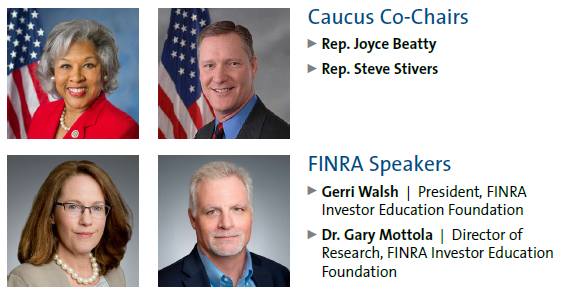 On December 12, 2018, the FINRA Investor Education Foundation held a public forum on Capitol Hill to discuss national research findings regarding the financial behaviors and attitudes of millennials in the United States with remarks by the Co-Chairs of the Financial and Economic Literacy Caucus, U.S. Representatives Joyce Beatty (D-OH) and Steve Stivers (R-OH).
During the event, FINRA Foundation President Gerri Walsh and FINRA Foundation Research Director, Dr. Gary Mottola, debunked common assumptions about millennial investors and discussed pathways that millennials follow to investing, why some millennials have no investment accounts and the investing divide between urban and rural millennials.
Watch the video to learn more about the features of the event.