Careers
Contribute to our important mission of ensuring the integrity of the financial markets and protecting investors.
Apply Now
---
Search job listings, create/edit your profile and submit your profile to listings.
Internships
---
We offer paid summer internships and externships in exchange for college credit during the academic year.
Working at FINRA
---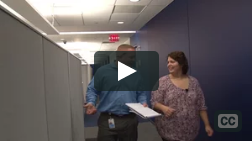 Join Laura, a principal examiner in FINRA's Member Regulation – Risk Oversight and Operational Regulation (ROOR) department in New York, as she talks about how she and her colleagues help protect investors by making sure firms have enough capital to operate. She also discusses how she collaborates with other FINRA departments to prepare for an exam.
Listen to more FINRA employees talk about working at FINRA.