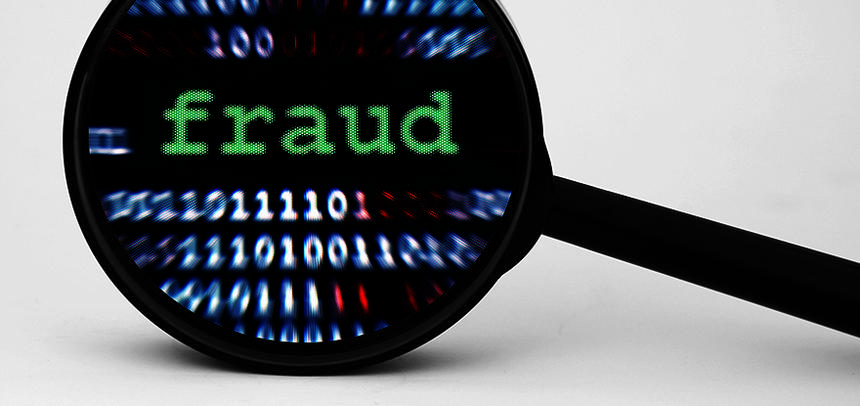 There is nothing like an iron-clad guarantee to make you feel secure about a purchase. Sadly, financial fraudsters know what a psychological balm the word "guarantee" can provide, and use it as a tactic to make their investment pitches look more appealing.
We are issuing this Alert to warn investors that scammers are posing as regulators to separate you from your money. We want you to know that neither FINRA, nor any of its executives, will ever provide a "guarantee" on an investment or offer to facilitate your participation in any sort of money-making scheme. Never.
What Do Imposter Scams Look Like?
Fraudsters who impersonate FINRA or a current or former executive can look surprisingly real. Recently, swindlers used FINRA's name and logo—going so far as to pose as Robert Cook, FINRA's CEO—in correspondence suggesting that FINRA provided guarantees related to an investment pitch that is in fact an advance-fee scam. FINRA, its officers and employees do not offer investment guarantees.
A common advance-fee scam seeks to entice investors to send money to cover administrative or regulatory charges associated with a buy back of shares of stock that are currently virtually worthless or "underperforming." Once you send money, you never see it—or any of the money promised from the stock buyback—again.
Con artists use shareholder lists of defunct companies or other lists that contain names, phone numbers and financial holdings of potential targets. Through repeated phone calls, the financial fraudster builds a personal relationship with the investor. In addition to the phone calls, scammers often send investors official-looking documents, complete with logos and seals—another ploy to legitimize their pitch.
The fraudster continues to keep in touch with the investor until the investor sends money. At that point, the scammer may ask for additional money, or simply disappear.
Fabrication of FINRA's Role
FINRA received a call from an investor involved in a scheme to buy back shares of nearly worthless stock. The scammer emailed him the letter below, purportedly from FINRA's CEO, and sought to use the letter to build trust, trading on FINRA's role as a securities regulator.
The letter might look official to someone who isn't familiar with FINRA or advance-fee scams. But it contains many telltale signs of fraud.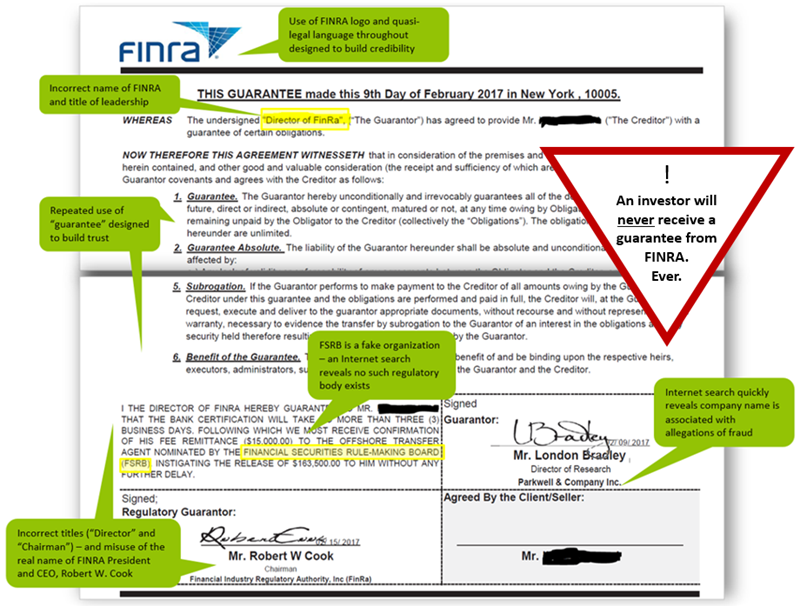 A Play for Personal Information
In a separate fraud, email pitches that purport to originate from FINRA's President and CEO have portrayed FINRA as a "recognized financial manager of the IMF," notifying people that "approval has been granted for the release and payment of your outstanding inheritance fund." No, and no.
But it gets worse.
Claiming the substantial "inheritance" requires the recipient to fly to another country—in other words, beyond the jurisdiction of any U.S. regulator or law enforcement officer. Recipients are asked to provide personal information, including a copy of their passport. The play for personal information is a hallmark of phishing scams.
These are imposter emails—and the real IMF has issued warnings to that effect. If you receive one, do not call or correspond. Doing so risks being scammed.
Avoid Being Scammed
The best way to avoid losing money in advance-fee, phishing or other types of scams is simply to hang up or not respond. This is easier said than done, since correspondence can be well crafted and callers are con artists highly skilled at delivering their fraudulent pitches.
Our Scam Meter can help you assess whether an opportunity is too good to be true, and our Risk Meter reveals whether you share characteristics and behavior traits that have been shown to make some investors particularly vulnerable to investment fraud.
If you're suspicious about an offer or if you think the claims might be exaggerated or misleading, please contact us.
Subscribe to FINRA's Investor Insights newsletter for more information about saving and investing.