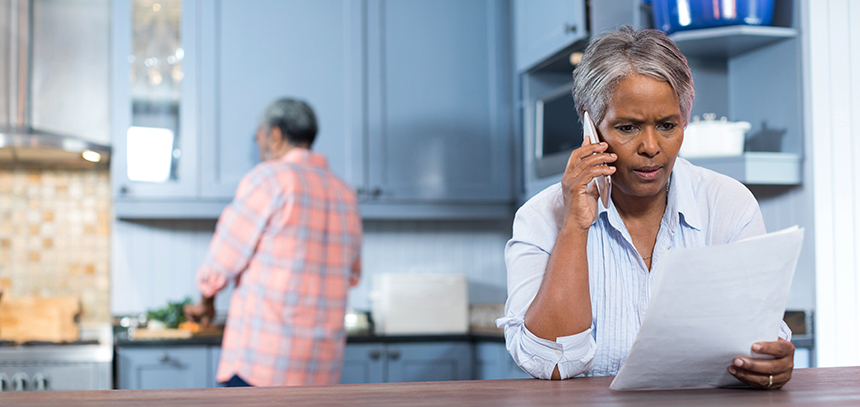 Did you receive an unexpected check in the mail and think, "Great! Free money?" Not so fast. Cashing that unexpected "windfall" may result in losses, reveal your personal financial information to scammers, or both.
If you receive a check from FINRA, do not cash it—unless you have a current business relationship with FINRA. Call (301) 590-6500 to speak with a FINRA staff member.
According to the latest data from the Federal Trade Commission, complaints about fake check scams remain in the "Top 10 Fraud Categories" and were on the rise during the first quarter of 2021. Whether the check appears to be from FINRA, your broker-dealer or other legitimate business, think twice before attempting cash it. These checks may arrive by special delivery and require a recipient's signature, but don't be fooled. That's all part of the ploy to make the check seem legitimate.

You've been hired…and scammed.
---
Often fake check scams and run in tandem with job-search scams. You'll hear that you've been "hired" and instructed to deposit a check in your bank account, then withdraw most of the money and wire it to someone else. Victims are told to keep several hundred dollars of the money as payment. When the checks are later discovered to be phony, the banks reverse the deposit and the victims are left liable for the money withdrawn, usually several thousand dollars.
Even if you're not asked to forward on part of the funds, unexpected checks can still be scams. For example, you might be liable for the amount of the counterfeit check, your endorsement might give your account information to fraudsters, or you could receive follow-up attempts to phish for personal financial information — or some combination.

How Can I Protect Myself?
---
To avoid fake check scams, follow these tips:
Don't cash the "unexpected" check. Companies, including FINRA, rarely if ever send checks that don't include some explanation of why the check was issued. Unless you are expecting the check — and you are absolutely certain it is meant for you — do not cash it.
 
Don't "keep the change. "No legitimate company will overpay you and ask that you wire the difference back to the company or to some third party. Be extremely wary of any offer — in any context — to accept a check or money order in an amount greater than you are owed.
 
Check the sender's methods of communication. Legitimate businesses rarely communicate exclusively through social media or messaging apps, and hiring managers and executives of those companies generally do not use personal email accounts (e.g., Gmail or Hotmail) for business purposes.
 
Call the company directly to verify the check. Remember that some fake checks will have a legitimate company's actual account number with the correct bank routing number. Call the company directly to verify the check, using a telephone number you obtain on your own from directory assistance at the company. Do not use any telephone number that appears on the check or in any instructions you receive. For FINRA checks, call (301) 590-6500.
 
Know the hallmarks of fraud. Fake check scams typically have a number of red flags, such as:

Typos: Watch out for online postings, texts or emails that are riddled with typos and poor grammar.
Mismatched names: Compare the name of the person or company posting the opportunity with the name on the check you receive — and beware if they don't match.
Pressure to act quickly: Be aware that it can take 10 days or even more for your bank to determine that a check is counterfeit. Until you have verified with your bank that the check has cleared — do not wire or transfer funds.

Where to Turn for Help
---
If you've become the victim of a fake check scams, there are certain steps you should take right away.
Stop Further Losses. Start by locking or closing accounts that may have been compromised. Place a fraud alert and consider freezing your credit. Visit com or call (877) 322-8228 to request your free credit report from each of the credit reporting agencies. Change your passwords if applicable.
 
Keep Records. Take and keep notes — details could be important if recovery is an option. And contact your local police. They may not be able to investigate, but having a report may help with future claims.
 
File Reports. You'll want to alert the appropriate authorities that you've been scammed. Start with:
Stay Vigilant. You'll want to keep a close eye out on your credit and financial account statements so you can alert your financial institution as soon as possible if anything appears amiss.