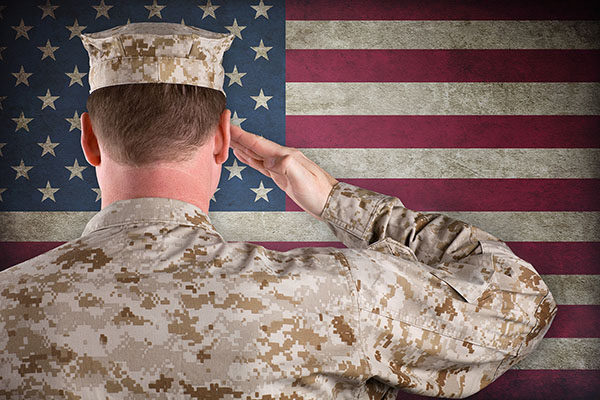 After 27 years in the U.S. Coast Guard, Bud Schneeweis has become an evangelist of sorts. The tall, trim retired captain travels all over the country — and the world — preaching two pieces of personal finance gospel to young men and women serving in the U.S. military: save and invest.

Military personnel face unique challenges when it comes to managing their money - and a troop preoccupied by financial woes could be distracted in the line of duty. That's where Schneeweis, who became interested in finance and became a Certified Financial Planner after his Coast Guard career, comes in.

As head of the FINRA Investor Education Foundation's Military Financial Readiness Project, Schneeweis works with the Department of Defense to help members of the armed services come to grips with money through seminars and educational materials that augment the services of on-base financial counselors.
Invincible Youth
For many, the recipe for financial security is simple. Step 1: Set up emergency savings. Step 2: Live within your means. Step 3: Start saving early for retirement.

But many service members join fresh out of high school or after some college, at a time when individual independence still has a heady feel and retirement seems so far away it is easy to ignore. The situation is not so different from that of many college students, except that young troops are managing a relatively significant paycheck for the very first time.

"These are young people, and a lot of them are more worried about having weekend mad money than saving for a long-term goal, like a home or retirement," Schneeweis says. "It's easy to spend your entire paycheck — or worse, go into debt — because you don't have a lot of responsibilities yet."

That's why one of Schneeweis's key tips to troops is "pay yourself first" by using what the military calls 'payroll allotments' to send money automatically to an emergency fund. He also walks service members through the pros and cons, and the myths and realities, of enrolling in the federal government's retirement savings program, the Thrift Savings Plan.
Pressures of Military Life
Military life has other inherent financial challenges. The stress of serving in combat zones, as many soldiers have had to do over the last 14 years, also takes a toll on financial decision-making.

"A lot of these servicemen have dodged bullets, and the money burns a hole in their pockets when they return stateside," Schneeweis says.

Meanwhile, frequent deployments can make it challenging for military spouses to build careers, reducing the family's earning potential. Schneeweis' own wife, a certified public accountant, was often underemployed while following him from one duty station to the next, he says.
Schemers, Scammers, and Plain Old Bad Decisions
As if that weren't enough, some dodgy lenders and scam artists prey on soldiers. In fact, problematic lending practices were so pervasive that Congress intervened in 2006 with the federal Military Lending Act, which caps the interest rate on short-term loans — or payday loans — at 36 percent.

The Defense Department is currently considering extending that cap to other products, including credit cards, where troubling practices have also cropped up.

Aggressive sales tactics can be just as damaging. Schneeweis was approached after a session at Camp Pendleton by a twenty-something Marine who had been talked into borrowing money to buy a Ford F-150 pickup truck.

The price tag was $42,000 - far higher than the $25,025 suggested retail price for the least expensive 2014 F-150. The Marine asked Schneeweis if he should let the truck get repossessed or simply sell it back to the dealer.

Not knowing the circumstances surrounding that particular purchase, Schneeweis says auto dealers near military bases — often ex-military themselves — frequently offer soldiers a souped-up new vehicle with a low monthly payment. But they neglect to mention how many payments there will be. Service members also often fail to factor in monthly insurance premiums or the logistics of getting rid of the vehicle in a hurry next time they deploy, leaving them with little choice but to sell at a huge discount to the very person they bought from.
The Bottom Line
The Department of Defense provides a wealth of web-based and in person financial tools, and counselors, to good effect. Many service members are already doing smart things with their money, and the results of FINRA Foundation's 2012 Military Financial Capability Survey bear that out.

"Our survey reveals that most servicemembers are taking control of their finances," said FINRA Foundation President Gerri Walsh. "Three quarters have a retirement account, nearly 80 percent are living within their means, and many have participated in financial education offered by the military."

The message Schneeweis carries to military personnel isn't revolutionary – saving, budgeting, using credit judiciously, and investing rationally are bedrock principles for any financial planning strategy.

"With so many young Marines here, we can positively impact their lives by giving them information on how to manage their personal finances at the beginning of their careers," said Holly Lane, Family Readiness Officer at the 8th and I Marine Barracks in Washington, D.C., where Schneeweis recently gave a talk on reducing debt. "We are lucky to be located in D.C. near so many of these financial experts, and we are excited to have them come out and help prepare our Marines for success."

Meanwhile, for Schneeweis, it's the people he counsels — people a little bit like the young man he once was — who make his job extraordinary. "Every time we go out and meet these groups, I feel renewed," he says. "I'm much closer to retirement, and they're just starting their careers, but it doesn't matter. It's very rewarding."

"The little bit that we impart to them pales compared to what they give to us," he said.