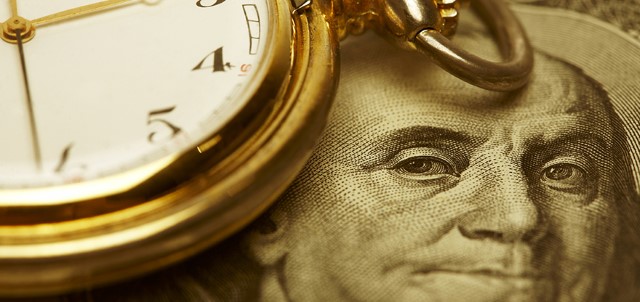 All in good time. It's just a matter of time. You've got plenty of time. Don't waste your time. Take your time.
When you are in your 20s,

life can be exciting. Maybe

you are moving to a new city,

starting a new job, living on

your own for the first time.

It's a period of life that blooms

with promise. It's also the best

possible time to start investing.
You've probably heard them all, right? When you're young, it can often seem annoying or preachy. But when it comes to investing, the value of time is one thing you don't want to disregard.
Young investors may not be able to save large amounts of money, but they have one very important asset on their side: time. If used to its best advantage, time is a powerful wealth-building asset in its own right. Read on to see what a difference time can make
Time Value, A Case Study
When you are in your 20s, life can be exciting. Maybe you are moving to a new city, starting a new job, living on your own for the first time. It's a period of life that blooms with promise. It's also the best possible time to start investing.
To fully understand the importance of beginning to invest early, let's take a look at the stories of Jessica and Sarah.
Jessica, The Saver
Jessica just graduated college and landed her dream job making $40,000 a year.
On her first day at work, Jessica had to fill out a lot of paperwork, making big decisions about health insurance, commuter benefits and a 401(k). There's nothing like all that paperwork to make you feel like an adult really fast.
As Jessica filled out her retirement plan paperwork, she decided to opt into the 401(k) with 4 percent of her salary going into the account. Why did she choose 4 percent? Because that's what her employer would match.
A 4 percent employer match means if Jessica puts 4 percent in her 401(k), her employer will put the same amount of money in her 401(k) to match her contribution.
Four percent is only about $31 a week. Jessica figures she can easily spare that by having breakfast at home or packing a lunch instead of eating out.
To keep things simple, let's assume nothing changes for Jessica. Of course, we all hope to be earning more money by the time we retire than we are at the age of 22. But for the sake of comparison, we will assume Jessica keeps saving 4 percent of her $40,000 salary on a monthly basis until she's 65, earning an average annual return of 6 percent on her investments.
How much money do you think she would have in her 401(k)? The answer: around $620,000. And she would have only contributed $68,800 of her own earnings to her retirement account to get there.
Sarah, The Delayer
Now let's take a look at Jessica's friend Sarah. Sarah landed a similar job, also making $40,000 a year. But on her first day of work, Sarah wasn't ready to commit any money to her 401(k), even though her employer also offered a matching contribution.
Perhaps Sarah didn't realize the value of that match, and the free money she was leaving on the table. Perhaps Sarah was tired of living like a broke college student and figured she would get around to the retirement savings later.
It can be easy to come up with excuses to push off saving for retirement. And sometimes those excuses can be legitimate, especially for anyone with high-interest debt and a tight budget. But that's not Sarah's story. She simply chose not to save.
Eight years later, Sarah was about to celebrate her 30th birthday. It was a big milestone that had her thinking about her future—and her retirement. She went into the office the next day and signed up to start contributing 4 percent, just like Jessica.
How much would Sarah have in her retirement account when she turns 65, assuming the same 6 percent average annual return? About $368,000.
The Impact
Eight years of delay would cost Sarah about $252,000 in potential retirement savings. Over that eight years, Jessica would only contribute an extra $12,800 of her income and come out with about 68 percent more money when she reached her mid-60s. Had Jessica saved even more aggressively in her 20s, the difference between the two women would likely be even starker.
That's why it is important for young investors to think carefully about delaying saving for retirement when a couple bucks a day now can lead to hundreds of thousands of dollars in extra savings later. Time, quite literally, is money.
Are you ready to start saving? It's not too late.