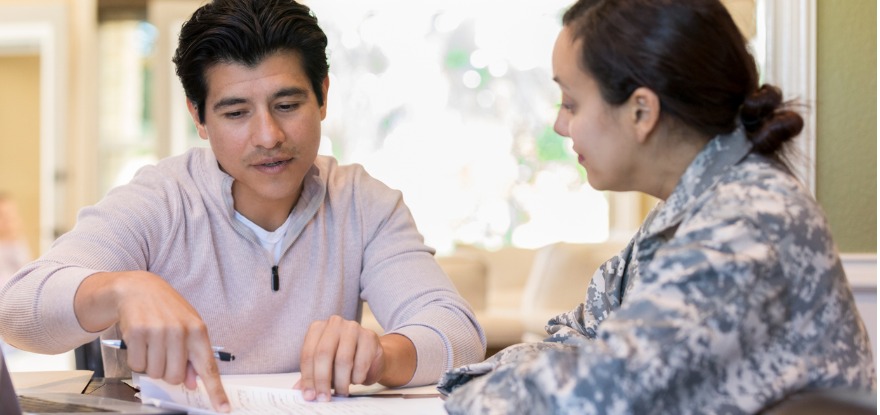 Which emotion best describes your pre-deployment state of mind? Excitement? Anxiety? If you're like many service members, or a military spouse, there's probably a lot of stress as well. While you can't eliminate pre-deployment stress, getting your finances under control can help reduce it. Developing a deployment financial plan and focusing on a savings routine will allow you to concentrate on your upcoming duties.  
First, ensure that all appropriate legal documents are in place and up to date, including a power of attorney (which enables someone you name to act on your behalf in financial and other matters), medical directives (in case you're injured) and will. These are the fundamental building blocks of a deployment financial plan. Take special care to follow your unit or service pre-deployment guidance. Make sure these documents are accessible to your loved ones in case they need them while you're away.
 
Become familiar with protections provided by the Servicemembers Civil Relief Act (SCRA). You may be able to reduce the interest rate on debt incurred prior to your service, including student loans taken out since August 2008. 
 
Automate your finances. Set automatic drafts to pay regular bills, like a car loan, rent or mortgage and your phone bill. The bank or credit union that receives your direct deposit military pay can help you set up these payment schedules. 
 
Consider placing an active duty alert on your credit report. An active duty alert adds an extra layer of protection to the credit records of service members who are deployed, and requires businesses to take extra steps before granting credit in your name. Active duty alerts last for one year, and can be renewed to match the period of deployment. It does not cost you anything to place or remove the alert. A call to just one of the three major credit reporting bureaus is sufficient; each is required to notify the other two bureaus. 
 
Create a plan for your property, and discuss your plan with your insurance carrier. Your insurer may recommend adjustments in coverage that may save you money or provide appropriate coverage for unattended vehicles, real estate or personal property. Military storage lots may be available for the trucks, motorcycles and even boats and RVs. While these lots may be physically secure, they are usually exposed to the elements. Have a trusted friend or relative keep an eye on things for you. 
 
Ask your installation Personal Financial Manager (PFM) or Personal Financial Counselor (PFC) about deployment savings options, such as the Thrift Savings Plan (TSP)  and the Savings Deposit Program (SDP). The TSP provides tax advantages for pay deposited in a retirement account while in a combat zone. The SDP guarantees interest well above market rates for pay earned in a combat zone and provides the means for service members to build wealth while deployed. Look into both; they can be great ways to sock away some money while deployed. 
Be sure to download our Deployment Checklist to get organized and stay on track.