FINRA Foundation Awards 2019 Ketchum Prize to Dr. Olivia S. Mitchell
University of Pennsylvania Professor Recognized for Outstanding Service and Research to Advance Investor Protection and Financial Capability in the U.S.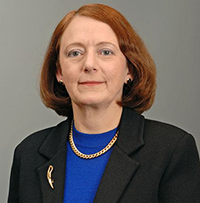 WASHINGTON – The FINRA Investor Education Foundation (FINRA Foundation) today awarded Dr. Olivia S. Mitchell the 2019 Ketchum Prize—its highest honor—for her extraordinary research on pensions and retirement income and her efforts worldwide to advance financial literacy.
"For more than two decades, Dr. Olivia S. Mitchell has been at the forefront of research focused on retirement savings and planning. Her in-depth analyses of the intersection of public and private pensions, insurance and risk management, financial literacy, and public finance provide a clearer picture of Americans' household finances and their ability to accumulate wealth over time," said FINRA Foundation President Gerri Walsh.
"For most Americans, Social Security and employer-sponsored or individual retirement plans are the cornerstones of retirement, but an alarming number of Americans are financially unprepared for the retirement that awaits them. Dr. Mitchell's research underscores the critical role that financial literacy plays in Americans' financial decision-making and behaviors," Walsh added.
Dr. Olivia S. Mitchell is the International Foundation of Employee Benefit Plans Professor and a professor of insurance/risk management and business economics/public policy at the Wharton School of the University of Pennsylvania. She is also executive director of the Pension Research Council and director of the Boettner Center for Pensions and Retirement Security, both at the Wharton School. Concurrently, Dr. Mitchell serves as a research associate at the National Bureau of Economic Research and as a senior editor of the Journal of Pension Economics and Finance.
"As financial markets become more complicated and integrated, it is becoming more critical than ever for people to be knowledgeable about their finances and make informed decisions around saving, investing, borrowing and planning. I am honored to be recognized with the Ketchum Prize and will continue to promote financial literacy and its impact on well-being," Dr. Mitchell said.  
Dr. Mitchell is one of the world's leading and most influential economists. Her research explores how systematic longevity risk and financial crises can shape household portfolios and work patterns over the life cycle, the economics and finance of defined contribution pensions, financial literacy and wealth accumulation, and claiming behavior for Social Security benefits.
Professor Mitchell has published more than 250 books and articles and has made it a priority to explain important trends affecting retirement well-being to policymakers and the broader public.
The FINRA Foundation's $10,000 Ketchum Prize honors FINRA's former chairman and chief executive officer Richard "Rick" Ketchum, who retired in 2016 following three decades of distinguished leadership in the field of securities regulation. Mr. Ketchum also served as chairman of the FINRA Foundation and is a longtime advocate for helping families achieve economic well-being.
Following Ketchum's retirement, the FINRA Board of Governors and the FINRA Foundation Board of Directors took steps to perpetuate his vision and achievements by endowing an annual cash prize to recognize researchers and educators who have made major and uncommon advances toward improving investor protection and financial capability in the United States.
Previous Ketchum Prize recipients include, in 2018, Dr. Annamaria Lusardi, founder and academic director of the George Washington University's Global Financial Literacy Excellence Center; and Dr. J. Michael Collins, faculty director of the Center for Financial Security at the University of Wisconsin-Madison.
The FINRA Foundation is now accepting nominations for the 2020 Ketchum Prize. The nomination form and complete details are available at www.finrafoundation.org/ketchumprize.
FINRA Investor Education Foundation
The FINRA Investor Education Foundation supports innovative research and educational projects that give underserved Americans the knowledge, skills and tools to make sound financial decisions throughout life. For more information about FINRA Foundation initiatives, visit www.finrafoundation.org.
About FINRA
FINRA is a not-for-profit organization dedicated to investor protection and market integrity. It regulates one critical part of the securities industry—brokerage firms doing business with the public in the United States. FINRA, overseen by the SEC, writes rules, examines for and enforces compliance with FINRA rules and federal securities laws, registers broker-dealer personnel and offers them education and training, and informs the investing public. In addition, FINRA provides surveillance and other regulatory services for equities and options markets, as well as trade reporting and other industry utilities. FINRA also administers a dispute resolution forum for investors and brokerage firms and their registered employees. For more information, visit www.finra.org.