FINRA Foundation Awards 2020 Ketchum Prize to Michael Morris
A Key Architect of the ABLE Act Recognized for Efforts to Advance Financial Capability for People with Disabilities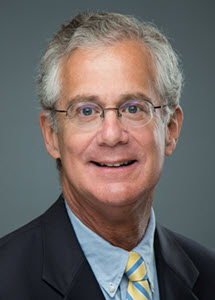 WASHINGTON – The FINRA Investor Education Foundation (FINRA Foundation) today awarded Michael Morris the 2020 Ketchum Prize—its highest honor—for his extraordinary leadership in creating a better economic future for people with disabilities through advocacy, research and education.
Morris is the founder of National Disability Institute (NDI), served for 15 years as the Executive Director and now serves as a Senior Strategic Advisor to the organization. NDI advances the social and economic independence of persons with disabilities through strategic investment and technical assistance activities that bring together government, corporations, foundations and community and faith-based organizations.
"For more than three decades, Michael Morris has passionately pursued policies and systems to advance economic stability, mobility and asset development for individuals with disabilities," said FINRA Foundation President Gerri Walsh. "As the only organization in the United States that focuses on financial capability for people across the spectrum of disabilities, NDI has pioneered research that challenges economic inequality and informs public policy."
Under his leadership, NDI has comprehensively addressed the importance of financial capability and financial wellness through advocacy, advice on regulatory language, technical assistance to service providers, training, capacity-building, knowledge translation and analyses. Morris has expanded the notion of economic independence beyond securing employment to include a focus on financial stability and access to financial services.
"I am deeply honored to receive this prestigious award. I remain so grateful for the continuing support of the FINRA Foundation of groundbreaking research to build knowledge and understanding in the financial community and by the general public of the extra costs associated with living with a disability and financial challenges that deserve sustainable solutions created for a better economic future," said Morris. "This award, in the 30th anniversary year of the passage of the Americans with Disabilities Act, is about a shared vision and determination to challenge economic inequality. Our collective efforts must be committed to expanding financial investment opportunities and access to credit for a diverse population of individuals with disabilities who, in greater numbers than ever before, seek to become home and small business owners and savers and asset builders."
Morris has conceived and co-authored numerous studies that provide the foundation for including disability issues in discussions of financial capability. In 2017, NDI and the FINRA Foundation issued a report titled Financial Capability of Adults with Disabilities. The research, analyzing data from the FINRA Foundation's National Financial Capability Study, provided the most comprehensive picture to date of how people with disabilities manage financial resources and make financial decisions. The report also offered a framework for the design of programs, products, education and services to improve the financial stability and capability of individuals with disabilities.
Last year, NDI and the Association for Financial Counseling and Planning Education® (AFCPE®) launched Financial Inclusion Essentials, a self-paced online course designed for financial counselors, financial coaches, disability service providers, and others who want to learn more about building the financial well-being of people with disabilities. The training covers a variety of topics, including debunking myths and stereotypes about people with disabilities, understanding money management rights and resources, navigating favorable tax credits and services, understanding employment resources for people with disabilities, providing education on major acquisitions, and understanding ABLE accounts.
NDI is a nationally recognized leader in crafting policies and legislation to build the financial capacity of people with disabilities. Morris was one of the key architects of the Achieving a Better Life Experience (ABLE) Act, which allows millions of people with disabilities to save assets without jeopardizing their access to critical public benefits. He was instrumental in the implementation of the ABLE Act, helping to craft and pass ABLE legislation in 45 states, working with the U.S. Department of Treasury to develop rules and regulations, and providing substantial input into guidance documents of the Centers for Medicare and Medicaid Services, Social Security Administration and the U.S. Department of Agriculture to ensure that ABLE accounts were viewed favorably in Medicaid, Social Security and Supplemental Nutrition Assistance programs. Today, more than 75,000 individuals with disabilities and their families have opened ABLE accounts and have nearly half a billion dollars saved and invested for growth.
In addition, Morris has advocated for the needs of people with disabilities to be included in conversations about mainstream financial capability issues at the Federal Deposit Insurance Corporation (FDIC), Department of the Treasury, Securities and Exchange Commission, Financial Literacy and Education Commission, Community Development Financial Institutions Fund, Federal Reserve and others. These agencies have relied on his subject-matter expertise to explain and advocate for the financial capability needs of the disability community.
This year, the Center for Disability-Inclusive Community Development, designed by Morris and managed by NDI, celebrated its first anniversary. The new Center has been instrumental in building a new level of understanding by financial institutions to increase their Community Reinvestment Act funding to better meet the needs of low- and moderate-income people in communities nationwide. Over a period of 15 years, Morris built NDI into an organization with more than 200 public and private partners at the local, state and national levels. Through public education, pioneering projects and demonstrations, public policy research and development, and customized training and technical assistance activities, NDI is helping people with disabilities and their families build a better financial future.
Ketchum Prize
The FINRA Foundation's $10,000 Ketchum Prize honors FINRA's former chairman and chief executive officer Richard "Rick" Ketchum, who retired in 2016 following three decades of distinguished leadership in the field of securities regulation. Mr. Ketchum also served as chairman of the FINRA Foundation and is a longtime advocate for helping families achieve economic well-being.
Following Ketchum's retirement, the FINRA Board of Governors and the FINRA Foundation Board of Directors took steps to perpetuate his vision and achievements by endowing an annual cash prize to recognize researchers and educators who have made major and uncommon advances toward improving investor protection and financial capability in the United States.
Previous Ketchum Prize recipients include: University of Pennsylvania Professor Dr. Olivia S. Mitchell; Dr. Annamaria Lusardi of the George Washington University's Global Financial Literacy Excellence Center; and Dr. J. Michael Collins of the Center for Financial Security at the University of Wisconsin-Madison.
The FINRA Foundation is now accepting nominations for the 2021 Ketchum Prize. The nomination form and complete details are available at www.finrafoundation.org/ketchumprize.
About the National Disability Institute
The National Disability Institute (NDI) is a nonprofit organization dedicated to building a better financial future for people with disabilities and their families. The first national organization committed exclusively to championing economic empowerment, financial education, asset development and financial stability for all persons with disabilities, NDI effects change through public education, policy development, training, technical assistance and innovative initiatives. To learn more, visit www.nationaldisabilityinstitute.org.
About the FINRA Investor Education Foundation
The FINRA Investor Education Foundation supports innovative research and educational projects that give underserved Americans the knowledge, skills and tools to make sound financial decisions throughout life. For more information about FINRA Foundation initiatives, visit www.finrafoundation.org.
About FINRA
FINRA is a not-for-profit organization dedicated to investor protection and market integrity. It regulates one critical part of the securities industry—brokerage firms doing business with the public in the United States. FINRA, overseen by the SEC, writes rules, examines for and enforces compliance with FINRA rules and federal securities laws, registers broker-dealer personnel and offers them education and training, and informs the investing public. In addition, FINRA provides surveillance and other regulatory services for equities and options markets, as well as trade reporting and other industry utilities. FINRA also administers a dispute resolution forum for investors and brokerage firms and their registered employees. For more information, visit www.finra.org.