Well-Traveled Fraud—Advance-Fee Scams Target Non-U.S. Investors Using Fake Regulator Websites and False Broker Identities
It's nice to get attention—unless you're a non-U.S. investor targeted by con artists trying to steal your money.
We are issuing this Alert to warn non-U.S. investors that scammers are using fraud—including setting up phony "regulator" websites and fake identities—to separate you from your money. No regulator is immune. In fact, in a recent twist, some scammers have misused FINRA's name and impersonated FINRA employees in email correspondence in an apparent attempt to lend legitimacy to their schemes.
The scam generally begins with a phone call offering to pay you an enticingly high price to buy shares of stock you own that are virtually worthless (sometimes referred to as "non-performing"). To build legitimacy, the caller refers you to a phony website that contains investor protection information, or poses as a legitimate securities professional or regulator. To take the "deal," you are asked to send a fee in advance to pay for their services. Once your money is sent, you never see it—or any of the money from the deal—again.
Imposter Ploy and SIPC Scams

Investors in the United Kingdom have received calls to recover "non-performing investments" from securities companies that have been the subject of fines and other disciplinary actions by securities regulators. The callers claim to be registered individuals working for a FINRA-registered securities firm, but appear to be imposters. Using official-looking documents, the imposters ultimately seek advance payment for the return of funds lost during the time the investor was associated with the disciplined firm.

U.S. investors are not immune to imposter scams. The Securities Investor Protection Corporation (SIPC), which maintains a special reserve fund mandated by the U.S. Congress to protect the customers of insolvent brokerage firms, issued a warning to consumers that some websites may pose as SIPC or other organizations with SIPC-like powers. The con artists do so in an attempt to trick victims into sending money, or giving the fraudsters access to brokerage accounts and sharing personally identifiable information.
Because it is very difficult for regulators and law enforcement agencies to recover any losses from these "advance fee" scams, your best defense is to avoid being defrauded in the first place. This Alert describes real-life tactics of recent advance-fee scams and offers tips on how to avoid becoming a victim, such as using FINRA's BrokerCheck to check out the caller, as well as where to turn for legitimate help and advice.
False Hope
Advance fee scams play on investor hopes that they will be able to reverse a previous investment mistake when they purchased a low-priced stock. Scammed investors say this is how they lost their money in these schemes:
The investor gets a call out of the blue (a "cold call") from an individual offering to buy shares of a low-priced stock at a premium to the current market value. (Con artists use shareholder lists of defunct companies or other lists that contain names, phone numbers and financial holdings of targets).
The caller purports to be a U.S. broker, regulator or "stock recovery agent" and claims to be able to recover losses from a previous stock purchase by exchanging or swapping an investor's near-worthless stock for a name-brand stock, or buying the stock outright from the investor for more than the market value. The fraudsters may steal the identity of a legitimate securities firm and provide the customer with information such as the legitimate firm's FINRA registration number (CRD number). Caution: The phone number may be altered or removed from this report in the hope that you do not contact the legitimate firm. You may contact FINRA to verify the actual phone number of a registered firm by calling (800) 289-9999.
A bogus email from FINRA and regulatory report is sent to the customer validating the legitimacy of the firm.
The caller may also refer the investor to a website of a "regulator" that can vouch for the recovery techniques, or even endorse the caller or to another "investor" who can vouch for the transaction.
The caller faxes the investor a "Stock Purchase Agreement" or other official looking form. The form requests you send a transaction fee that may have a fancy name such as "performance bond," "transaction tax," "share restriction removal fee," "penalty restriction removal fee," "equity evaluation deposit," or the like.
The form also requests a statement of investment holdings and bank account information. And the form often ends with a statement such as: "Processing of the above transaction will commence upon the receipt of payment…" In other words, the investor gets nothing until money is sent in advance.
The caller continues to keep in touch with the investor by phone and fax—working to win their trust—until the advance-fee money has been sent.
In some cases, once the money has been sent, the investor is called back to send even more money to assure the delivery of their stock.
Regardless of the tale, or where the caller claims to be from, the punch line is always the same—you must make the advance fee payment before the caller can deliver a much larger sum of money to the investor.
Lying for Legitimacy: Real-Life Tactics
Confident talk and elaborate deceptions go hand-in-hand with these fraudulent schemes. The key to success is to appear legitimate. Scams aimed at international investors often prey on the investor's lack of understanding of U.S. securities products, markets and regulations, as well as the regulatory organizations that govern them.
Here are some real-life examples of how scammers operate:
Posing as FINRA. We have received multiple complaints from U.K, investors associated with a scheme to buy back worthless U.S. securities. The fraudsters claim to be with a legitimate U.S. securities firm—but while the firm is indeed legitimate, its identity has been stolen by the fraudsters. To build trust, the fraudsters email a letter purportedly from FINRA that verifies that the firm is "properly licensed by FINRA to perform transfer or stock recovery functions" in the investor's country. Along with the letter, a copy of the firm's BrokerCheck report (see below) is attached. The report has been altered to remove the firm's phone number. The letter is signed by a representative of "FINRA Shareholder Support." The name of the FINRA representative and FINRA department are both fake.
Fraudulent use of FINRA BrokerCheck. We received a complaint from an international investor whose "broker" encouraged him to check out his credentials using FINRA BrokerCheck, which allows investors to check the professional background of brokerage firms and brokers currently or formerly registered with FINRA or a national securities exchange, as well as current or former investment adviser firms and representatives. In reality, the caller was an impersonator who stole the name of a legitimate securities professional and boldly used FINRA BrokerCheck for fraudulent purposes. FINRA knows of more than 50 legitimate U.S. securities firms and individual brokers whose identities have been hijacked by scammers to create an appearance of legitimacy. Note: Unsolicited provision to a potential investor of a firm's Central Registration Depository (CRD) number, which FINRA assigns to each registered firm, or recommendations to "check me out on FINRA BrokerCheck," may be tip offs to fraud. Also, be wary if the "broker" mails you documents from BrokerCheck: They may have been altered.
Fabricating an official regulator. We received a complaint from an Australian investor involved in a scheme to buy back shares of nearly worthless stock. He was told to do his due diligence by checking with the "International Compliance Commission." Another investor was told to visit a site run by the "Regulatory Compliance Commission." Both organizations are phony but their websites look real and contain plenty of investor information, which is stolen from the sites of legitimate regulators. Note: These fake sites are often "cookied" to track visitors and gather information. These sites may vanish at any time, or pop up in the guise of a different fictitious entity.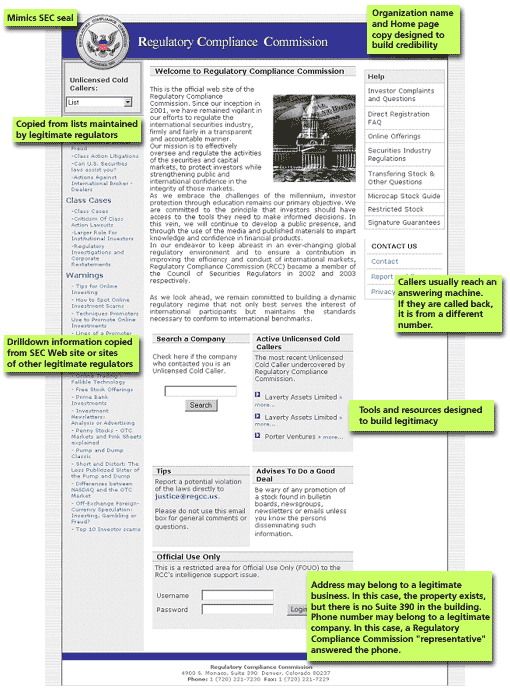 Mirrored information. Fraudsters who employ FINRA BrokerCheck in their con will typically use much of a legitimate firm's information. For example, the firm will use the same address on their letterhead. If a phone number is provided, the area code will be the same as the number listed on FINRA BrokerCheck, however, the remaining numbers following the area code will be different. Fraudsters may use the exact spelling of legitimate firms, or alter their names slightly. Be wary: Slightly irregular phone numbers or names may indicate fraudulent impersonation.
"Official" letterhead. An Australian investor was urged by a "fraud investigator" to contact the Anti-Fraud Task Force to verify the investigator's credentials. The investor did so and received a letter, on official-looking letterhead, giving the organization's seal of approval to the investigator and the method of recovery he was recommending. It is not uncommon for scammers to claim affiliation with legitimate U.S. regulatory organizations such as the SEC, FINRA and SIPC.
False addresses and answering machines. The website of the "International Equity Commission" lists the address of a Greensboro, NC skateboard shop. The address of the "Regulatory Compliance Commission" in Denver, CO is a real office building, but the suite number is fictitious. Most phone numbers listed on scammer websites lead to answering machines that offer no information about the identity of the organization.
References to the IRS and other US government agencies. An international investor received an official-looking letter from a fake brokerage firm that stated, "The Internal Revenue Service (IRS), by default, is also involved in monitoring each transaction in an auditing capacity…" And, "In conjunction with the SEC and the IRS, the Transfer Agent is further charged with ensuring compliance in respect of rules and regulations that apply to the directors and stockholders of the corporation." These statements are simply ploys to sound legitimate and build credibility.
Avoid Being Scammed
The best way to avoid losing money in these scams is simply to hang up—the sooner the better. This is easier said than done, since the callers are con artists highly skilled at delivering their fraudulent pitches.
Regardless of how convincing a caller's pitch, you can take action to sniff out fraud and avoid losing money:
Source of your name. Ask the caller how your name was obtained. If they say a shareholder list, ask for the company that compiled the list and contact information. If they refuse any request for information related to how they got your name, hang up.
Offering a premium. If the caller offers you more money for shares of stock than the current value at which the stock is trading, assume you are being scammed and hang up.
Advance fee. If you are asked to pay a "penalty restriction fee" or fee to "release restricted shares," or if you are asked to pay for a "performance bond" or send an "equity evaluation deposit," assume you are being scammed and hang up.
Firm license. Verify that the firm is licensed to do business in the country where the firm or broker is located. If the firm is located in the United States, use FINRA BrokerCheck to check the status of a broker or brokerage firm. If the firm is not listed in BrokerCheck, chances are it is fraudulent.
BrokerCheck verification. It's possible that the caller may be impersonating an actual broker or firm, so as an extra precaution, use the contact information in FINRA BrokerCheck—not information given to you by the caller—to contact the broker or firm yourself. Ask to speak to the compliance officer of the firm to verify its identity. Remember, slight variations of FINRA BrokerCheck information, such as the omission of a phone number, may indicate fraudulent impersonation. When using FINRA BrokerCheck, you will find a brokerage firm's phone number in the "Firm Profile" section of the "Full PDF Report."
Verify address and phone number. Personally verify the addresses and phone numbers that may be listed on either the firm's website or the site of any "regulator" that you may be directed to. If you reach an answering machine, particularly one that offers little or no information about the organization, assume you are being scammed.
Avoid scam websites. Don't go to websites recommended by cold callers—they may not only provide deceptive information, but may track your visit and get your personal information for future scams. Remember that official U.S. government sites end in ".gov," but the sites of FINRA and other government-sanctioned regulators, like stock exchanges, end in ".com" or ".org."
Check with regulators before sending money. Don't send any money until you have contacted the REAL regulators in your own country. Although they will not "approve" or "endorse" particular transactions, they are trained to spot fraud if you run the offer by them.
Check with banks before sending money. Never send money to a bank you have not heard of. Deal only with major banks, preferably with branch offices in your area. Call the bank first to inquire about the company or individual asking you to send money.
Keep your guard up. Expect ready responses and a cool demeanor in the face of your skepticism. These scammers lie for a living.
Returning to the Well

Once scammers have your contact (and possibly financial) information, they will likely try repeatedly to separate you from your money, even months or years later or for a new scam. Scammers may attempt to solicit additional funds from you by creating false roadblocks to the proposed transaction. These roadblocks might be presented to you as administrative fees, such as bank transfer fees or fees to lift unexpected stock restrictions. Be advised: If you have already sent money to a scammer, don't send more!
Where to Turn for Help and Advice
If you suspect that you are being scammed or have lost money, the best place to start is with your home country securities regulator. Don't hesitate to call or email them at the first sign of impropriety. Use the International Organization of Securities Commissioners (IOSCO) website to find your country's official regulatory organizations: www.iosco.org. Call them if you have any questions about a regulatory organization. If official regulators have not heard of the organization, it is most likely fraudulent. In the US, major regulators include the SEC (www.sec.gov), FINRA (http://www.finra.org), the exchanges and the States (see www.nasaa.org). In addition, Professor Emeritus Howard M. Friedman of the University of Toledo College of Law maintains the Financial Regulators Gateway (http://www.financialregulatorsgateway.com), an online resource that lists the financial regulatory agencies around the world and their relevant statutes and rules. Don't simply click on links in a suspected email to access these regulators; the address in the email may look right, but may take you to a different location. Type the regulator Web address directly in the Web browser address bar or search feature.
The SEC's Public Alert: Unregistered Soliciting Entities (PAUSE) helps investors avoid online and boiler room scams. PAUSE lists information the SEC has received through complaints from investors and others—including foreign securities regulators—about securities solicitations made by entities that falsely claim to be registered in the U.S., use phony U.S. addresses or provide fake endorsements from fictitious government agencies or international organizations.
A number of international sites make a point of publicizing unlicensed cold-calling firms. The following list of regulatory organizations comes from the SEC's publication Worthless Stock: How to Avoid Doubling Your Losses:
If you suspect fraud on the part of a U.S. firm or individual, or simply want to talk through an investment that seems a little too good to be true, call FINRA at (240) 386-4357 or file a complaint or question using FINRA's online Investor Complaint Center.
For additional information and recent alerts on international investor fraud see:
To receive the latest Investor Alerts and other important investor information sign up for Investor News.