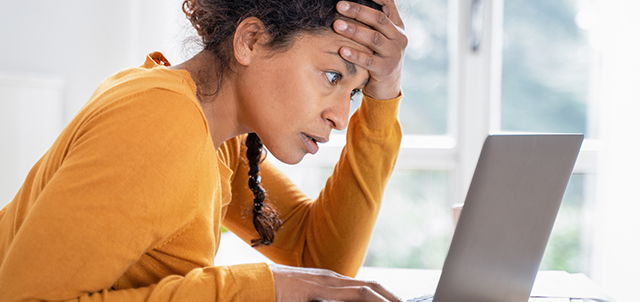 Most of us know someone who's been a victim of a financial scam, or we may have been a target ourselves. If you've been impacted by this type of crime, there are ways you can get assistance.
After experiencing investment fraud, you might be coping with the aftermath of a compromised identity, damaged credit and financial loss, as well as a range of emotions including anger, fear and frustration. The toll of financial fraud can extend well beyond lost money. You're not alone. A study funded by the FINRA Foundation found that nearly two-thirds of fraud victims experience at least one severe emotional consequence—including stress, anxiety, insomnia and depression.
Perpetrators will frequently dispose of your money immediately after taking it, so you might never get it back. However, your recovery is about more than lost money. It's also about protecting your future financial health and assets and finding ways for you to recover emotionally from the crime.
While full financial recovery might be difficult to achieve, it's critical that you report the crime as quickly as possible. Reporting any financial fraud, no matter how small, helps law enforcement, regulators and government agencies put a stop to the fraud, prevent harm to more consumers, and pursue the criminals committing the fraud.
Investment Fraud Recovery Checklist
Taking the steps below can help you reclaim power from the fraudsters and begin to move forward.
1. Create an investment fraud file. Start by collecting all relevant documentation concerning the fraud in one file that you keep in a secure location. The file should include the perpetrator's name, contact information and website address. Also include the fraudster's purported regulatory registration numbers, if available, and a timeline of events, which may span years. Your file should include any reports you made to law enforcement, and notes or relevant documentation about the fraud. Add one more important piece of information: your most recent credit report from all three credit reporting companies.
2. Know your rights. Federal and, in some cases, state laws give rights to victims of crime. Learn about your rights to better protect yourself. Start with your nearest U.S. attorney's office to learn more about crime victim rights and resources available to you, and check with your state attorney general. 
The North American Securities Administrators Association (NASAA) publishes a helpful "Investor Bill of Rights." And the VictimConnect Resource Center is a referral helpline where crime victims can learn about their rights and options confidentially and compassionately.
3. Report fraud to regulators. National, federal and state regulatory agencies for investment products and professionals may be able to help. You might benefit from reporting the investment fraud to as many agencies as apply. 
It might also be helpful to file a report with the Federal Trade Commission (FTC) or call (877) 382-4357. Lodging a complaint submits the fraud to the Consumer Sentinel database so that law enforcement can stop ongoing fraud and track these crimes. However, this process won't initiate a criminal investigation of your case. 
4. Report the fraud to law enforcement. Reporting the investment fraud to law enforcement is important to begin the recovery process, ensure the responsible parties are investigated, and prevent further damage to other individuals.
Local Law Enforcement: Contact any local law enforcement office to file a police report.
District Attorney: Contact your local district attorney's office.
Attorney General: Contact your state's attorney general's consumer protection and prosecution units to report the fraud. 
Federal Law Enforcement: Contact your local FBI field office or submit an online tip. You can also file a complaint through the FBI's Internet Crime Complaint Center.
5. Consider your options. It can be difficult to recover assets lost to investment fraud. But there are legitimate avenues to pursue. You may be able to recoup some of your lost assets through a civil lawsuit, arbitration or mediation.
If you're interested in filing a civil suit, civil attorneys with experience working on financial fraud cases can counsel you on which remedies are available depending on your case. You should know, however, that civil lawsuits can take time and cost money. And even if you win, it might still be difficult to collect on a judgment.
Arbitration and mediation are two alternatives to going to court. Arbitration is a formal alternative to litigation and can be faster, cheaper and less complex. Two or more parties choose a panel of one to three neutral third parties, called arbitrators, to resolve their dispute. The panel's decision, called an "award," is final and binding.
Mediation is an informal process where a trained, impartial mediator facilitates negotiations between disputing parties. The mediator helps the parties find a mutually acceptable solution.
6. Follow up. Review the steps you've taken and follow up after 30 days with any law enforcement agencies or organizations that serve victims.
Here's a final sobering reality: If you've already been a victim of investment fraud, you're more likely to be retargeted, perhaps for a different type of scam. Be on your guard. Learn more about how to avoid fraud and strategies to protect yourself.