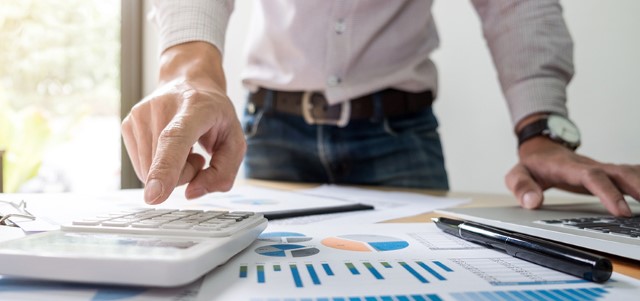 Exchange-traded funds (ETFs) and mutual funds are two of the most common ways for Americans to invest. And while the investment vehicles have some important similarities, they have some key differences.
Both ETFs and mutual funds can
offer diversification and
professional management—and
they can feature a wide variety
of investment strategies and styles.
ETFs saw a record year of new investment inflows in 2017 with over $476 billion in ETF investments, bringing total assets to $3.4 trillion, according to ETFs.com, which reports on ETFs. Meanwhile, investors held another $16.3 trillion in mutual fund assets at the end of 2016, according to the Investment Company Institute.
Mutual funds have long been a mainstay of retirement investment accounts. In fact, the first modern mutual fund appeared as far back as 1924. ETFs are a relatively newer option with the first ETF hitting the scene in 1993. As ETFs become ever more popular, it is important for investors to understand both the similarities and differences between mutual funds and ETFs.
What Are They?
Both ETFs and mutual funds are pooled investment funds that offer investors an interest in a professionally managed, diversified portfolio of investments. Combining the money of many investors, both types of funds invest according to a specific strategy. Mutual funds and ETFs can offer investors exposure to a wide array of markets, industry sectors, regions, asset classes and investment strategies. And each fund will come with different risks and features depending on the strategy.
Generally, mutual funds, which are also known as open-ended companies, and ETFs must be registered with the Securities and Exchange Commission (SEC) as investment companies. However, some ETFs that invest in commodities, currencies or commodity- or currency-based instruments are not registered investment companies, although their publicly offered shares are registered under the Securities Act.
Both types of funds can offer diversification and professional management—and they can feature a wide variety of investment strategies and styles. As with any security, investing in a fund involves risk, including the possibility that you may lose money. And how a fund performed in the past is not an indication of how it will perform in the future.
Since both mutual funds and ETFs can vary broadly in in their objectives, it's important for any potential investor to read all of an ETF or mutual fund's available information, including its prospectus.
How Are They Purchased?
From the perspective of ordinary investors, one of the biggest differences between mutual funds and ETFs is how they are purchased.
Investors purchase and "redeem" shares in a mutual fund directly from the mutual fund or through a broker for the fund—and not on an exchange.
Meanwhile, ETF investors buy or sell shares of an ETF on an exchange, as they would any other publicly traded stock. That's because ETFs do not sell shares to or redeem shares from investors directly.
Instead, ETFs follow a unique format where they enter into contracts with financial institutions to act as Authorized Participants (APs). APs purchase and redeem shares directly with the ETF in large blocks of shares called Creation Units. Those shares are then sold on an exchange, where investors can buy and sell them.
How Are They Priced?
Both ETFs and mutual funds calculate the net asset value (NAV) of their portfolios at the end of each trading day. There are some differences between how mutual funds and ETFs calculate this figure, but, generally, NAV comes from a calculation of the total value of all the securities in the fund portfolio, any liabilities of the fund and the number of fund shares outstanding.
The NAV is the price at which mutual fund investors will buy or sell their shares. All mutual fund transactions are "forward priced," which means that while investors can place buy or sell orders throughout the day, all orders placed during the day will execute at that day's NAV when it is calculated, typically as of 4 p.m. Eastern Time when stock trading closes for the day in the U.S.
ETF investors, on the other hand, will pay market value for their shares, which may not equal the NAV at any given time since the market value of the shares will fluctuate throughout the trading day.
Imbalances in supply and demand can cause the market price of an ETF to deviate from its NAV. However, significant shifts tend to be short-lived due to the transparency in an ETF's portfolio and the ability of APs to create or redeem ETF shares at the NAV at the end of each trading day.
What Kind of Fees or Other Expenses Do They Charge?
Mutual funds and ETFs both have expense ratios. An expense ratio is the annual fee that all mutual funds or ETFs charge their shareholders, including 12b-1 fees, management fees, administrative fees, operating costs and all other asset-based costs incurred by the fund. It is expressed as a percentage of assets.
These fees will vary based on the type of fund. Actively managed ETFs and mutual funds generally cost more than passively managed funds.

Related: What You Need to Know About the Passive vs. Active Debate
ETF investors may also have to pay a brokerage commission on each transaction, though some ETF providers offer no-commission ETFs. While skipping the commission can certainly save you some money, it shouldn't be the only factor you consider when choosing to purchase an ETF. You should be sure to compare all expenses when making a choice, as well as differences in fund performance and objectives.
Mutual fund investors typically don't pay commissions, but they may pay account, redemption, load or other fees not included as part of the expense ratio.
All of these fees—whether you are looking at an ETF or a mutual fund—will be detailed in a fund's prospectus, so read up to make sure you understand the investment.

Related: Mutual Fund Fees & Expenses
A small percentage difference in fees can add up to a big dollar difference in the returns on your mutual fund or ETF, so it's important to be aware of all the fees associated with any fund in which you invest. Fortunately, FINRA offers a free tool called the Fund Analyzer, which allows you analyze and compare the cost of owning more than 30,000 different mutual funds, ETFs and other funds.
At the end of the day, both mutual funds and ETFs can provide diversification, flexibility and exposure to a wide array of markets at a relatively low cost. But as is the case with any investment product, it pays to be informed and understand the differences between the two types of investment funds before you make any decision.
Subscribe to FINRA's Investor Insights for more information about saving and investing.