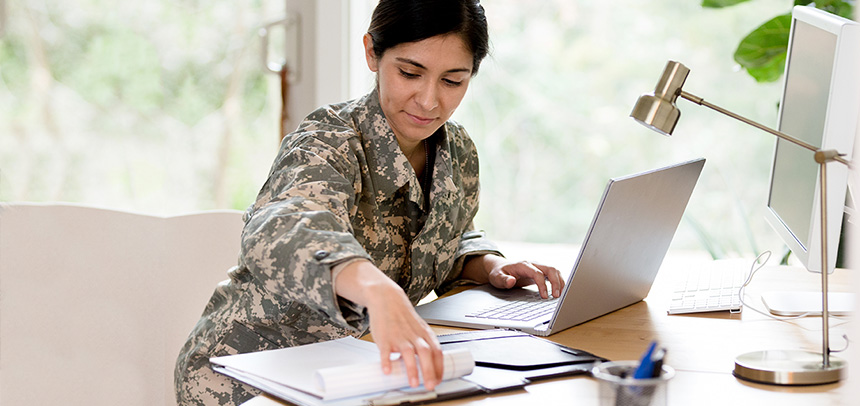 Whether you're a military veteran or transitioning service member exploring new opportunities or a military spouse seeking a flexible career, the financial services industry offers many job paths. Get a head start today by taking the Security Industry Essentials® (SIE®) Exam.
This introductory-level exam assesses knowledge of basic industry information, including fundamental concepts such as types of products and their risks; the structure of the markets, regulatory agencies and their functions; and prohibited practices. Passing the SIE shows prospective employers that you've mastered fundamental concepts and are ready to take that first step into a new career.
The SIE is open to individuals aged 18 or older. You may take the exam before receiving a job offer, and the results are valid for four years. Online and in-person testing is available for the exam.
On This Page
---
SIE at a Glance
Number of Questions: 75
Format: Multiple Choice
Duration: 1 hour and 45 minutes
Passing Score: 70
Cost: $80
---
Benefits
Ability to distinguish yourself from your peers seeking internships or jobs
Opportunity to jumpstart your career goals
Immediate notice of your pass/fail status with performance feedback if you fail
Increased marketability in financial services industry
---
After Passing the Exam
When you pass the Essentials exam, you must take a few more steps before you can register with FINRA or engage in securities business. To become registered to engage in securities business, you must also pass a qualification exam appropriate for the type of business in which you will engage.
First, you must be associated with a broker-dealer to take a qualification exam. The broker-dealer then sponsors you to take an exam, such as the General Securities Representative (Series 7) exam.
---
SIE Reimbursement for Military Veterans
Veterans who qualify for the GI Bill may be able to receive reimbursement for the cost of taking FINRA's SIE and Series 7 exams, as well as the North American Securities Administrators Association (NASAA) Series 63, Series 65 and Series 66 exams. To learn more, visit the U.S. Department of Veterans Affairs webpage overview of eligible licensing and certification tests.
---
Military Community Outreach
FINRA has developed the following toolkit of materials to share information about the SIE. These resources are intended to highlight the benefits of taking the SIE to members of the military community considering a career in the financial services industry.
Digital Postcards
Print Postcards
Social Media
In addition, the SIE content outline and practice test will provide a guide to the range of topics covered and examples of the types of questions that will appear on the actual exam.
---
Connecting Individuals with Opportunities in the Financial Services Industry
Taking the SIE is the first step. Then connect with industry firms through our Financial Industry Networking Directory (FIND)™. FIND is a FINRA service that looks to connect individuals with financial services firms that are recruiting for full-time employment and internship positions. Learn more about how you can join and benefit from FIND.