Senior Vice President, Market Regulation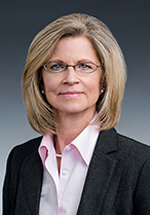 Holly Lokken, Senior Vice President, Market Regulation, leads the Surveillance Research, Methodologies and Governance (SRMG) business unit, which includes Research and Statistical Analysis, Data Analytics, and Market Regulation Surveillance and Data Governance. These functions—which include the design and governance of sophisticated market data and automated models that detect market trends, abnormalities, manipulative trading scenarios, and incorporating statistical methods into the surveillance patterns—ensure that FINRA is responsive to market developments and improves the efficiency and sophistication of Market Regulation's automated surveillance patterns, reviews and examination programs.
Ms. Lokken began her career with the FINRA, then NASD, in 1987. She has held positions in Member Regulation and progressively higher supervisory-level positions in Market Regulation. Ms. Lokken has provided business and technical expertise on numerous integration projects through which FINRA provides regulatory services to equities and options markets, such as Amex, Nasdaq/ISE, NYSE, CBOE/Bats, Consolidated Insider Trading, IEX and MIAX, and is an active member of the Intermarket Surveillance Group. Since 1994, she has overseen the development and maintenance of all Market Regulation systems and regulatory knowledge.
Prior to joining FINRA, Ms. Lokken worked for Chevy Chase Securities and Prospect Associates.