In the workplace and our communities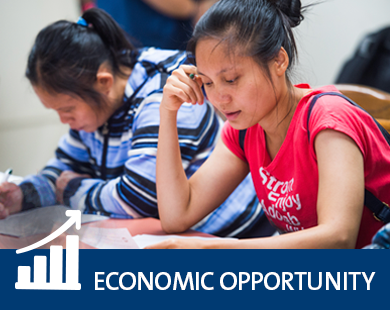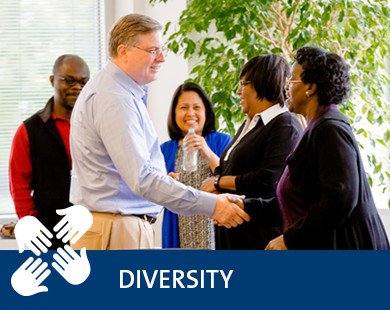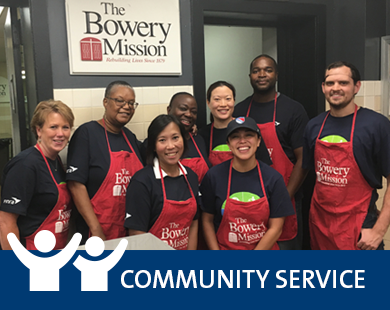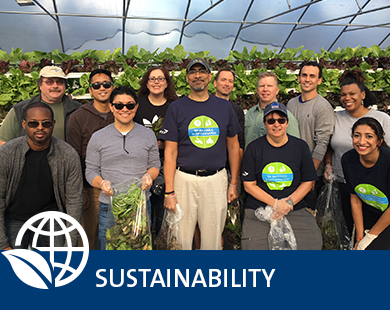 Responsible citizenship is embedded in everything we do at FINRA. We are a public service organization entrusted with safeguarding America's investors and ensuring principled industry conduct so that all investors have access to fair financial markets and opportunities to prosper. These responsibilities dictate that we act in ways that strengthen our workplace and our communities.
We have centered our corporate social responsibility program to reflect our mission – investor protection and market integrity – by embracing four core values: shared economic opportunity, diversity, community service and sustainability.
We embrace shared economic opportunity. We believe in helping investors stay smart and informed. Through our website and digital channels, we equip retail investors with access to unbiased financial resources and information. We also engage face-to-face with active and aspiring investors at Investor Forums across the country—and we assist older investors who have concerns about their brokerage accounts and investments through our Securities Helpline for Seniors®.
The FINRA Investor Education Foundation's ongoing U.S. National Financial Capability Study—the first of its kind when the inaugural report was released in 2009—illustrates the need to empower all U.S. adults, particularly underserved segments of the population, with the knowledge, skills and tools to make sound financial decisions throughout life. Through the Foundation, FINRA helps U.S. adults build financial stability, invest for life goals and guard against fraud, focusing on the needs of investors, military service members, lower-income working Americans and families. Much of this work is accomplished in partnership with organizations that share a deep commitment to the Foundation's mission. During 2017, more than 720,000 people participated in programming supported by the Foundation, and many more benefited from the distribution of FINRA and Foundation educational materials.
We embrace diversity. When we work together, we are stronger. FINRA aspires to build a network of employees as diverse as the world around us, and emphasizes the importance of diversity in the workplace through events such as our annual Diversity Summit. We are proud to be nationally recognized by the Human Rights Campaign, AARP, Working Mother and Computerworld for our hiring practices and professional culture.
In addition, we are committed to the belief that each of our colleagues—no matter who they are or where they come from—deserves a supportive environment where they can reach their full potential and perform their best work in support of FINRA's mission. One way we demonstrate this commitment is by offering eight award-winning employee resource groups—networks that help create a more inclusive work environment by allowing employees to lead or participate in activities that have an organization-wide impact. And FINRA has a Diversity Leadership Council, which uses their collective voice to influence real and positive change at FINRA.
We embrace serving and supporting our communities. FINRA employees receive paid volunteer days off as part of a broader benefits package—and, in 2017, our employees performed more than 12,300 volunteer hours in support of civic and humanitarian causes like hurricane relief efforts, medical research, food supply programs and financial literacy. FINRA also offers a robust Workplace Giving program, allowing employees a range of ways to contribute to their favorite 501(c)(3) charities and providing dollar for dollar matches to more than two dozen designated causes. In 2017, FINRA matched over $200,000 in employee donations and stands ready to match up to $500,000 as part of this program in 2018, because we recognize the importance of a robust social sector that provides services and resources in areas where the private- and public-sectors cannot or do not.
We embrace sustainability. The health of our planet depends on all of us making responsible choices, both individually and collectively. We must consume energy smartly; we must reduce waste vigilantly; and we must live within our means. FINRA is committed to doing our part. Among other initiatives, we:
ensure our buildings are LEED-certified whenever possible;
support an ongoing, employee-focused "Go Green Campaign" to promote sustainable behavior;
offer on-site battery and plastic bag recycling in our offices;
purchase only GREENGUARD certified furniture—and we limit new furniture purchases; and
make sure that all carpet tiles used in our offices are SMaRT and Green Label certified.
We're certain that fulfilling these four values enhances our ability to advance FINRA's mission and, more importantly, makes the communities we share stronger and filled with opportunity for all. At FINRA, we don't just believe in doing what's right for investors and the markets, we believe in doing what's right—period.