Senior Vice President, Finance and Administration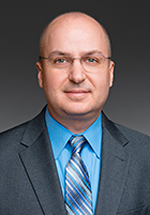 Robert A. Renner is Senior Vice President, Finance and Administration. In this capacity, he is responsible for the direction and oversight of all accounting, tax, external financial reporting and related internal controls supporting FINRA's mission by ensuring that FINRA remains compliant with numerous federal and state tax laws, adheres to financial reporting standards, and maintains strong financial oversight and fiscal responsibility.
Mr. Renner joined FINRA in 1998 and has worked in various areas in the Finance department, including Financial Planning, Accounting Operations and Financial Reporting. In addition, he supports various departments throughout the organization including People Solutions, Office of General Counsel and Technology. Throughout his tenure, he has been responsible for a number of corporate wide projects, involving multiple financial and administrative technology initiatives, such as transitioning back office systems to the cloud.
Prior to joining FINRA, Mr. Renner was an auditor with Ernst & Young, LLP, where he specialized in the audit of large, complex organizations. Mr. Renner began his career in accounting at the Naval Research Lab as a staff accountant. He is a graduate of the University of Maryland and is a Certified Public Accountant.