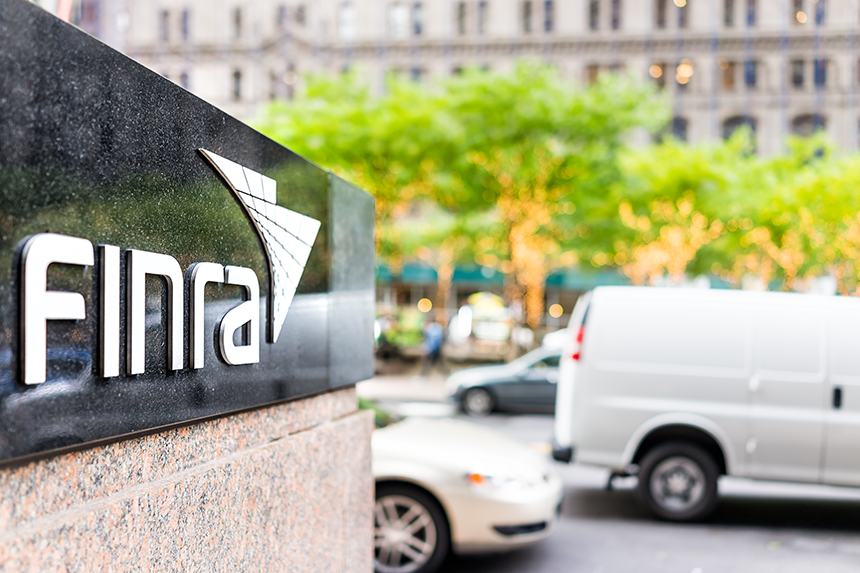 If you are of a certain generation, you probably remember watching the Schoolhouse Rock! videos and can still remember the words to "Lolly, Lolly, Lolly, Get Your Adverbs Here." My favorite was "I'm Just a Bill," because in just over three minutes, it explained the entire legislative process in easy to understand terms. Since becoming Head of FINRA Enforcement, it has become clear to me that, consistent with our ongoing efforts to be a more transparent regulator, we can do a better job explaining the enforcement process. With that in mind, welcome to FINRA Enforcement's version of "I'm Just a Bill" or, more accurately, "I'm Just an Enforcement Action."
Before delving into the process of how an enforcement action becomes an enforcement action, it is worth pointing out a fact that may not be obvious—only a small percentage of FINRA examinations become FINRA enforcement actions. There are a variety of reasons why this is so. Most fundamentally, in many cases, a referral to Enforcement to pursue disciplinary action is not the appropriate regulatory result. Generally, we reserve enforcement actions for instances involving financial harm, an impact to market integrity, or significant risk to investors, member firms, or the market.
It also is important to understand that not all of the matters referred to Enforcement ultimately result in an enforcement action. To understand why this is so, it is helpful to understand the various checks and safeguards that exist to make sure that, in each case, an enforcement action is the right result.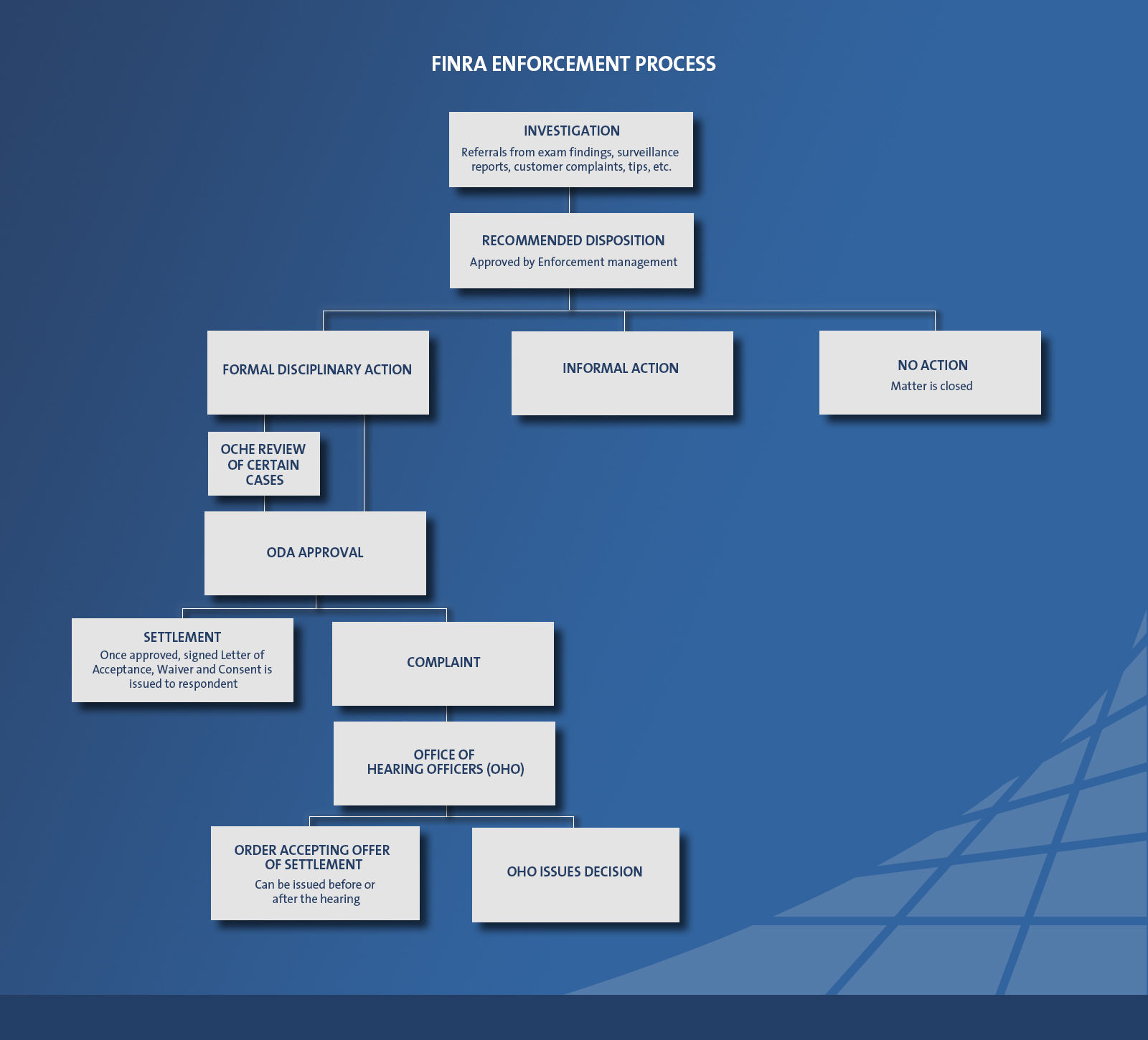 Click to enlarge.
FINRA investigations are opened from various sources, including examination findings, automated surveillance reports, filings made with FINRA, customer complaints, tips, and referrals from other regulators and FINRA departments. If it appears that rules have been violated, a matter may be referred to Enforcement to determine whether the conduct merits formal disciplinary action. Shortly after referral, the assigned Enforcement attorney reviews the matter to determine what additional investigative steps, if any, are necessary. If additional investigative steps are required, the Enforcement attorney may enlist the help of one of the investigators who work within the Enforcement department.
Once all the relevant facts are gathered, the Enforcement attorney will recommend a disposition for the matter—i.e., no further action, informal action, or formal action. Importantly, in making this recommendation, the attorney is required to consider all relevant facts, including any exculpatory or mitigating facts that may counsel for no action or informal action and against formal action. This recommendation must undergo review by at least two Enforcement senior managers who also conduct an assessment of the legal and factual bases for the recommendation.
So if the attorney recommends a formal disciplinary action and Enforcement senior managers concur that formal action is appropriate, is that it? Not yet.
First, certain categories of cases are reviewed by the Office of the Counsel to the Head of Enforcement (OCHE), a unit comprised of experienced attorneys who review proposed formal actions to ensure consistency in charges. Second, all proposed disciplinary actions must be approved by FINRA's Office of Disciplinary Affairs (ODA). ODA is independent of Enforcement and is not involved in the investigation or litigation of cases. ODA reviews each proposed settlement or complaint (including any Wells submissions received) and conducts an independent review of the legal and evidentiary sufficiency of the proposed charges. ODA must approve each proposed settlement before it can be issued and each proposed complaint before it can be filed.
If ODA approves a settlement, it is then issued as a formal action by FINRA, finding violations and imposing sanctions agreed to by the respondent. If ODA approves a complaint, the matter is then filed with the Office of Hearing Officers (OHO). OHO, like ODA, is independent of Enforcement, and administers FINRA's hearing process—hearings are held before a Hearing Officer and two industry panelists, who decide whether the respondent committed the violations alleged by Enforcement and, if violations are found, impose the appropriate sanctions (if any). The respondent may appeal the hearing panel's decision.
I hope this provides some useful insight into the enforcement process and the many safeguards in place to ensure that, in each case, an enforcement action not only is supported by the evidence and the law, but also is the appropriate regulatory response to the particular violations.
One final thought—if you haven't watched the original "I'm Just a Bill" recently, you can access it here. Enjoy!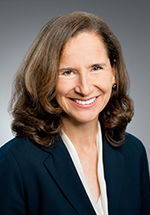 Jessica Hopper
Executive Vice President
FINRA Enforcement