Overview
FINRA launched the Helpline on April 20, 2015 to provide investors with access to specially trained FINRA staff who can assist senior and vulnerable adult investors with questions or concerns about their brokerage accounts and investments. As of December 31, 2019,5 the Helpline has received over 18,000 calls from all 50 states and several countries. Helpline callers range in age from 17 to 102, with the majority of calls coming directly from seniors (with an average age of 70). The Helpline has made over 1,400 referrals to state, federal and international regulators, as well as over 200 referrals to state Adult Protective Services (APS), and assisted with the return of over $7 million to investors. This section describes in greater detail many of the Helpline's significant accomplishments and the scope of its impact, including its guidance to callers, partnerships with firms, collaboration with other regulators and organizations, and support for FINRA's and other regulators' regulatory actions.
The Helpline staff answer questions and provide assistance on wide-ranging topics across the securities industry and escalate issues within FINRA or to other regulators—such as the SEC, state regulators, APS or international regulators—when there is potential evidence of misconduct. Helpline staff receive specialized training to prepare them to respond to and, where possible, resolve callers' questions, which may include contacting firms to resolve problems or clarify questions, obtaining restitution for customers, performing additional research, and connecting callers with FINRA and other resources. In addition, Helpline staff collaborate with the FINRA Foundation on outreach and communications to investors.
The Helpline is available at 844-57-HELPS, Monday to Friday, 9 am - 5 pm (ET).
Helpline Staff Goes Above and Beyond
The Helpline received a call from a 99-year-old investor who had received a letter from her brokerage firm stating that her current registered representative was no longer assigned to her account. She was afraid to change to a new registered representative and she asked the Helpline staff for help with reviewing the letter. The caller told Helpline staff that she did not drive, had three recent surgeries, and was on medication that affected her cognitive abilities. She also shared that she did not have family or friends who she could trust to help her make financial decisions. Her main investment goal was to maximize the assets she could leave to wounded war veterans. To accommodate her physical limitations, Helpline staff took the initiative to drive to the caller's home, review the documents with her, and help her contact her firm to select a new registered representative.
Partnership with FINRA Member Firms
The Helpline's success depends in large measure on the commitment of our member firms to proactively address concerns relating to senior investors. Since the Helpline's inception in 2015, firms have returned more than $7 million to customers in matters discussed with the Helpline staff. The Helpline continues to engage in open dialogue with firms about issues raised during calls and partners with many firms to bring prompt resolution to customer issues and concerns. In some situations, firms proactively reach out to Helpline staff to share concerns and discuss possible courses of action for senior customers facing potential financial exploitation. In addition, Helpline staff, in coordination with FINRA's Office of Financial Innovation, engaged in discussions to learn how some vendors' account monitoring tools can assist in addressing the risks of financial exploitation and diminished capacity for senior investors.
Call Volume and Geographic Reach
The volume of calls to the Helpline has been consistently high, and the reach of the Helpline—across the United States and, in some cases, other countries—is broad. The Helpline has received calls from all 50 states, the District of Columbia, Puerto Rico and the Virgin Islands. In addition, the Helpline has received calls from both U.S. and foreign citizens living in Australia, the United Kingdom, Canada, Israel, South Africa, Kenya, China, Uzbekistan and Namibia.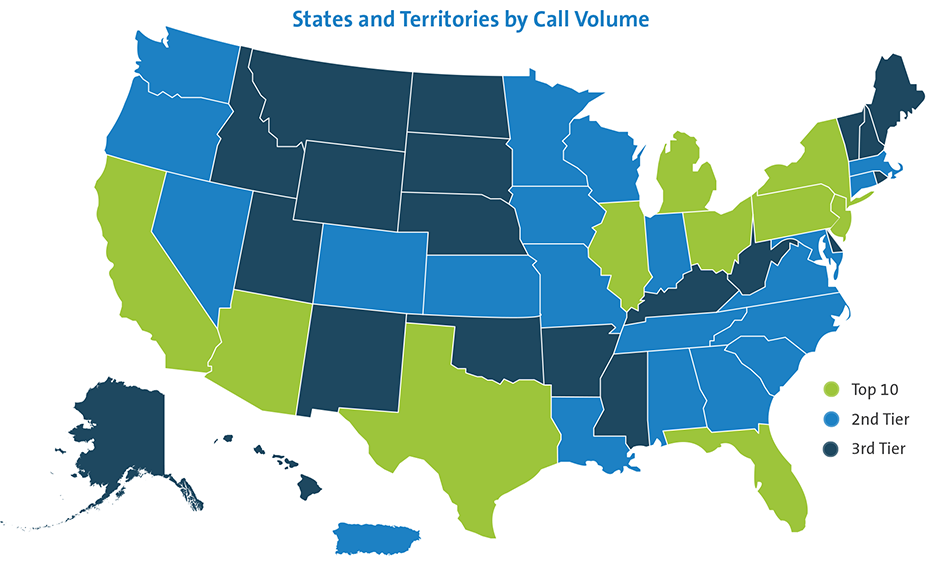 As of December 31, 2019, the Helpline had received over 18,000 calls. The average wait time for callers is under two minutes and the staff spends, on average, about 24 minutes with each caller.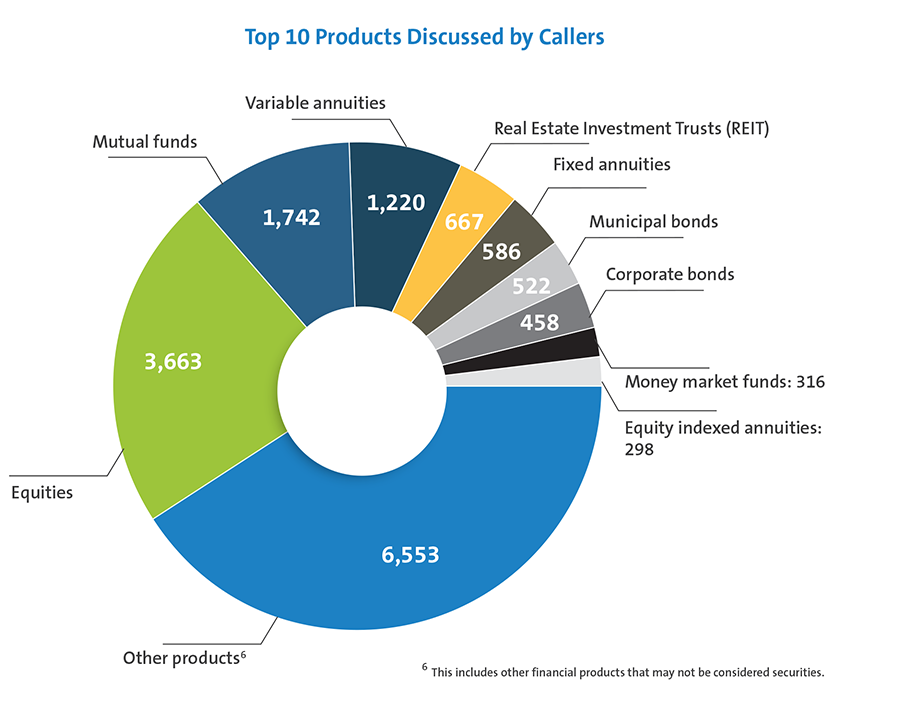 Topics Addressed in Calls
Senior investors, their family members or their registered representatives reach out to the Helpline to request support regarding a broad range of issues. Some callers request guidance with accessing background information about their registered representatives in BrokerCheck, whereas others raise concerns about other possible misconduct, such as fraud, financial exploitation or sales practice activity.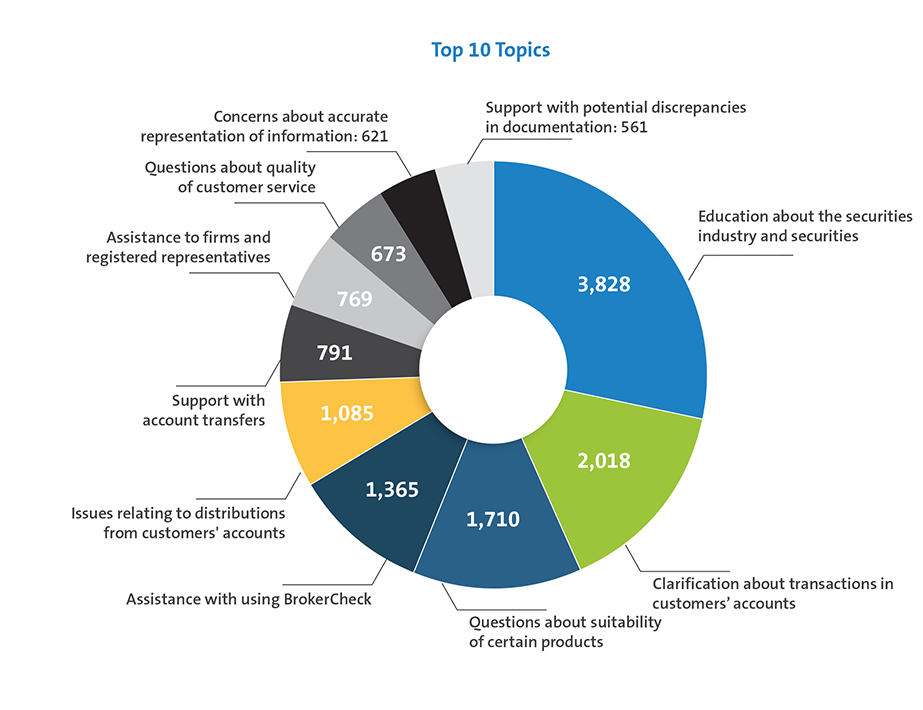 Helpline Staff Provides Information to Firm, Which Reinstates Guaranteed Lifetime Income for Customer
A senior investor contacted the Helpline because her monthly guaranteed lifetime annuity payment dropped without explanation. The Helpline staff worked with her firm to determine that her registered representative misstated the guaranteed income amount and, as a result, the customer was withdrawing extra funds from the annuity's principal without understanding the implications of those withdrawals. Due to the information provided by the Helpline staff, the firm offered to make the customer whole by providing her with a lump sum of more than $180,000 to purchase a fixed immediate annuity that would bring her guaranteed income up to the level originally stated by the registered representative.
Helpline Staff Contact Firm, Which Reassesses Suitability of Fixed Annuity and Refunds Senior Investor Almost $300,000
A senior investor contacted the Helpline with concerns about potentially unsuitable recommendations. The senior investor stated that her registered representative recommended she liquidate her existing IRA to invest in a fixed annuity. The senior investor thought the registered representative misrepresented the product and did not explain that the product was a fixed annuity. When Helpline staff contacted the firm, it reevaluated the suitability of the product for the senior investor, rescinded the fixed annuity contract, and refunded the customer the original purchase payment of $291,239.
FINRA Actions Arising from Helpline Matters
Some of the calls received by the Helpline require further investigation – including by FINRA's Departments of Member Supervision and Enforcement – if the Helpline staff observe potential financial exploitation or other misconduct.
Calls to the Helpline have led to FINRA imposing sanctions – including bars, monetary penalties and suspensions – on firms and registered representatives found to have engaged in misconduct relating to senior investors.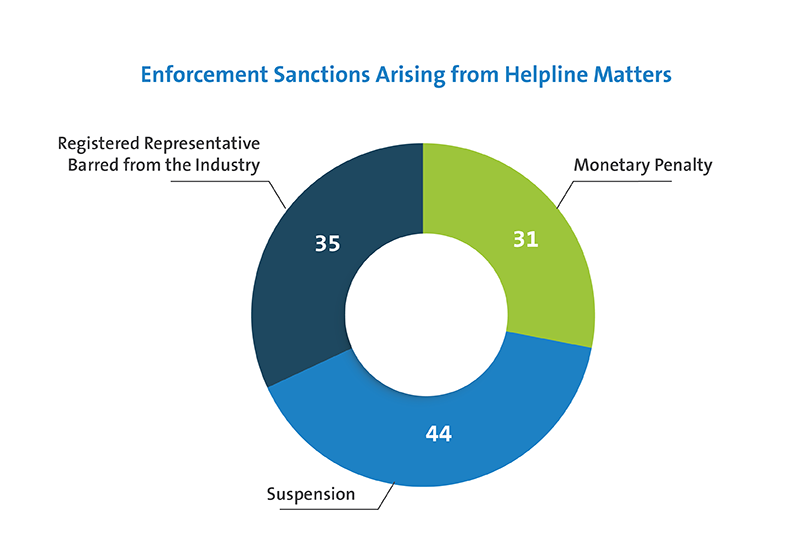 Helpline Assists Enforcement with Barring Registered Representative Who Opened Unauthorized Joint Account with Senior Investor
An anonymous tipster contacted the Helpline after discovering that a registered representative maintained a joint brokerage account with a senior investor. FINRA investigated the allegations and took the registered representative's testimony, where the registered representative denied having a joint brokerage account with a customer. FINRA's investigation revealed that the registered representative's testimony was false because he opened the joint brokerage account and accessed the account online numerous times per month. FINRA barred the registered representative from the industry.
Helpline Assists Enforcement, which Bars Registered Representative for Churning Senior Investor's Accounts
An individual contacted the Helpline regarding concerns about churning in a 93-year-old senior investor's account, over which the individual held power of attorney. FINRA found that the registered representative on the account effected over 2,800 transactions in four separate accounts for that senior investor, resulting in $581,650 in commissions, $84,270 in other fees and approximately $397,000 in trading losses. FINRA barred the registered representative from the securities industry.7
Helpline Referrals to Other Regulators
In certain situations where Helpline staff identify potential legal and regulatory violations during discussions with customers that fall outside FINRA's jurisdiction, they also refer matters to other federal, state and local regulators for investigation and potential action.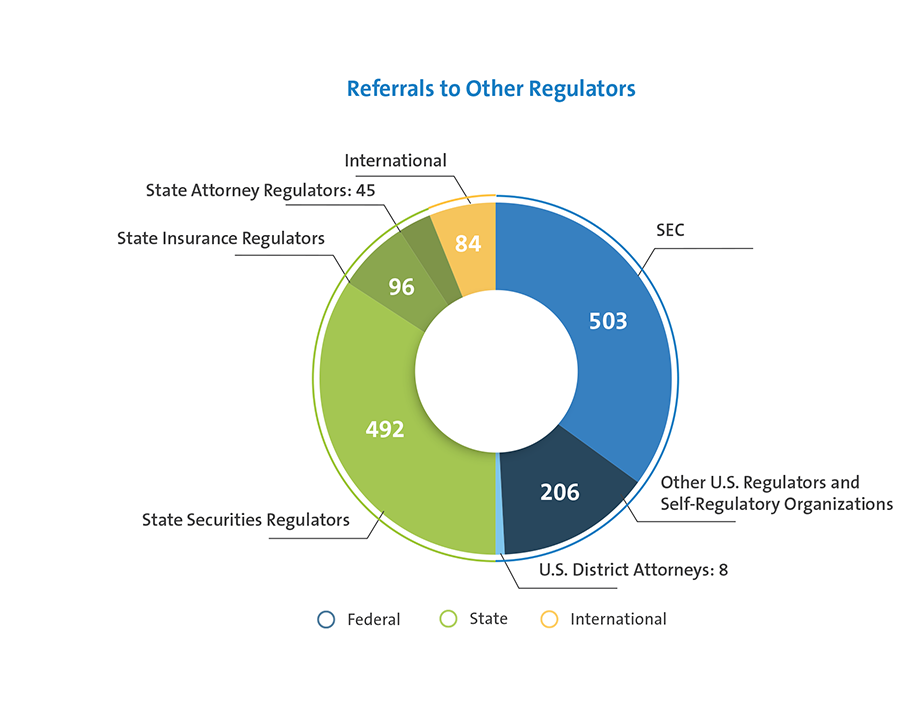 In situations where Helpline staff have concerns about a senior investor's wellbeing or suspect potential financial or other exploitation, FINRA also reports to and works with the relevant state APS. Since 2015, FINRA has made over 228 referrals to state APS, which have enabled them to investigate and address matters relating to senior investors' financial and physical wellbeing.
Helpline Staff Help Stop $31,000 Forgery and Grand Larceny
A senior investor called the Helpline for assistance regarding an unauthorized joint brokerage account opened for herself, her sister and another relative. According to the senior investor, her sister forged the senior investor's signature, provided the firm a copy of her stolen driver's license, and made an unauthorized transfer of $31,000 to the joint account from the senior investor's individual account. The Helpline staff contacted the member firm and state authorities and, as a result, the senior investor's sister was ultimately arrested and charged with forgery and grand larceny. The firm also returned the $31,000 to the senior investor's account.
Helpline Staff Assist Nassau County District Attorney with Identifying $12 million Ponzi Scheme Targeting Senior Investors
Three senior investors called the Helpline, each stating that a registered representative solicited them to invest $400,000 in purported Certificates of Deposit with interest rates of 4%-6%. FINRA barred the registered representative from the industry and ordered him to pay restitution of $961,781, plus interest.8 Others involved in the scheme were not subject to FINRA's jurisdiction and the conduct potentially involved criminal activity, so FINRA also referred the matter to the Nassau County District Attorney, which charged the registered representative and an unregistered individual of running a Ponzi scheme that robbed 50 people, mostly senior investors, of more than $10 million and returned $4.6 million to victims.9
Collaboration with Other Regulators and Organizations
Helpline staff engage, on an ongoing basis, in a wide range of national and local law enforcement initiatives related to senior investors, including:
Transnational Elder Fraud Strike Force – Worked with Strike Force established by the U.S. Attorney General to bring together joint law enforcement resources and expertise to investigate and prosecute fraud schemes that disproportionately target senior investors.
Miami U.S. Attorney's Office Elder Initiative – Collaborated with representatives from the Federal Bureau of Investigation, Internal Revenue Service, Drug Enforcement Administration, U.S. Department of Housing and Urban Development, the State of Florida and the U.S. Postal Inspection Service.
CFPB's Office of Older Americans – Held joint trainings with this Office, and meets periodically with state securities regulators and states' attorneys general to discuss senior investor protection issues.
Helpline staff based in FINRA's Florida office have hosted outreach and educational events on senior investor issues with the Florida Securities Dealer Association (FSDA), Palm Beach County Estate Planning Council and Florida Attorney General's Special Project "Seniors vs. Crime."
---
5 All Helpline data provided in this report is as of December 31, 2019.
6 This includes other financial products that may not be considered securities.
7 See Matthew C. Mazcko, Letter of Acceptance, Waiver and Consent, Case ID 1888519 (Feb. 9, 2017).
8 See Matthew Evan Eckstein, FINRA Office of Hearing Officers, Disciplinary Proceeding No. 2017054146302 (Aug. 28, 2018).
9 See Nassau County District Attorney, $10 Million Ponzi Scheme Unraveled Following NCDA Investigation (Sept. 18, 2018); Nassau County District Attorney, NCDA Returns $4.6 Million to Ponzi Scheme Victims Following Prosecutions (Oct. 29, 2019).