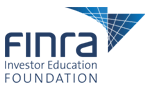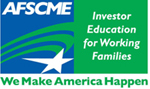 AFSCME Training and Education Institute Creates Investor Education Program for Working Families
Washington, D.C. — The American Federation of State, County and Municipal Employees' (AFSCME) Training and Education Institute today announced the creation of Investor Education for Working Families, a ground-breaking program funded with a $692,180 grant from the Financial Industry Regulatory Authority Investor Education Foundation.

The new program is designed to teach AFSCME members, who total 1.4 million, basic investing principles and increase their investment literacy, giving them tools to protect their retirement by making informed investment choices. The program combines in-person and online teaching with self-paced components.

"This is a cutting-edge program to give AFSCME members access to the financial education they need to plan for retirement," said AFSCME International President Gerald W. McEntee. "This program will give our members the investment knowledge needed to achieve their financial goals and retire with greater security."

"This grant is intended to raise the level of investing know-how in America and provide resources and guidance for AFSCME members who want to save and invest for the future," said FINRA Investor Education Foundation Chairman Mary L. Schapiro, who also serves as FINRA's CEO.

The project will involve three major components: in-person education, a multimedia outreach campaign and live, instructor-based and self-paced online courses. Several dozen union leaders will be trained to facilitate member-to-member teaching sessions. That core group, along with the project coordinator, will offer over 100 in-person sessions in the field. To complement the in-person teaching there will be a variety of web courses on major investment topics such as how to choose stocks and mutual funds, and explaining asset allocations. To help drive participation in the educational program, a multimedia campaign will be launched, which will provide a toolkit, hard copies of information, plus member narratives about the importance of investing. These three major components will open new doors for those who participate, helping them take control of their economic futures.
#    #   #
AFSCME's 1.4 million members provide the vital services that make America happen. With members in hundreds of different occupations - from nurses to corrections officers, child care providers to sanitation workers - AFSCME advocates for fairness in the workplace, excellence in public services and prosperity and opportunity for all working families.

The FINRA Investor Education Foundation supports innovative research and educational projects that give underserved Americans the knowledge, skills and tools necessary for financial success. To date, the FINRA Foundation has approved $10.4 million in grants and an additional $10.2 million in direct investor education programming. For details about grant programs and other FINRA Foundation initiatives, visit www.finrafoundation.org.

FINRA, the Financial Industry Regulatory Authority, is the largest non-governmental regulator for all securities firms doing business in the United States. Created in 2007 through the consolidation of NASD and NYSE Member Regulation, FINRA is dedicated to investor protection and market integrity through effective and efficient regulation and complementary compliance and technology-based services. FINRA oversees nearly 5,100 brokerage firms, about 174,000 branch offices and more than 672,000 registered securities representatives. For more information, please visit our Web site at www.FINRA.org.