Senior Vice President and Firm Group Leader, Member Supervision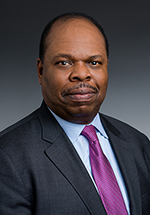 Bill St. Louis is a Senior Vice President and Firm Group Leader for FINRA member firms assigned to the Retail and Capital Markets firm groupings. In this capacity, he has responsibility for the Single Points of Accountability and Risk Monitoring Program teams for these firms, which includes the assessment of business conduct, financial, operational and trading risks.
Mr. St. Louis and his team are also responsible for examination strategy for these firms, as well as coordination with Examination Program management on the execution of related examinations. In addition, he oversees FINRA's High-Risk Representative Program and Membership Application Program (MAP). Mr. St. Louis is currently a member of FINRA's Diversity Leadership Council.   
Before assuming his current role, Mr. St. Louis was the Regional Director of FINRA's Northeast Region and Director of FINRA's New York District Office. He also held senior roles in FINRA's Enforcement Department, including serving as the Regional Chief Counsel for FINRA's North Region. 
Mr. St. Louis earned an undergraduate degree from Baruch College and a law degree from New York University School of Law. Prior to law school, he worked for several years in the compliance department of a New York-based broker-dealer.