Senior Vice President, Corporate Communications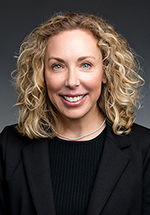 As Senior Vice President, Corporate Communications, Dana Grosser oversees all of FINRA's internal and external communications functions, including media relations, digital and multimedia communications, and creative services.
Before joining FINRA in June 2021, Ms. Grosser served as Head of Corporate Public Relations and U.S. Crisis Communications Strategy at Vanguard.
Prior to joining Vanguard, Ms. Grosser spent 15 years at SEI, a global, public financial services company, where she served in positions of increasingly complex communications responsibilities, leading up to her role as Head of Global Corporate Communications. Ms. Grosser previously served as Director of Corporate Communications for GSI Commerce, Inc., and early in her career, worked in various agency roles, with particular focus on financial services, technology and the markets.
Ms. Grosser received her Bachelor of Science in speech from Northwestern University.