Diversity, Equity & Inclusion (DEI)
Our diversity makes us stronger—and helps ensure our success.
We're committed to fostering a diverse, inclusive and equitable workplace. Our goal is to ensure that every employee has the opportunity to thrive and contribute their unique talents to our organization. Why? Because our diversity—meaning our backgrounds, education, cultures, thinking styles and unique perspectives—is a driving force behind our ability to effectively carry out FINRA's mission of investor protection and market integrity.
When we work together, we're stronger. And each of us is responsible for making that happen. Building an inclusive and equitable culture means taking the time to consider and appreciate each other's differences and ensure everyone has what they need to succeed. This is important for everyone at FINRA—regardless of job function or level. Our combined abilities and backgrounds are what make FINRA strong.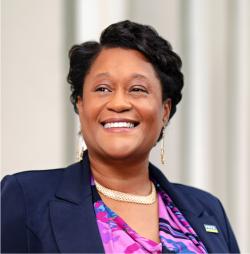 "DEI is not something 'separate and aside' in our work here at FINRA. DEI is embedded in everything we do."

–FINRA Chief Diversity Officer, Audria Lee
FINRA's Diversity, Equity and Inclusion Initiatives: