Senior Vice President and Deputy, CRED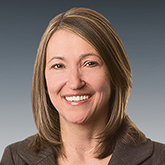 Elisabeth Craig is Senior Vice President & Deputy, FINRA, Credentialing, Registration, Education and Disclosure (CRED), responsible for oversight of registration functions and testing and continuing education.
Prior to joining FINRA, Elisabeth was employed as Counsel with DCS Advisory, an investment banking firm, where she focused on all aspects of legal and compliance matters. Elisabeth also spent over a decade at Legg Mason in Baltimore, Maryland, holding a number of senior positions in different departments, including corporate legal, corporate compliance, and regulatory affairs. Prior to Legg Mason, Elisabeth worked for Allfirst Bank, where she served as the chief compliance officer and counsel. Elisabeth began her career as a litigation attorney at a private law firm. 
She received her Juris Doctor from the University of Maryland School of Law and a Bachelor of Arts degree from Skidmore College.