Vice President, Talent Acquisition and Chief Diversity Officer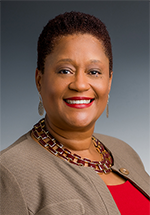 Audria Pendergrass Lee is FINRA's Vice President of Talent Acquisition and Chief Diversity Officer. In this role, she leads FINRA's strategic diversity, equity and inclusion, and talent acquisition efforts. 
Since joining FINRA in 2009, Ms. Pendergrass Lee has spearheaded the strategic deployment of resources that support FINRA's goal of fostering an attractive and inclusive workplace. Before assuming her current role, she served in various positions, where she helped to facilitate the creation of an award-winning diversity leadership council and employee resource group program; launched formal mentoring programs; oversaw the implementation of organization-wide diversity education; and made significant enhancements to flexible work arrangements, gender- and LGBTQ-inclusive policies and other diversity programming efforts. In 2019, Ms. Pendergrass Lee was recognized by The Network Journal as an Influential Black Woman in Business. She also serves on the board of the Center for Workforce Compliance and as a member of the Tanenbaum Workplace Advisory Council. 
Prior to joining FINRA, Ms. Pendergrass Lee worked as a diversity program manager, new service development director and paralegal in a variety of industries, including the military, financial services, distribution and educational services.
Ms. Pendergrass Lee, a Life Member of Alpha Kappa Alpha Sorority, Inc., earned her Bachelor of Arts in Political Science from the University of South Carolina, and her master's degree in Organizational Management from the University of Phoenix. She has continued her studies at the University of Maryland University College and Aresty Institute of Executive Education at The Wharton School, University of Pennsylvania.